Jamaica, My Heart's Desire (Cynthia)
by Cynthia
(Washington, DC)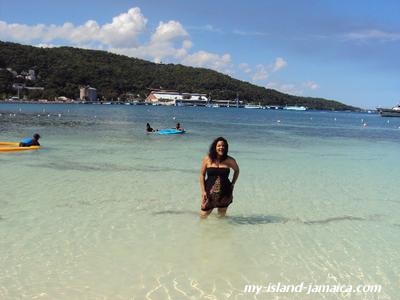 At Jamaican beach
I LOVE JAMAICA! It has actually become something that people know me for now. I first came to Jamaica in 2003/2004 with three of my best girlfriends.

We stayed at Sunset Beach Resort in Montego Bay. We did the typical "first time" stuff like the Booze Cruise and horse-back riding and we alson hung out at the resort quite a bit.

I was amazed by the beauty and openess of the resort. The food and drinks were overflowing and it was like a dream come true. I have since out-grown the resorts with all the rum you can drink and the breakfast lunch and dinner buffett's.

Although I only got a taste of Jamaica that first trip was like love at first sight. I remember dreaming about Jamaica months later after I returned home I woke up feeling a sincere desire to go back.

It was almost like an urgency. I was missing something and Jamaica had it. My friends and I returned to Jamaica again about a year or so later and this time we were a little more adventurous.

I wanted to really experience Jamaica and I had to leave the resort to do that. We traveled to Ocho Rios to check out Dunns River Falls.

We even ventured way up in the mountains to see Bob Marley's birth place. I have simply lost count of all the times that I have traveled back to Jamaica since then, sometimes with friends and even alone a few times.

Jamaica has something that I have not found anywhere or in any of my other travels. It is where my spirit is renewed. The sheer beauty of the island with its aqua blue water and many many hidden treasures is what continues to keep me coming back.

The Jamaican culture, the food, the people - even the disfunction are all embedded in me now.

I travel still to other places but my heart and soul belongs to JA. It truly is my home away from home. My desire is to purchase a property soon and really "setup" a life for myself there.

When I have been away too long I begin to day dream about long lazy days on the beach, fish and bammy and delicious festivals.

I can hear the sounds of a soft beat playing in the background and feel the sun on my skin. I see the waves crashing and I smell the air. I even see a wandering cow or goat from time to time! and when I tire of just conjuring up these images from memory and replaying them in my head, well that is when I pack my bag, book my flight and go home.

I dismiss the whines from friends in family "you goin back to Jamaica again"!! I will never be able to explain to them or anyone who doesnt love JA like I do why I make this trip again and again. Oh how I love Jamaica, Sweet Jamaica.