Jamaican Cuisine On Display At University Of Maine
by Wellesley
(Jamaica)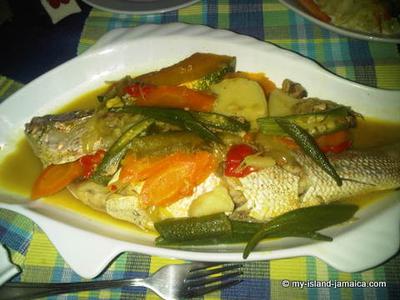 Jamaican Steamed Fish
Yes, on March 25th, the University Of Maine's York Dining Hall will come alive with the captivating aroma and tastes of Jamaica!

Yours truly got this request (below) from Linda (A Supervisor there) a few days ago.

I answered her question (below) but I need your help with additional suggestions on Jamaican meals and she could display as well as decorative ideas. Please add your suggestions here.



Full Name: Linda Emerson
Date: Wed Jan 14 14:48:23 2015
Country: United States
Enquiry/Comments:

Hello, my name is Linda Emerson and I am employed at the University of Maine in Orono, Maine.

I work in 1 of the 4 dining commons on campus. York Dining is the name of the Dining Hall.

On march 25th all of the dining halls are doing an event called Taste Of The World. York Dining has chosen to do Jamaican Cuisine.

That evening we will take our entire dining hall and turn it into our best replica of Jamaican Dining.

We will be featuring Jamaican Beverages (no alcohol) as well as appetizers, main courses, and desserts.

We will be serving anywhere between 800 to 1200 students in this one dinner. I am writing to you to see if you could give me some idea's of recipes for the courses that I have listed above.

I am also looking for someone I could contact that might be able to send us some informative flyers or anything that we could have on our tables for the students to learn all about Jamaica.

Any thing that would help us represent Jamaica to the best of our ability.

Please let me know if you can help us out. Thank You, Linda Emerson (York Dining Supervisor at the University of Maine.)

Hi Linda,
Welcome again from the University Of Maine (The Research University)!
I did my research (lol).
Anyway, as I mentioned to you earlier, the pleasure is all mine, we have some authentic Jamaican recipes here and we'll be happy to share.
In fact, we'd also love to be there to see the final display... but I'll do the next best (imagine).
I'm recommending this page (below) first:
https://www.my-island-jamaica.com/free_jamaican_recipes.html
Click the link (above)to visit the page and then just scroll down... you'll notice that, not only do we have some of Jamaica's most popular main courses, we also share some of Jamaicans most favorite desserts!
I share a couple drinks as well, but stay away from the Jamaican rum punch for now (that's not for school :-) lol).
By the way, that page above also have direct links to the actual recipes where you'll get to see some of the complete dishes as well.
Here also is a link
to another popular Jamaican website with an array of other popular (as well as unique) Jamaican desserts and appetizers!
Whatever you do, please don't leave out the
Jamaican whole steamed fish
and
Jamaican bammy
:-)
Enjoy!
By the way, per your approval, I am posting your inquiry on my website so my friends, fans can
share Jamaican food ideas with you
.
Regarding the flyer to show general information on Jamaica, I am also opening this request for suggestions as I am not aware of one right now.
I know though that there are many free sites online ( including
smore.com
and
postermywall.com
)that will help you create flyers in a breeze!
Remember you already have all the information you need about Jamaica on this site, you can easiy copy the information and paste in the flyers. You can
start here
.
Thanks again for choosing Jamaica (from so many other nations and cultures)! We certainly appreciate it!
We wish you the
very best
in this initiative!
Regards,
Wellesley Gayle
Founder & CEO, My-Island-Jamaica.com
P.S. We'd love to see some picture...please consider
sharing them
later.