The Legacy of The Chinese in Jamaica | Their Contribution to Our Heritage
by Deon Clarke | Associate Writer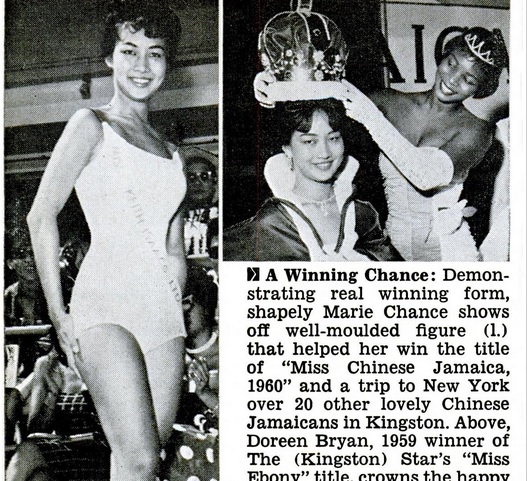 Photo: Miss Chinese Jamaican, Marie Chance Wining Pageant Photo 1960
The
Chinese
immigrants first arrived in Jamaica on July 30, 1854, as indentured servants. After
Emancipation
in 1838, sugar plantation owners were left struggling to maintain their estates and so had to seek help from Europe, Africa, and Asia for cheap labour through an established Indentured Workers Program.
The Chinese have had a very long history in Jamaica and have had a significant impact on Jamaican culture. By 1932, there were approximately six thousand Chinese immigrants on the island. Due to high unemployment rates arising from economic pressures during The Great Depression, the Jamaican government was forced to close off immigration from China in 1931. The only exception were children below the age of 14 who were allowed in the country on student visas.
There were even more stringent restrictions on Chinese immigrants in 1940 and Jamaican-born Chinese were required to provide proof of their birth to remain on the island. Most of the Chinese immigrants were farmers, but only a few actually did farming when they got here. Due to limitations on foreign trade because of World War II, some Chinese started growing rice but soon abandoned the fields after the end of the war as cheaper rice became available through imports.
Today, there are no restrictions and their contributions are just as significant now in the building of Jamaica.
What Were Their Contributions?
People in general, wherever they go, would bring their traditions and culture with them and the Chinese were no different. Let's take a look at the Chinese contributions to our Jamaican heritage.
They Brought Their Entrepreneurial Skills
When the Chinese first came to the island as indentured servants, many of them displayed their entrepreneurial skills. They left the plantations and opened grocery stores (popularly called Chinese Shops) all across the island. As such, persons in the poorer communities were able to purchase their daily necessities in their own neighbourhoods. The items were reasonably priced and payment arrangements were facilitated.

However, the Chinese did not stop there. They expanded their business prowess to other establishments such as wholesales, restaurants, laundromats, and even music production.

Today, you will find that most of the grocery stores in Jamaica are owned by Chinese people. Their business and commercial innovations significantly contributed to the economic development of the nation. Jamaicans of Chinese heritage have had a considerable impact in the business world of Jamaica through individual, joint and family ventures. This can be seen in establishments such as major restaurants, bakeries, and supermarket chains, including Juici Beef, Tastees, Island Grill, Purity Bakery, and Super Plus Food Stores as well as the National Commercial Bank(NCB), one of the largest financial institutions on the island.


They Brought Their Cuisine
The Chinese have had much influence on the cuisine of Jamaica. A unique description of this influence can be found in their Suey Mein or Sui Mein, which is a dish created by the Chinese community in Jamaica. It is a broth enhanced by noodles, shrimp, vegetables and Cantonese-style roast pork. It is generally topped with a hot sauce made from scotch bonnet peppers and mushroom soy sauce. In addition to this, they introduced sweet-and-sour dishes and soy sauce which are popularly used in Jamaica.


They Maintained Their Cultural Values
The Chinese have been highly commended for their business prowess and strong work ethic, the emphasis they place on education and their involvement of extended family relationships in the raising of their children. The importance of family, culture and education in Chinese culture further cemented the already existing value system of African culture where great emphasis is placed on these as well. This makes Jamaica a very family-oriented society and a people who are very protective of their heritage and culture.


Political Leadership
Jamaicans of Chinese descent have served honourably in the government of Jamaica, with notable examples being Members of Parliament such as Rose Leon, Ferdinand Yap-Sam, Horace Chang and Delroy Chuck.


Development Of The Music Industry
The music industry in Jamaica would never be the same without the involvement of the Chinese-Jamaicans who have impacted the evolution of the reggae genre from the 1960s. Their contributions to the production of music, simply cannot be overemphasized. Vincent "Randy" Chin, along with his wife Patricia, through their label VP Records was instrumental in the launch of the careers of popular dancehall artists such as Beenie Man and Sean Paul.

Additionally, many musicians have received credits on numerous reggae albums. One significant contribution by early Chinese record producers is that of Leslie Kong's Beverley's label, which released the debut recordings of Bob Marley, Jimmy Cliff, and John Holt. Jamaicans of Chinese heritage continues to thrive in music and make Jamaica proud. One such example is Tessanne Chin, who has a very established musical career in Jamaica and the Caribean and was named the winner of Season 5 of The Voice talent competition in the United States in 2013.

Byron Lee is the driving force behind the establishment of the Carnival seen in Jamaica. He and his band, Byron Lee and The Dragonaires made Soca and Dancehall Soca(a fusion of Dancehall and Soca music) carried Caribbean music all over the world. He passed in 2008, however his band has continued to carry on his legacy through music.


Games of Chance - Gambling
The Chinese brought their tradition of gambling with them and introduced games like "Drop Pan", "Whe Whe", and "Rakka Piu", also known as "Chinapoo" to the island. This game of chance tradition was adopted by Jamaicans who play modern games like "Cash Pot" (official Drop Pan) and "Lucky Five". Drop Pan appears to be the most loved and popular game of chance in Jamaica to date. Unofficial Drop Pan is still played by many Jamaicans as well.


Traditional Celebrations
The Chinese brought their custom of setting off fireworks in celebration of special occasions was readily adopted by Jamaicans, who especially favour the activity during Christmas time and to welcome the New Year. The traditional Chinese lion and dragon dances have also been incorporated into Jamaica's yearly National Festival in a notable display of cultural adaptation and integration.

It is clear that the Chinese have made their mark in integrating their traditions and customs into the Jamaican culture, which has only made our heritage a much richer and diverse one. Their significant contribution to Jamaica cannot be understated.
I also recommend you read,
Where did Jamaican ancestors came from?
.
Regards,
DC
References:

7 Contributions Made by Chinese Immigrants to Jamaica, Jamaicans, https://jamaicans.com/contributions-chinese-immigrants-jamaica/

History Notes: Information on Jamaica's Culture & Heritage, National Library of Jamaica, https://nlj.gov.jm/history-notes-jamaica/

The Chinese In Jamaica | Chinese Jamaican History & Their Contribution, My-Island-Jamaica, https://www.my-island-jamaica.com/chinese_in_Jamaica.html

The People Who Came, Jamaica National Heritage Trust, http://www.jnht.com/disndat_people.php

History Notes: Information on Jamaica's Culture & Heritage, National Library of Jamaica, http://www.nlj.gov.jm/history-notes/history-notes.htm

About us - We are Chinese Jamaicans, Chinese Jamaican, https://chinesejamaican.com/

Editor's Note
Don't hesitate to
submit your questions here
! With well
over 2000 questions already answered
, chances are we can assist :-)