Westmoreland Curry Festival 2013
by Admin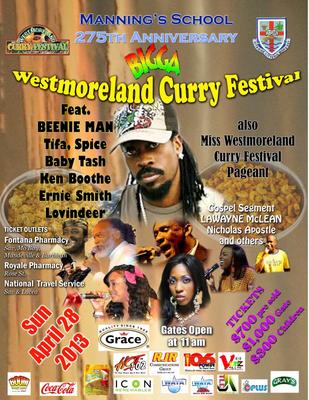 Westmoreland Curry Festival 2013
Westmoreland Curry Festival, the highly anticipated annual event in Westmoreland, is now in its 13th staging and will be held on Sunday 28th April 2013 at Manning's School.

The majority of the proceeds from this charity event, since its first staging, have contributed immensely to the improvement in the physical plant at The Manning's School.

This year's staging will see live entertainment from artistes such as Beenie-man, Spice, Tifa, Ernie Smith and Lovindeer.

There is also a gospel, vintage, and comedy section topped with dance competition, curry cook-off, assisted by our own Ms. Westmoreland Curry Festival Queen.

Gates open at 11am and tickets are priced at $700 presold, $1000 at the gate, and children $300.

This charity event is organized and run by a group of volunteers; a large number of whom are past students of the The Mannings School.

It is the major fund-raiser for the school and also contributes to other organizations and institutions withing the parish of Westmoreland.

The first staging of the Westmoreland Curry Festival in 2001 was then brain child of Mr. Norman Reid, the Bank Manager of the National Commercial Bank, Savanna-la-mar Branch.

It was a joint effort between the committee members and the school board, to establish a fund -raiser that would contribute to the development of Westmoreland as well as, recognition of the culinary contributions of the Indian population to the parish and by extension, Jamaica.

Westmoreland Curry Festival is the largest annual family event in Westmoreland, Jamaica.


Manning's School (The primary beneficiary)
Manning's school was established in 1738, and is one of the oldest schools in the Caribbean. This year the festival will aim at contributing to the completion of the perimeter fencing on the school's compound.
This will aid in the safety of the staff and students, as well as contribute to the school's aesthetics.
Westmoreland Curry Festival 2013 - Where Everything Curry!!!
Source: Western Mirror
See Also:
Curry Festival 2012
Related:
Monthly Events in Jamaica
.