What are some agricultural products in Jamaica?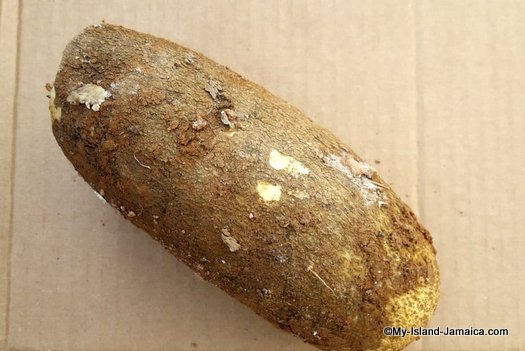 YELLOW YAM FROM JAMAICA
What are some agricultural products in Jamaica? || Answered By Aneisha Dobson
The tourism sector is not the only beneficiary of Jamaica's tropical climate. The warm weather, penetrating sun rays and fertile soil have also allowed the agricultural sector to be a thriving contributor to Jamaica's economy.
In fact, it was this tropical climate that drew Jamaica's earliest settlers and enticed the Europeans to colonize the island.
Many of our agricultural products have been lauded for one reason or another. From sugarcane, processed into rum, to citrus and yam! For instance, when sprint superstar Usain Bolt won the 100m gold medal and broke the world record back in 2008 at the Beijing Olympics, his father was said to pronounce that his performance was due to his consumption of Trelawny yam, pictured above. (Although I personally believe Bolt is just uniquely gifted).
Animal rearing is another important component of the agricultural sector. For those, like myself, who grew up in the rural areas of the island, we know animal rearing is a popular activity and a way of life for many. I had a neighbour who reared goats and my grandmother raised broilers for many years.
Whatever the case, the agricultural sector plays an important part in Jamaica and all efforts should be made to sustain this sector.
Now, without further adeiu, here are some of the notable agricultural products, mainly fruit and vegetables, produced or cultivated in Jamaica.
• Ackee
• Avocado
• Bananas
• Breadfruit
• Callaloo
• Carrot
• Cashew
• Cassava
• Cerasee
• Citrus fruits – lime, lemon, orange, ortanique, ugli, sour orange and grapefruit
• Coco
• Cocoa beans
• Coconut
• Coffee beans
• Cucumber
• Custard apple
• Dasheen
• Eggs
• Fish
• Ginger
• Guava
• Guinep
• Gungo Peas
• Irish Potato
• Jackfruit
• Jew (June) plum
• Kidney peas
• Mangoes
• Meat - poultry, mutton, pork
• Mammy fruit
• Naseberry
• Nutmeg
• Okra
• Onions
• Otaheite Apple
• Papaya
• Passion fruit
• Peanut
• Pimento
• Pineapple
• Plantain
• Pomegranate
• Pumpkin
• Scallion
• Scotch Bonnet Pepper
• Sorrel
• Soursop
• Star apple
• Starfruit
• String beans
• Sugar cane
• Sweet pepper
• Sweet potato
• Sweetsop
• Tamarind
• Thyme
• Tobacco
• Tomatoes
• Watermelon
• West Indian cherry &
• Yam
Sadly though, while agriculture has been long seen as a source of income and the means of employment for many Jamaicans, as time progressed, agriculture seems to has lost it significance as an attractive career path.
In a Jamaica Information Service article dated March 14, 2018, Chief Technical Director, Ministry of Industry, Commerce, Agriculture and Fisheries, Courtney Cole, stated that Jamaicans needs to change their mind set of agriculture, shifting it from a career choice for the lower-class and uneducated, to a primary source of income for the growth of the society.
This disinterest in agriculture is due to a myriad of reasons, including difficulty in accessing finances, difficulty with land availability, inability to properly market agriculture products, failure to utilize new technologies and and preference for white collar jobs.
Despite the issues that the sector face though, I have seen where ministries affiliated with agriculture and other companies, such as Rural Agricultural Development Authority (RADA), have made sustained efforts to sensitize the public on the importance of the agriculture, and continues to market it as a critical element of our country's future and food security.
Let's all aim to achieve Goal # 2 of UN's Sustainable Development Goals: End hunger, achieve food security and improved nutrition.
Until next time …
Regards
AD

References

Jamaica Information Service. (2018, March 14). Jamaicans Must See Agriculture as Primary Source of Income - Cole. Retrieved from Jamaica Information Service: https://jis.gov.jm/jamaicans-must-see-agriculture-as-primary-source-of-income-cole/