What are some natural disasters in Jamaica?
by Aneisha Dobson | Associate Writer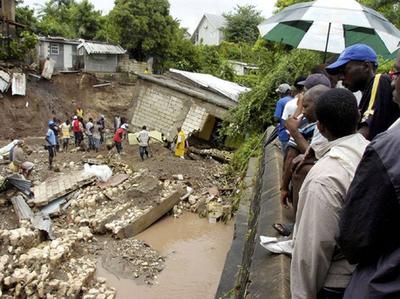 The Aftermath of A Hurricane
Natural disasters can be described as horrors of nature which come about from the natural processes of the Earth. Many lives have been lost, property destroyed, economies collapsed and the spirits of people have been shattered due to the ravage of several natural hazards.
While the cause of these natural disasters is generally caused by nature, ill practices of humans, such as pollution, are also contributing factors to some natural disasters.
A country's geographical structure and location however is also another factor. Jamaica has had its own fair share of natural disastrous events, some more serious than others.
I'll now share with you some of the natural disasters that typically occur in Jamaica.
Landslides are the collapse of earth from a mountain or cliff. Landslides occur due to an increased gravitational pull when weight is added to the rock mass. They usually occur due to various factors, such as the vibration from
earthquakes
and water-logging (caused by rainfall) that saturate the top layers of unstable soil and cause it to slide downhill.
In addition, certain human activities have also been noted to cause landslides. Deforestation, vegetation removal, road construction and building construction on steep slopes are just a few of the activities that cause landslides.
This natural disaster is somewhat overlooked compared to other natural disasters. This may do the fact that landslides are triggered by other natural disasters. For instance, Port Royal was gravely affected by a landslide that took a great amount of the town below sea level in 1692. This landslide was a result of an earthquake.
Lightning
Lightning is another phenomenon of nature and another of the ones that occur in Jamaica, albeit infrequently. It is an atmospheric discharge of electricity that typically occurs during thunderstorms. It seeks the shortest path towards the ground, as such, the tallest object within its path is usually struck. If you are unfortunate to be in its path, you could be struck, which may lead to you being rendered paralyzed or even killed!
By the way, did you know that there are various types of lightning?
Yup!, there are actually four common types:
Intracloud Lightning: This is the most common type and takes place within a cloud. Therefore, this type is mostly harmless to anything on the earth's surface.

Intercloud Lightning: In this type, lightning strikes from one cloud to another. While humans on earth are safe, aircraft may be affected.

Cloud-to-Ground Lightning: This type is the most feared of all because, as the name suggests, lightning strikes from the cloud to the earth's surface.

Ground-to-Cloud Lightning: Also known as triggering lightning, this type is similar to cloud-to-ground lightning except that the strike originates from a tall, earth-bound object, such as a high mountain peaks, tall television towers or radio towers, to the cloud.
Floods
Floods are known to have long-term and widespread effects that result in property and infrastructure damage, loss of crops and, at times, loss of life. Flooding often occurs during times of intensive rainfall. Therefore, when other natural disasters, such as hurricanes that are accompanied by rainfall occur flooding is likely.
We have several so-called 'flood-prone' areas here in Jamaica, usually recorded by the parish.
In my home parish of St. James, here is a list of the main flood-prone areas.
Anchovy

Reading

Rose Hall

Wiltshire

Wales Pond

Moore Park

Long Hill

Caanan

Cambridge

Montego Bay

Green Wood

Horse Guards
If you wish to know the flood-prone areas in your parish, visit the Office Of Disaster Preparedness Website at
http://www.odpem.org.jm
Hurricane
Hurricanes are massive, violent storm systems that form over warm waters and move toward land. This is by far the most common natural disaster in Jamaica and is the cause of the Caribbean's most catastrophic events.
The Caribbean's tropical temperature and warm ocean waters have made it a haven for hurricane development. Also, since we are located in the Atlantic belt, we are susceptible to the full effect of these storm systems.
The Atlantic Hurricane Season lasts from June 1 to November 30. A potential hurricane goes through 4 phases before it can be considered a hurricane:
Phase 1 - Tropical Disturbance

Phase 2 - Tropical Depression

Phase 3 - Tropical Storm

Phase 4 - Hurricane
Once a storm has garnered windspeed of 74 mph and more it is classified as a hurricane. As windspeed increase so does the damage that the hurricane can cause.
Jamaica has had its fair share of hurricanes throughout its history, some more extreme than others. Here's a list of hurricanes that have affected Jamaica since 1980:
Hurricane Allen – August 1980

Hurricane Gilbert "Wild Gilbert" – 12 September 1988

Hurricane Michelle – 2001

Hurricane Charley - 11 August 2004

Hurricane Ivan - 10-12 September 2004

Hurricane Dennis - 2005

Hurricane Emily - 2005

Hurricane Wilma - 17- 18 October 2005

Hurricane Dean – 19 August 2007

Usually close to the hurricane season, we often see ads educating citizens on how to effectively prepare for the upcoming hurricane season.
Storm Surges
This natural disaster is of great concern to those individuals who live close to the coastal region. A storm surge is an abnormal rise in the water level along a shoreline produced by a meteorological disturbance such as hurricanes (ODPEM).
According to ODPEM, as a hurricane passes on the surface of the sea, it will create massive waves which flood the shoreline. As the water levels begin to rise and the waves hammer the shoreline it causes coastal erosion, flooding, scour roods, undercut sea walls and demolishing buildings.
So if you're at risk of storm surges you should:
Listen to the radio

Take the necessary flood precautions

If waves are higher than normal tide you should evacuate
Tsunami
While Jamaica has never been affected by a tsunami, there has been an increase in awareness since the catastrophe that occurred during the 2004 Indian Ocean tsunami.
For those who don't know, a tsunami is a series of waves that can travel at speeds averaging 450 - 600 miles per hour in the open ocean. As the waves come closer to the coast, their speed decreases and their amplitude increases. Tsunamis are produced by earthquakes, underwater landslides and volcanic eruptions. There are several risks associated with a tsunami, such as flooding, contaminated water and destruction of infrastructure.
Since earthquakes are a trigger for tsunamis if you feel a strong quake stay away from places where a tsunami can occur, such as beaches and the coastline.
I also recommend you read
The Hurricane Season In Jamaica
.
Regards,
AD
References:

National Library of Jamaica. (n.d.). History of Hurricanes and Floods in Jamaica. Retrieved from National Library of Jamaica: https://www.nlj.gov.jm/history-notes/History%2520of%2520Hurricanes%2520and%2520Floods%2520in%2520Jamaica.pdf&ved=2ahUKEwi9l7uv5bXgAhWRk1kKHfOYBOIQFjABegQIBhAB&usg=AOvVaw3o2MogTlueT2na6cm7mYmb

Office of Disaster Preparedness and Emergency Management. (n.d.). Types of Hazards and Disasters. Retrieved from Office of Disaster Preparedness and Emergency Management: odpem.org.jm/DisastersDoHappen/Typesof HazardsDisasters/tabid/250/Default.aspx

Office of Disaster Preparedness and Emergency Management. (n.d.). Who are we? Retrieved from Office of Disaster Preparedness and Emergency Management: http://www.odpem.org.jm/AboutUs/WhoWeAre/tabid/87/Default.aspx
Editor's Note
Do you have a question?
Submit it right here
! With well
over 2000 questions already answered
, chances are we can assist :-)