Where Does Jamaican Accent Come From?
Answered by Tracie Shortridge, Associate Writer

A Jamaican accent? What's dat? lol.

I'm just kidding.
An accent is simply the way you sound when you speak.

If your accent is matched to a particular origin, country and language, then it is said that you have that accent, such as the "Jamaican Accent".

Of course, the same can be said about an American accent, a French accent, an Italian accent and the list can go on and on.

The official language of Jamaica is patois (pronounced pat-wa) which derived from our connection with the West African nation of Akan.

It is a mixture of the English Language and the African Creole language.

There is a general Caribbean accent but the accent of Jamaicans tend to be more distinct from the others based on these tones, inflections and the mixture of the languages.

With Jamaica being rich in exposure to other cultures due to the slave trade, Jamaicans learnt and adapted the accents of plantation owners and overseers.

These ranged from English to Spanish to African and to a few other lesser populated ones.

These combinations of accents naturally resulted in a mixture of accents.

Now, once a Jamaican starts school which is usually around age two with pre-school, the main language taught to them is English.

As such, it is believed that English is the official language of Jamaica. So you will find them speaking English at school but Patois in their homes.

Patois is seen as a more relaxed casual language and as such it is reserved for social events and family gatherings.
English is reserved for the work environment (offices and other professional business settings).

This is important to note because this results in the accent based on the mixture of the English Language and Patois.

Based on the words used in the languages and the tone of speech by the speaker, patois gives off a "heavy" undertone.
So when we combine English, Spanish, and African with the passion and intensity of a Jamaican speaker, we get the strong Jamaican accent.

This accent is merely English broken down and combined with the other languages.

Pronunciation and enunciation of words usually leads to some unusual words and accents such as the ever popular adding of consonants where they are not to be added and removing them from where they should be added.

For example, "help" would be pronounced "elp" and "all" would be pronounced "hall".

Within the Jamaican communities as well, the accent is different depending on which part of the island you are from.

Persons living in Kingston, for example, have a different accent from persons living in Portland, and, you should hear the accent of my friends in St. Elizabeth and Westmoreland!

But to answer your question, let's just say, the Jamaican accent was birthed from the rich mix of languages from the various cultures that met here. A true testimony to our motto... 'out of many one people'.

Be sure to read this insightful article on Jamaican Patwa.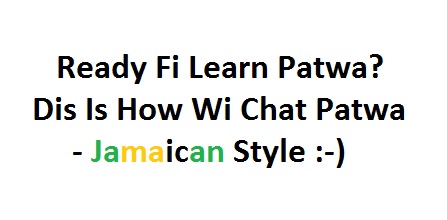 And don't miss these fun 'Jamaican' words - and their meanings.
Other Great Articles You Might Have Missed
P.S. Didn't find what you were looking for? 
Still need help?
Click Here to try our dependable and effective Site Search tool. It works!
Or, simply click here and here, to browse my library of over 500 questions and answers! Chances are someone already asked (and got an answer to) your question.
---