Who Is The Jamaican Harriet Tubman? Nanny Of The Maroons?
by Adele
(St John USVI)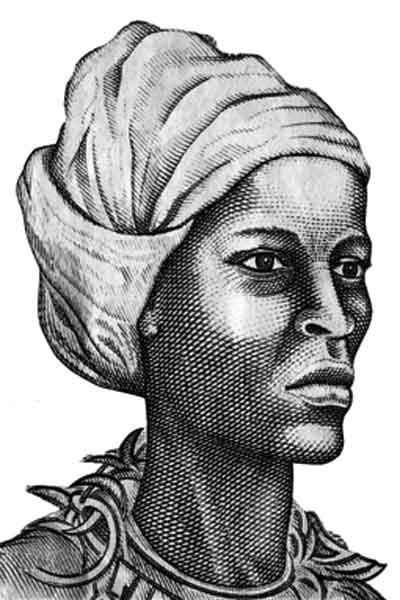 Photo: Nanny Of The Maroons From Jamaica
Please I've heard stories of a woman nene or nany. She is like a Harriet Tubman of Jamaica. She was here also in the US Virgin Islands, St. Thomas then sent back. What do you know about her?

RESPONSE: by Deon Clarke
Hi Adele,
Thank you for visiting the website and thanks for your question.
A very intriguing one indeed! So who is Harriet Tuban? And who does she compare to in Jamaica?
Yes, there is certainly one person that fits most of the profile but let us answer these questions to give a clear picture.
Who is Harriet Tubman?
If you are a political activist and especially a woman, this is a name that you would definitely be familiar with.
However for the benefit of those who may not know, Harriet Tubman is considered to be an iconic freedom fighter, A liberator of slaves, an American abolitionist, a political activist, and the list could go on.
In a nutshell, she could be described as a fearless woman who was extremely instrumental in the liberation of slaves in America in. She was born into slavery but escaped and went on to coordinate 13 slave rescue missions where she rescued about 70 slaves including family members and friends, never losing one of them. Amazing, isn't it?
She later served as a cook, then a nurse, and finally as a spy and an armed scout for the Union Army during the American Civil war.
She was the first woman to lead an armed operation or expedition where she was instrumental in guiding the raid at Combahee Ferry in which more than 700 hundred slaves were liberated!
This was no ordinary lady!
Despite suffering a serious head injury as a child, when a slave master accidentally threw a heavy-weight metal intending to hit another slave but hit her instead, she beat the odds while suffering, dizziness, narcolepsy and pains. She grew up as a Methodist and combined with premonitions and strange dreams that the started having after her injury (which she saw as a gift from God), she was a devout religious individual.
She was also a very active person in the women's suffrage movement as can be imagined.
So, who from Jamaica does she compare with? We will discuss this now.
Who From Jamaica Compares To Harriet Tubman?
Well, this one goes without saying. Nanny of the Maroons, without a doubt!
She definitely is considered to be the Harriet Tubman of Jamaica.
And the most patriotic might say, Harriet Tubman is the Nanny Of The Maroons from Jamaica!
She is now one of Jamaica's national heroes and is considered to be one of the most powerful and revered persons in Jamaica's social and political history. She was as fearless as could be and a freedom fighter. Her achievements are considered to be of the same rank as that of Harriet Tubman.
She was credited for freeing over 800 slaves over a period of 50 years with her aggressive surprise attacks on the British from her stronghold on the peaks of the Blue Mountains. She established an impenetrable stronghold or fortress for the Jamaican Maroons and runaway slaves through her spirit of rebellion, possibly from her strong Ashanti roots from Ghana (previously, The Gold Coast). A true leader and definitely a force to be reckoned with!
What Are Some Accolades Of Nanny?
Nanny is celebrated both locally and internationally, below are some of her accolades:


Queen Nanny was declared a National Hero in 1975 by the Government of Jamaica. Colonel C.L.G. Harris of Moore Town, who was a Senator in Jamaica's upper house at the time, was very instrumental and the driving force behind the move to have Nanny recognized as a National Heroine.

The Featuring of her portrait on the Jamaican $500 dollar bill, referred to as a "Nanny" colloquially.

In October each year, Nanny is celebrated on Jamaican National Heroes Day.

A Monument just for Nanny, located in Moore Town, in Portland, Jamaica.

Having the residential community of Nannyville Gardens, which is located in Kingston, Jamaica, and founded in 1977 named after her.

The of use Nanny's portrait in its logo by The Gilder Lehrman Center for the Study of Slavery, Resistance and Abolition at Yale University in the United States. This Center facilitates sponsorship, conferences and research on slavery within the Americas.

Did Nanny Of The Maroons Go To The U.S, Virgin Islands, St. Thomas?
Not at all. At least there is no historical record that shows that Nanny visited the U.S. Virgin Islands at any time. How could she anyway? She was brought here from Ghana and spent her life fighting for freedom - both for herself and runaway slaves!
This Nanny is the only one who by far compares to Harriet Tubman. So my dear Adele, unless there's another Jamaican Harriet Tubman, I would certainly like to know about her as well, as clearly we may not be speaking about the same person.
I do hope this information provided was helpful in answering your questions. Thanks again for stopping by. God Bless!
See also:
The National Heroes Of Jamaica
References:



https://en.wikipedia.org/wiki/Harriet_Tubman

https://jamaica-gleaner.com/article/entertainment/20191106/harriet-iconic-freedom-fighter

https://www.pinterest.com/pin/308215168225983218/

https://www.empowerwomen.org/en/community/stories/2017/03/nanny--queen-of-the-maroons

https://en.wikipedia.org/wiki/Nanny_of_the_Maroons

Editor's Note
What are you thinking? Do you have a question as well?
submit it here
! With well
over 2000 questions already answered
, chances are we assist :-)