Ackee Wine - Meet the makers, Journey's End Wines Jamaica
by Wellesley
(Jamaica)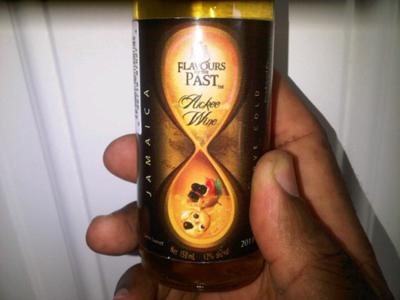 You've probably had the delectable Jamaican ackee right?

But what do you think of Ackee Wine?

Yup, Ackee wine!

I was amazed too, so I was very interested to learn more about this. Why Ackee wine? What were the makers thinking?!

I called Howard almost immediately after receiving his email; an early Sunday morning. I asked him for a formal interview and he gladly accepted; thanks again Howard.

Here is my Q&A with my Howard, one of the directors of Journey's End Wines (cool gentleman too) the proud makers of the first Jamaican Ackee Wine!

---
1. Thanks again Howard, please start by telling us (my site visitors) someone about you/ your company?
Journey's End Wine Company was established in February 2011 with the goal of utilizing Jamaica's natural resources in order to create unique wines that Jamaicans and the world can enjoy.
2. Why Ackee Wine? What inspired you do something so unusual?
It was with that in mind the idea of Ackee Wine came about - mainly because it has never been done before. As ackee is Jamaica's national fruit and the main ingredient to the Jamaican national dish, I found it fitting that Jamaica should have a national wine with the native ackee fruit.
3. How long has it been on the market?
As of April 2012 this product has been on the market for roughly 8 months, however the purpose of this period was to test the market and receive feedback from consumers in order to improve this product.
4. How has the reception been? Do you get any concerns about the ackee ingredient? Especially since ackee has to be specially prepared?
This testing period has been exceptionally successful with phenomenal feedback from occasional wine drinkers and coinsures alike.
The main problem we have encountered with people is the issue of hypoglycin in the ackee. This hypoglycin "issue" is not one as we test our Ackee Wine with the Bureau of Standards on a regular basis.
The international range for the hypoglycin levels in Ackee is from 100 PPM (Parts per million) to 150 PPM, however our Ackee Wine averages just at 20 PPM, so it is exceptionally safe for consumption.
5. Any new plans for it? Any massive promotion? Do you plan to take it overseas?
In terms of exporting, we are not currently, however we plan to in the near future. With this in mind we will be attending the
2012 Expo Jamaica
in about 3 weeks.
6. How can potential clients or distributors contact you?
They can currently email us at journeysendwine@gmail.com.
We also have a google page at...
https://sites.google.com/site/journeysendwinejamaica/brand-names/home
7. Do you have other products on the market? (Please name and say about them)
We also have 2 other products which are our Sorrel Blush wine and out Sugar Cane wine. The Sorrel Blush is a sweet blend of Sorrel and seasonal fruits and the Sugar Cane wine is simply Sugar cane. The wine that invented rum®
8. Final Question? (I ask all my interviewees) What do you think that makes Jamaica special?
In my opinion Jamaica is special because of our rich culture that makes us stand out from any other. With the blend of people from the north, south, east, and west, Jamaica is without a doubt the gem of the Caribbean.
---
Loooooove this, thanks Howard.
Interesting huh?
What do you think of this?
Share your feedback on the comments button below.
P.S.
See the picture above, that's my bottle, gonna try it later and let you know :-)
Back To
Personality Interviews
main page.