An Excellent Jamaican Masseur - Michael VanReel
by Wellesley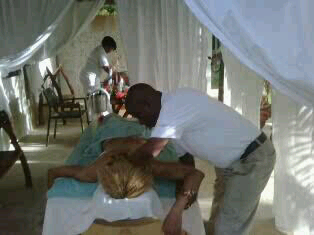 Michale Vanreel, Professional Jamaican Masseur at work
A good product/service truly sells itself! In this case, it is from a professional Jamaican masseur.

One of my most dedicated website fans, Cynthia from the USA, was first treated by Michael Vanreel (working from the Coyaba Beach Resort) approximately 14 years ago.

Such was the quality of his service that she now makes it a part of her vacation schedule every time she visits Jamaica, usually twice per year.

Cynthia shared this email (below) with us and we felt it fit to share with you and all my other website visitors.

If he created such a big impression on a client (tourist) then he certainly deserves our recognition here too - wouldn't you say?

Anyway, away with my pre-amble, here is the email from Cynthia ...


---------- Original Message ----------
From: "Esposito, Cynthia"
Date: 18 Jun 2014 07:37
Subject: TESTIMONIAL ABOUT MICHAEL
To: "Wellesley Gayle"

Cc:

I have been coming to Jamaica and staying at my favorite resort – Coyaba Beach Resort in Montego Bay since November, 2000 - I usually stay for a week twice a year May/November.

As a result, I have been a client of Michael's for all these years and it always is the highlight of my vacation to receive a soothing massage to help me unwind from the stress of work back home in Chicago, Illinois.

Michael creates a very relaxing atmosphere for his clients including dim lighting, soothing scents, music and more.

He also has excellent interpersonal skills and can create a rapport with his clients which helps put them as ease during a treatment. He is also ready to answer any questions that the client may have during a massage.

As a result, each individual is ensured a great experience customized to their personal needs. He also keeps himself educated and aware of new techniques in the industry – his "hot stone" massages are to die for!

I totally appreciate massages because I know they are great for de-stressing, staying healthy, reducing hypertension and of course they boost your immune system.

There are many types of massages that Michael provides i.e. Swedish, Deep Tissue, Hot Stone, Island Aromatherapy, etc.

Also, what is so very lovely is that you have several locations on the hotel's property to chose from for your massage.

There is always my favorite, Coyaba's private dock or perhaps a beach side massage and if you prefer, you could be inside your own room or the indoor massage room.

-Cynthia

Keep up the great work Michael VanReel! And thanks for taking time to share the experience Cynthia!