How to buy a car in Jamaica?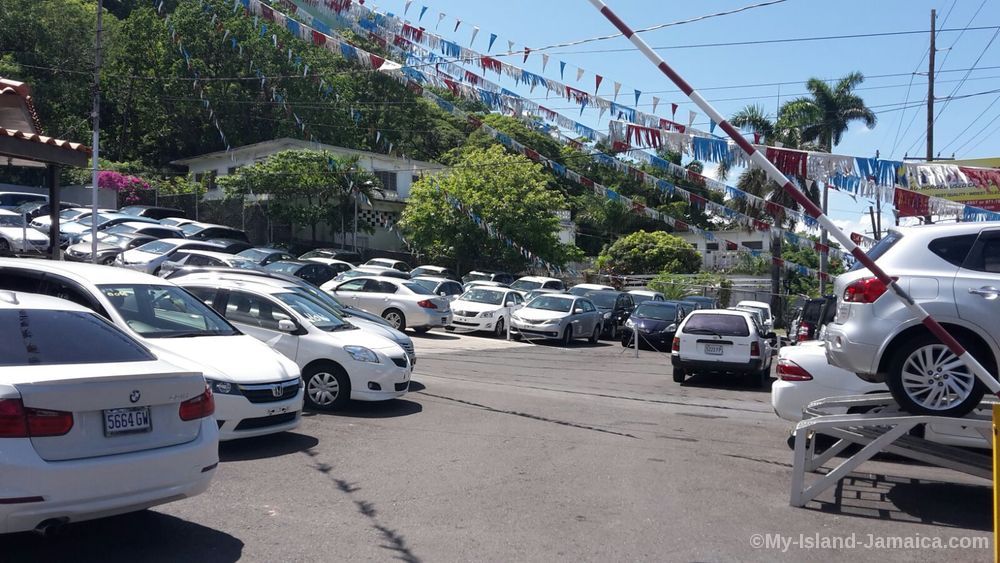 Answered by Aneisha Dobson, Associate Writer

Jamaica is considered a preferred tourist destination because of, among other enviable attribute, its exciting array of fun sites and attractions. Both tourists and locals enjoy experiencing the adventures of Jamaica.

For example ...



You can go partying with friends at Margaritaville, the Jungle or Pier One.

You can go rafting at the Rio Grande in Portland.

And if you are feeling more adventurous, you can go hiking up the Blue Mountains.

Or, be a child again and consider Kool Runnings Waterpark in Negril, Westmoreland.

Simply put, there are a host of
places to go
and so much exciting things to do here.
But with an endless list of places to visit and enjoy, you need a reliable transportation to take you around.
For most Jamaicans, public transportation is relied upon on a daily basis to move about from one place to another. But anyone who is familiar with the public transportation here knows that it can be stressful and exhausting.
As a result, many consider
charters and rentals
.
However, many of us dream of owning our own car, allowing us to go wherever and whenever we want. Although purchasing a car can also be an exhaustive process, it can be attained easily with some planning.
So how does one go about buying a car in Jamaica?


Key Considerations





Are you single or do you need it for family?

What size vehicle are you interested in?

Will you be driving on rough roads?

What is your budget, and what is the price range that you are considering?

Do you want a new car? Or are you willing to settle with a used or pre-owned vehicle?

Do you prefer a specific brand of vehicle?

Will replacement parts be easy to source?

Is it fuel efficient?

Which banks or financial institutions offer financing of vehicles?

What are the interest rates like?





Next, Research Your Ideal Car!

When researching you can browse the web and read automobile magazines to get reviews about cars and their specifications. If you have a car savvy friend, tag him (or her) along and ask questions about that brand/type. Having a third party opinion helps you greatly when choosing a vehicle.

By the way, here in Jamaica we love cars just as much as we love food and music. So you'll be able to find a wide variety of vehicle brands.These include:





Toyota

Ford

Mazda

Mitsubishi

Volkswagen

Honda

Mercedes Benz

BMW

Audi

Jaguar and others!




Also read: 7 Money Saving Car Buying Tips


Select Your Dealer

So, off you go to your local car dealer!
But it's great to shop around and visit several car dealers to get the best price deals. You can also search online to find car dealers outside of your parish. Never commit to anyone to early though. Prefer to search online, here is a good recommendation from us.

Be sure to also see the best car dealers in Jamaica.

Key Tips:




You may ask to test drive a car you like. You'll have a feel of how it operates on the road.

Buying a used car? take a qualified mechanic with you so that they can do some inspection.

Try negotiating on a lower price with the seller, you might get lucky.





Financing

So after you've searched high and low, and everywhere in between, you have found your car! It's everything you dreamed of!

But, before you get all excited, grab that pro-forma invoice, you'll need to consider financing.
If you have ready cash, be sure to do it through a reputable financial institution. Note however that Jamaica has laws (limits) on cash transactions over 1M JMD.

The next (and usually the most obvious) option though is an car loan. The financial institutions will usually require documentations such as:




Tax Payer Registration Number

Valid Identification

Proof of address

References

A pro-forma invoice

Valuation report on interested vehicle

And, if employed, a job letter, payslips etc.




You should note that not all financial institution offers 100% financing (and the year of the car has a lot to do with it too), thus you'll be expected to have to have funds for a deposit.

Choose wisely. Ensure that you fully understand critical information such as the interest rate, how much of the cost the institution will be financing, how you'll be paying back (weekly or monthly) and how long you'll be paying back.


Other Notes/ Expenses:
But, before you start planning that road trip, remember the formalities. You will need to register your car, license it and insure it. All that is required by Jamaican law!

By insuring your vehicle, you will be able to protects your assets, fulfill your legal obligations and you'll be able to recover quickly from losses.

Licence and registration is basically paying for your licence plates for the car, certificate of fitness, registration disc and transfer of title. Like insurance, it is an annual expense and price various depending on the size of the vehicle.

Well, those are the basic considerations when buying a vehicle here in Jamaica.
One final reminder: Your car will cost you much more than the total costs to get it up and running (legal) on the road. Like a child, you are now expected spend for upkeep.
These include:


Fuel Costs (which is ever changing)

Servicing

Replacement Parts &

Cleaning

I hope this helps!
See also:
Transportation In Jamaica
References:


https://www.advantagegeneral.com/Auto

http://www.jamaicaobserver.com/auto/The-ins-and-outs-of-owning-your-dream-car_17570337

https://jamaicahotelreview.com/buying-a-car-in-jamaica/