Jamaican Christmas Sorrel Cake
by Sheree-Anita Shearer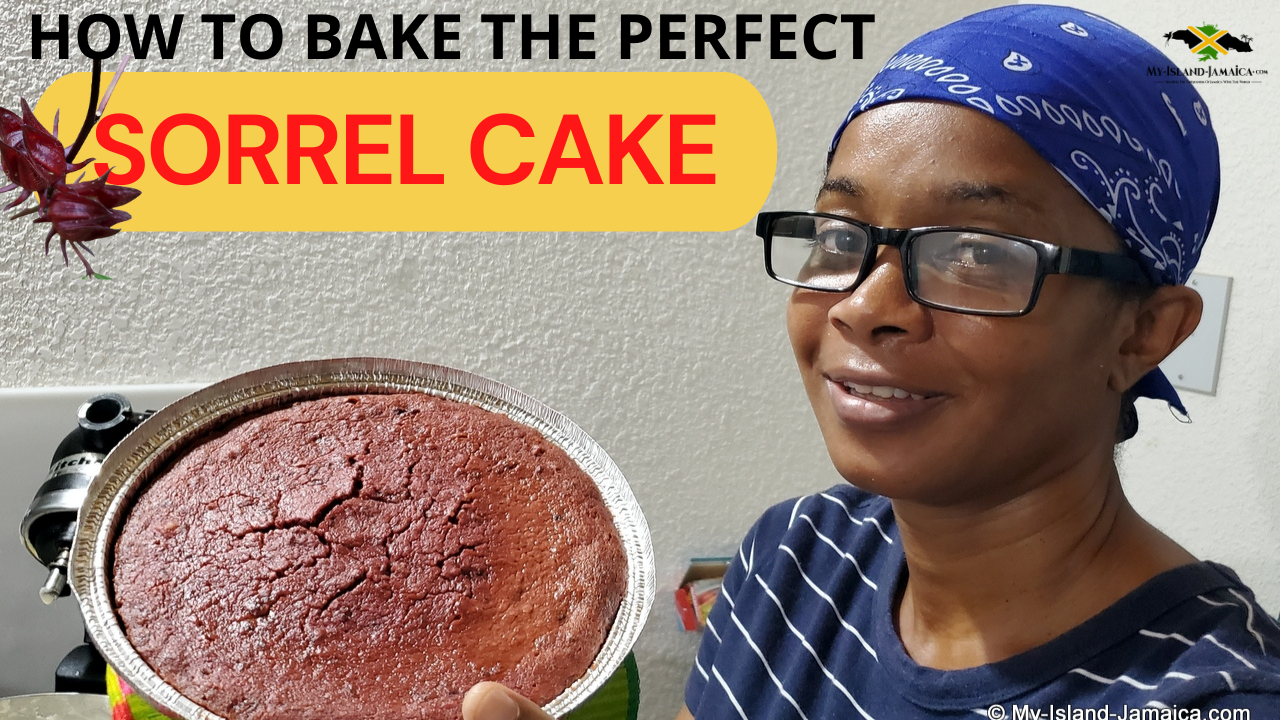 Photo: Christmas Sorrel Cake
In Jamaica, there is one very critical part to our Christmas Dinner. Yes we enjoy the curried goat, oxtail and ham, we love the Christmas Day Church service and we love seeing our family and friends who we haven't seen in a long time. But there is something that just ties the whole day together, the Christmas Cake.
We have shared how a traditional Christmas cake is prepared before and I am absolutely sure you loved it. But, we have something extra special today. Kayon, our favourite pastry chef, who previously shared the traditional Christmas cake with us, is gracious enough to share a Christmas cake with a twist! Kayon will share with us detailed steps and the ingredients on how to make a delicious Sorrel Cake, for ourselves.
To make this treat you will need:
Sorrel (of course)

1lb Butter

1lb Sugar

4 Eggs

6 cups flour

4 teaspoon baking powder

teaspoon nutmeg

1 teaspoon Mixed spice

1 teaspoon cinnamon

Mixed fruits (raisins, prunes, mixed peel, cherries)

Add wine or rum to your liking (optional)

Steps:
Using a blender, combine your sorrel and mixed fruits (do not strain). Try not to use a lot of water, you want the batter to be thick.


Use a mixer (or your hands) to cream the butter and sugar then and your eggs. Next step is to add in your sorrel and mixed fruits batter. To have the best consistency, turn the mixture on a low setting and slowly add your sorrel and fruit mixture to your liking.


Add in your dry ingredients, (flour and baking powder) and continue mixing until a smooth consistency is achieved. To avoid lumps add the flour a cup at a time. (if your mixer is not big enough to hold all the cake batter, transfer to a larger container and use your hands). Now is the best time to add your spices too.

Remember to preheat your oven at 180 degrees for 20 minutes. You can also add a pan with water on the bottom shelf of the oven to steam bathe the cakes.


Now is the time to fill your tins with cake batter and put them in the oven.


Your cakes should be ready in 45 minutes, however, if your cakes aren't ready after 45 minutes have elapsed, close the oven and wait another 10 to 20 minutes.


After your cakes are done, remove them from the oven and generously pour your wine or rum of choice over the cake. This adds moisture and flavour to your cake. For a truly authentic Jamaican Christmas cake flavour, Red Label Wine is the best option.

Allow your cake to cool and the wine to soak through. Your cake is now ready to be enjoyed!

Frequently Asked Questions
Not only was Kayon gracious enough to share her Christmas Sorrel cake recipe with us, including detailed steps, she also answered some questions about Christmas cakes too.
Question: Are fruit cake, Christmas cake and Black cake the same?
Answer: Yes, a traditional Christmas cake is a fruit cake, we just add a little more fruit and rum because of the season.. Other regions call it Black cake. They are all the same.


Question: How do you store your cake?
Answer: For the first few days, just a cool dry area will be fine. If you plan to keep it for a while, then freezing is the best option. When you are ready to have a little more, just place it in the oven to reheat it and add a little more wine or rum. One helpful tip if you aren't planning to have it all at once when reheating is to slice the cake before freezing it. That way you aren't reheating the entire cake just to have a slice.


Question: How do you soak fruits for Christmas?
Answer: Get a container with a tight lid (preferably glass, and your wine or rum of choice in the container. You can add spices as well (cinnamon, allspice, nutmeg). Add mixed fruits to the liquid and close the container. Many people do this months before they plan to use it.


Question: How long can a fruit cake last?
Answer: It depends on how it is stored. If it is frozen it can last a year.


Question: What makes my fruit cake dry and crumbly?
Answer: You may have added too much flour or the cake is dry because it lacks moisture. Also, do not try to rush the process by having the oven on high heat. This may also cause it to be dry.


Question: What is the best alcohol to use for a Christmas cake?
Answer: It depends on your liking. Red Label wine is preferable but if you can't get your hands on this, then bulk wine and rum or brandy can be used.


Question: How do you know when the cake is baked?
Answer: To test the cake's readiness, you can gently place your hand in the centre of the cake. If the cake stays sunken after you have removed your hand, then it still has too much moisture and isn't ready just yet. Also a clean toothpick can be inserted in the middle if it comes out clean then the cake is ready. If not, just give it some more time in the oven.


Question: Why is my cake so heavy?
Answer: It can be because of the flour or too much fruits may have been used.


Question: What is a good substitute for alcohol in my fruit cake?
Answer: You can use fruit punch, orange or cranberry juice as a substitute for alcohol.

So, there you have it, Kayon's sorrel cake recipe! To watch her make the sorrel cake
WATCH THIS VIDEO!
If you would love to contact Kayon for her delectable pastries or consultations you can reach her at (876) 417-0067. Happy Baking!
I also recommend you read
4 Authentic Jamaican Christmas Dinner Ideas
.
Regards,
SS
Editor's Note
Be sure to
share your comments here
. We love to hear what you have to say!