Perhaps you've had jerk (pork or chicken) - I am guessing so. But have you had Jamaican-styled curried chicken? And I mean authentic Jamaican curry chicken? It's to die for!
New! Ready To Visit Jamaica?
Join countless of travelers who have already unlocked the secrets to experiencing Jamaica on a budget. Click Here and find out how.

And, if you ever need a trustworthy, friendly and knowledgeable local guide, consider booking a private tour with us!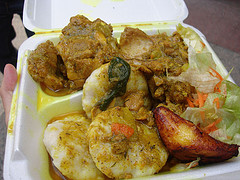 By now you know that I am a read Jamaican foodie right? Yep!
And curried chicken (or chicken back) and dumplings is my favourite Jamaican dish.
I had promised myself not to eat later than 7:00pm in the evenings nowadays, you know to keep the shape :-), but to be brutally honest with you, if it is curried chicken, I have a real difficulty keeping that pledge.
I've been overseas and had curried chicken, but that only helped to convince me that there is none quite like the Jamaican version.
Is it just the Jamaican curry powder? I doubt it.
Yes, part of it has to be our local seasonings, but a friend of mine recently said that if you take the same seasonings and prepare the dish, say in the USA, you still don't quite get the same taste.
OK, he may be overly patriotic, i honestly think so, but take nothing away from him, he knows that Jamaican curry chicken is darn tasty.
And the good news is that you can have it the same way we have it too! So without further ado, here's the recipe (below)... Give it a try nuh!