long term stays in jamaica
by Linda
(US and Thailand)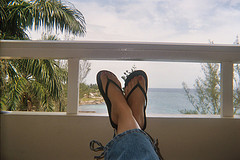 Inexpensive guest houses or long term stays in Jamaica? That's the question sent in to me from Linda in email recently.

I consider my response quite insightful to others as well, and so I am sharing with you (below) for your information, education and preparation :-)




On Sun, 16 Jun at 23:27, LINDA H. linda@xxx.xxx.com> wrote:

Hi Wellesley,

We haven't talked with each other in a while so you may not remember me. I've been living in Thailand for the past four years with my husband but plan to return to the Philadelphia in December to be closer to family.

Problem is the weather. Philly is harsh and our bodies are just not used to it anymore so I was thinking of spending January thru March in Jamaica.

I'm wondering if you know of any inexpensive long term stays or guest houses in Jamaica? It must have wifi as we need to work, be very secure since our laptops contain all of our livelihood.

Preferably within walking distance of water and restaurants.

Thank you in advance for your advice.

Kindest Regards,
Linda


ANSWER:
by Wellesley
Hey Linda,
Yes, I remember you well my friend! Its been a while!
Good to hear from you!
Oh yeah, three (3) places came to mind off the bat. These are...


Topaz Dream Palace Villa in Montego Bay

Little Bay Cabins, near Negril, and

Tapioca Village Retreat in St. Mary

Note that these are personal recommendations because I've stayed at two of them and the other is someone I know well - and so is familiar with the businesses.
All great little 'hide-aways' that I'm sure you'd enjoy, and yes, they do have WIFI access.
I get no commission from them but it would be nice to let them know that I told you about them :-)
Another one, which I featured sometime ago is,
Catcha Falling Star (now called LTU Gardens)
in Negril.
They do offer special rates for extended stay but mainly off-season, as you'd understand.
January to March in Jamaica is considered part of the peak season and so many properties are fully booked for that time - a lot of their return guests pre-booked their stays for that period.
That said, I also did some additional research, taking customer reviews into consideration, and came up with these for consideration.


Jus 4 U Vacation Rental (St. Ann)

Shades Cottage Guesthouse (Belmont, Westmoreland)

Spring Mountain Villa (Green Island, Hanover)

NICKELS GARDEN VILLAS (Montego Bay, St. James) &

Tallest pier view villas ( Falmouth, Trelawny)

These are at the cheaper end of villas in Jamaica but have been getting some great review. Just Google them for additional information and be sure to ask them about their long term stay packages.
Over and above those, you may also want to consider searching the following websites for more options:


https://www.sublet.com, and even

My
first recommendations above
, remain my best though.
I hope this helps.
Good luck!
And please be sure to touch base when next you get here. Read more about some
great hotels in Jamaica here
.
Bless!
Regards,
WG
P.S. I'm also allowing my readers to
suggest other great long term stays in Jamaica here
. So please follow this page for updates.
P.P.S. We've answered HUNDREDS of questions,
click here
and
here
to get more answers.