Miss Jamaica Marie Chance - in the 60's or late 50's
This question had great sentiments attached and I was excited to help. It was a child trying to find information about his/her mom, Marie Chance, who took part and won a beauty contest in Jamaica in 1960.

Here is the question - with my response.


Hi, I am trying to find out information about my mom. She won a local beauty pageant in Kingston, Jamaica.

Miss Jamaica -was sponsored by her employer Keith Issacs at the time. I believe the competition was just for the residents in Jamaica. Not sure if you have anything in your archives?
ANSWER:
by Wellesley
Hi Selliot,
OMG, this one was tough, but I am excited to let you know I found some information for you!
And from two sources!


The Gleaner archives - from 1960,

And a magazine called JET, a weekly publication capturing African American political and entertainment news.

Based on both sources, yes, she won the coveted Miss Chinese Jamaica! The event took place on Sunday, November 20, 1960 at the Chinese Athletic Club.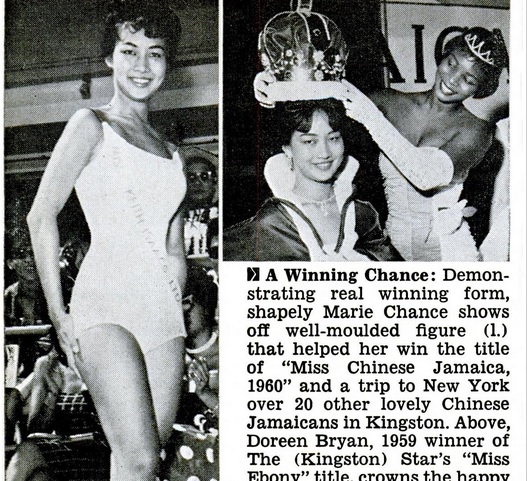 Photo: JET Magazine
Photo: Jamaica Daily Gleaner Front Page
Second place apparently went to Norma Shun, Miss Consumer Products, and third went to Lily Chin, Miss Starlight. Doreen Bryan, Miss Ebony, presented her the crown and red satin cloak. You are right, she wore the sash of her employer, Keith Isaacs Ltd.



JET Magazine


She was captured in Entertainment section, page 62, of the December 15, 1960 edition with a picture and the following caption...



A WINNING CHANCE: Demonstrating real winning form, shapely Marie Chance shows off well moulded figure that helped her win the "Miss Chineese Jamaica 1960" and a trip to New York over 20 other lovely Chinese Jamaicans in Kingston"






The Daily Gleaner


We found three (3) mentions of her in the 1960 Gleaner archives.




Nov 22, 1960, front page and page 20 - a report on the contest


Dec 11, 1960, p. 24, in an advert for her sponsor, Keith Issacs



Photo: Daily Gleaner - Sponsor, Keith Issacs




Dec 12, 1960, p. 26, pictured with Sonia Matthews, Mona's first queen

Proud of you though, and so happy I was able to help.
Regards,
WG

References and Pictures from...



JET, Google Books, Johnson Publishing Company, https://books.google.com.jm/books?id=ca8DAAAAMBAJ&pg=PA3&dq=jet+1960+december&ei=gzyEXf_aO4HLwQWt-7WABA&cd=1

The Gleaner Archives

Thanks again for asking!
As usual, I welcome
your feedback
.
Regards,
WG
P.S. Have another question?
Submit it here for an answer
.
P.P. S. We've answered HUNDREDS of questions,
click here
and
here
to get even more answers.