The 7 Ways We Cook With Corn in Jamaica
by Kesha Stewart | Associate Writer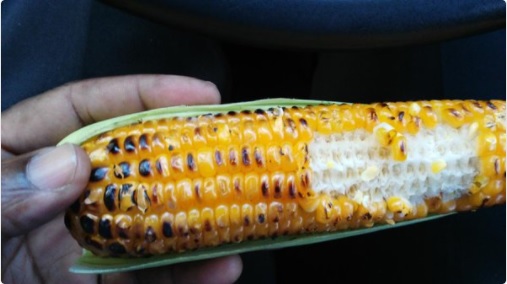 Photo: Roasted Corn
Corn was a major crop planted by the Tainos, the first Jamaicans. Like them, corn forms an important part of our diet, in fact, corn which the Tainos called maize, is so well utilized you may be surprised. Here are 5 ways we Jamaicans use corn today.
Porridge
Jamaicans love porridge and there are about three types of corn porridge in Jamaica. If you've been in Jamaica even for a few days, you are sure to be introduced to porridge.



First, there is a breakfast staple we call Hominy Corn Porridge. Hominy looks like pellets. It is actually cracked corn. To make the hominy porridge The pellets are slow-cooked on an outdoor fire but sometimes it is done more quickly in a pressure cooker, a slow cooker can also be used. Once the pellets become tender cinnamon and coconut milk are added and the porridge continues to cook. Using coconut milk makes the porridge completely vegan (but some people will add condensed or even evaporated milk). Most of us prefer to use coconut milk. Sometimes a little cornstarch is used for thickening. Nutmeg, vanilla and rosewater or other flavourings are used to further enhance the taste. Apart from the taste, hominy porridge is guaranteed to keep you full until noon. Note the pellets do not dissolve. As a result, the porridge is quite chewy.


Corn Porridge can be done another way. In this way, the hominy is cooked until it's tender and then blended until smooth. The smooth slushy mixture is added to boiling water to which coconut milk, cinnamon, and other spices are already added. The more milk and the smoothness of the mixture will contribute to a more creamy porridge. Some persons add smoothly blended plantain or mature green bananas or even blended peanuts for a variation in the flavour.


For Washed Corn Porridge, immature/baby corns are grated while on the cob or shaved off with a knife and blended. The name is derived from a part of the preparation process, this is where hot water is poured onto the grate to remove the corn residue. This is then boiled when it begins to thicken. If it does not thicken appreciably that will require a bit of dissolved cornstarch to help out. Your usual preferred flavouring and spices may be added. The only issue I have with this porridge is that the skin of the corn kernels reside in the porridge and can make it fibrous.



Corn Dumplings
Dumplings are a fixture in Jamaican plates. Corn is used to make dumplings that are filling and enjoyable. We make corn dumplings by first steaming dried corn on the cobs. The steaming rehydrates the corn. When the corn is steamed it is then grated into a large container now it becomes a coarse flour at this stage it can be used to make porridge, dumplings and puddings. For dumplings, the mixture can be further refined by doing a quick-dry blend in a blender, pounded in a mortar with a pestle or left to air dry and then sifted. The finer the texture of your flour, the smoother the dumplings. Dumplings are placed in boiling water and left to cook for approximately 20 minutes. Corn dumplings go very well with steamed fish.


Corn Puddings aka Pone
When the corn is at the stage where it is reduced to a semi-dry or dried state it sifted and can be used as the base for puddings. Corn puddings are best when baked in the traditional style; where it is done on an outdoor setting in a dutch pot placed on live coals and more live coals are set on a metal sheet on top. Hell a tap, hell a battam and haliluyah in di miggle. Translation: Hell on top, hell below and hallelujah in the middle. Incidentally, Duckunoo can be made from the corn mixture used to make pudding. The difference is that the mixture is poured into foil that is carefully folded to retain the contents and is then boiled, not baked.


Corn Soup
It is hardly likely that you could be at any town centre or popular hangout spot and not see a soupman/soupie (the person making or selling soup) - pass by or have a soup stand. Most of them will be selling corn soup. This soup is made with corn of course, specifically ones that are not so mature that the grains become tough. The corn is kept on the cob, carefully cleaned and washed and placed in a pot of water. To which scotch bonnet pepper and other fresh seasonings, packet soup such as cock soup and so on. From this, you may purchase corn soup to go (with or without the corn) or you may just buy corn on the cob to eat as you go.


Corn Asham
The dried kernels are parched in a very hot ungreased dutch pot for parching. Corns are considered parched when they get brown. When parched the kernels are pounded into a fine powder. After careful sifting, some brown sugar is added. The dried mixture is spiked with a bit of brown sugar. It is kind of a dry snack or dessert. There is a peanut version of this too. Some people put a bit of the peanut version to create a variation in flavour. I've known people who use this to make their tea in a manner like instant coffee.


Roast Corn Well it is as it says. Tender corns are harvested and a few lawyers of the outer covering (ears) are removed (husked). It is then placed on slow fire or live coals and roasted. It tastes very good.


Corn Tea
For this morning kick start the corn is parched until they are near to burnt after which they are grounded. When stored in a dry container in a dry place it can be ket as long as your coffee. Not only does it look like coffee but it tastes like it and is made in the way you make your instant coffee.
Corn is versatile and here in Jamaica, we put it to the test. Which of these corn ideas do you want to try/remember trying? Be sure to let us know.
I also recommend you read
Jamaican Porridge Recipes 3 Simple Recipes You'll Love
.
Regards,
KS
Editor's Note
Don't hesitate to
submit your questions here
! With well
over 2000 questions already answered
, chances are we can assist :-)