The Ashe Company - Edutaining Jamaica Through Music and Dance
by Sheree-Anita Shearer | Associate Writer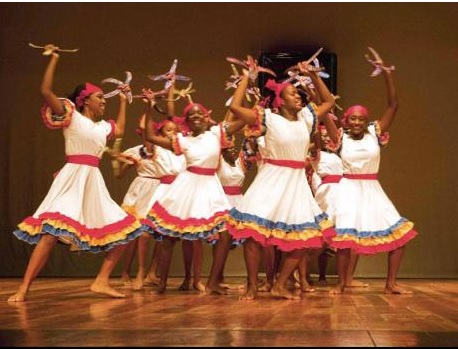 Photo: Traditional Dance in Jamaica
The Ashe Company is a theatre arts company based in Jamaica. Since their inception in 1993, they have demonstrated a high level of commitment to preserving Jamaican and Afro-Caribbean Culture through
Edutainment
. This they describe as education through entertainment. The company got its name from the Yoruba word
Ashe
which means to
conceive the power to make things happen and produce change
. Ashe Company empowers its members and through them, the audience to use the
strength, power and energy within
to access their inner gifts and talents to live a better life.
How Did Ashe Start?
The Ashe Company was started in 1993 by
Joseph 'Joe' Robinson
and
Paulette Bellamy
. Robinson who hailed from the island of Turks and Caicos found it important to preserve the rich history in dance and music of Jamaica and the Caribbean at large. He did so until his death in 2005. Paulette Bellamy who is a co-founder served as musical director and later left the company in the very capable hands of Conroy Wilson (Executive Director) and Micheal Holgate (Artistic Director). Both of them have continued to pass on our love of music and dance to younger generations through performing arts.
What Does Ashe Do?
Ashe provides Musical Productions, Empowerment Training and Media Production. The company also hosts summer programmes for children aspiring to become entertainers. They have performed both traditional and contemporary forms of Jamaican and Afro-Caribbean music throughout the Caribbean and the world at large. They have received over 20 international awards for their work and has performed in Toronto, Canada and the Netherlands.
Entertainers Who Were Apart of Ashe
Ashe has been the training ground of many Jamaican entertainers. In fact, the current director of the company Conroy Wilson is one of the founding members of the company and started as just a member in 1993. Today, in addition to his commitments to Ashe, he is also a judge on the popular music competitions,
Digicel Rising Stars
. Dancehall artiste, TIFA, also was a member of the Ashe Company for the 6 years leading up to her big break on the local music scene. She has not forgotten her ties to the company over the years and has gone back to assist with musical productions from time to time. Also, Sharee McDonald-Russel, best known for her work on the Jamaican theatre scene was also a member of Ashe. She is one of the most popular actresses in theatre as has played very important roles in many successful plays since the 2000s. Micheal Sean Harris, a lecturer at the Edna Manley School for the Visual and Performing Arts, voice coach on Digicel Rising Stars and a judge on a high schools' choir competition All Together Sing, also started out at Ashe.
Other Endeavours of Ashe Company
Edutainment is the word Ashe coined, to describe their work and the mission of the company. As such, they often partner with the Ministries of Youth and Culture, Education and Health to impart important messages through entertainment. Ashe produced a suite comprising a book, an accompanying video and workbook titled
Vibes in the World of Sexuality
which is a great resource for Guidance and Counselling as well as Health and Family Life Education practitioners in schools. They also are mainstays in Jamaica's Emiancipendence and Heroes Day celebrations. One very important cause to ASHE as a company is the awareness of HIV/AIDS. From the very beginning, the company has, through the performing arts, taught young people about reproductive health, sexuality and HIV/AIDS.
Ashe is an innovator in the Education through Entertainment space, which has led to transformation and social development worldwide. It is important for our history and culture to be passed down to future generations. ASHE is doing just that!
I also recommend you read,
10 Popular & Time-Honored Traditional Jamaican Dances
.
Regards,
SS
References:

Ashe to honour co-founder in Turks, Jamaica Observer, https://www.jamaicaobserver.com/entertainment/ashe-to-honour-co-founder-in-turks_144913

ASHE shaping the future of theatre - Looks to open expanded Vibes Theatre by November, Jamaica Gleaner, https://jamaica-gleaner.com/article/entertainment/20190806/ashe-shaping-future-theatre-looks-open-expanded-vibes-theatre

Ashe Celebrates Its Founders In 'Sweet Sixteen Season Of Excellence', Jamaicans, https://news.jamaicans.com/ashe/

Edutainment and Theatre Arts Company, Ashe Company, https://theashecompany.org/

Editor's Note
Don't hesitate to
submit your questions here
! With well
over 2000 questions already answered
, chances are we can assist :-)