Tourist arrival statistics for Jamaica
by Priscilla Chism
(Memphis TN USA )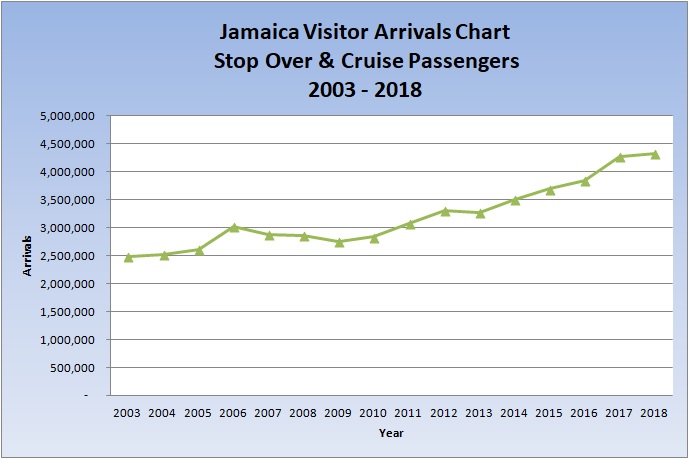 That was very good Information.
I often wonder how many tourists visited Jamaica per year.

Thank you

RESPONSE: by Wellesley
Hey Priscilla,
You are welcome, thanks for taking the time to respond. It does mean a lot to hear from my readers, knowing that someone is finding the info useful.
For those who are not quite sure of what you and I are talking about, let me refer them to this article:
HOW MANY TOURISTS VISIT JAMAICA EACH YEAR
.
I recommend that they review it and see for themselves.
In it we report all the visitor arrival statistics for Jamaica since 2003.
There is one thing I didn't mention though Priscilla!...
That's
The Percentage Increase Over Prior Years
!
The data states it clearly on the chart, but I thought I needed to point out that we over the 16 year period we averaged 3.85% increase year on year.
Important too is that four (4) of those years had
negative increases
...


2007

2008

2009

and 2013!

And 2006, 2011 and 2017 recorded the
highest increases
over prior years, with...


15.33%

8.73%

and 11.42% respectively

Also of note is the fact that despite the record increase in 2018, it was just a 0.99% increase over the prior year. Read
more here
.
Thanks again Pris.
You may also be interested in learning about the
history of tourism in the island
as well as
how does Jamaica benefit from tourism
.
As usual, I welcome
your feedback here
.
Keep in touch.
Regards,
Wellesley
P.S. Like Priscilla, Have your say
Share what's on your mind here
.