Traditional Jamaican Games and Toys
by Shana
(Panama)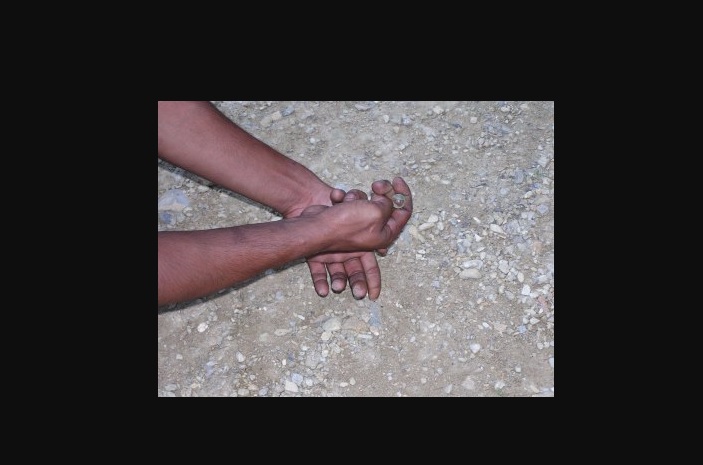 Photo: Jamaican Boy Playing Marbles
Will you do a series on the games and toys many Jamaicans grew up with like the juice box trucks, dandy shandy etc.
RESPONSE: by Deon Clarke
Good day Shana,
Thank you for stopping by the website and for your request. How is going over there in Panama? Trust you're doing well. Funny you should ask about the Jamaican childhood game as you would be happy to know that there are actually articles on this website about some of those very childhood ring games. You can go on the below link s and have a look:
So those would cover the games, but what of the toys?
As you may already know and for those who do not, Jamaicans are very creative, even from a tender age!
There are tons of toys that Jamaican kids created back in the day (the times of no internet). I certainly won't be able to cover all of them, but how about 10? Here goes:
The Box Juice Truck - A very popular one indeed! Children, especially boys were certainly not lacking imagination and creativity with this one. The strong square or rectangular shaped drink boxes, reshaped in the form of a truck and adorned with bottle covers, lime or sour oranges for the wheels, ribbons and paint says it all. You would definitely find one or a couple of these in every home where there was a child living.


Paper Planes – This one was definitely enjoyed by boys and girls alike. Leaving nothing to the imagination as well, you could imagine being in classes where every other book page was torn out to make a paper plane and throw it across the room to see whose plane would last the longest in the air. Yes, there was a particular way to make them but it was easy to master and when you did, it was something else!


Paper Boats - This was another good one, very easy to make. It was very popular when it rained and every where that had water settled, you would be sure to see a boat sailing in it with excited bystanders watching to see if it would last, sink or turn over.


Marbles – No, they didn't make them, lol! Though these were "shop bought" the boys certainly played with them over and over. And guess what! the winner keeps it all! A circle would be drawn and you would use your marble to hit your opponent's marble out of the ring, if successful, it's yours. I think this one was a bit addictive, boys would gather to play just about anywhere and everyday regardless of the fine beating that they must have gotten accustomed to evening after evening from their parents for being late or just stealing away to go and play marbles.


Bounce-On-Wall - This was another popular game played with elastic bands. Similar to the marbles, the winner keeps all. This was pretty simple, you could have just two or multiple players who would take turns and bounce their elastic on the wall, when it falls, and if it falls on another one, it becomes yours, if not, it remains there for the taking. I must admit, I was quite a master of this one, lol! There's no feeling like the feeling you get when you go back in class after break or lunch with your arms full of elastic or rubber bands. This means you're the champion or you did very well in capturing others' elastic bands.


Kites - Kites were fun. You could make them in all different colours and sizes. Spring time and Summer time were best for kite flying due to windy season. Many of these were made from paper, plastic, and even scraps of cloth attached to wood or bamboo spikes and tied to a long cord, with only one goal in mind- to fly yours higher than your friends. Sadly, many of these were lost or ended up hitched up on high tension electrical wires or tall trees.


Slingshot/Catapult - This was another fun one. You would carefully choose your "Y" shaped stick, sturdy enough but easy to manage at the same time. To this you would attach elastic bands or rubber to give enough stretch and also what we would call the "tongue" located in the middle or between the rubber or elastic bands. This "tongue" is where you would place your carefully selected stone and then you would take your aim. Many spankings came as a result of this one too as it resulted in a lot of broken windows. This was used mainly to shoot birds or anything else of interest, even just to see how far the stone would go!


Calaban - This was yet another child-made toy for catching birds. This would be placed in a location that is frequented by birds. You would get a carton box, skillfully placed it on a stick in the ground which would have a string attached to it. Berries or bird feed would be placed in a leading trail to right under the box. The stick should not be too firm in the ground as the aim is to pull the string for the stick to fall along with the box, and covering the bird once they reach under the box. Of course you would be hiding in a secure location and waiting for the right moment to pull the string.


Buggy - Another popular toy- This was popular among the boys and for races. The best way to describe this was a T-shaped stick or board with wheels on both sides of the t-cross. These wheels could have been made from anything such as old polish tins and paint tin covers to rubber. They were skillfully made and strings or even rope was attached at times to allow for movement of the wheels depending on the make. Some even had a carriage box on top. These were well-decorated and ready for the next race.


Weaser / Spin-Wheel – This was another popular toy among children back in the day. "Pear " season could not come fast enough for young kids to test their talent on making and playing with this awesome toy- the weaser.

I was quite surprised that I could not find any information online about it so I really had to include this one.

This could be considered to be the mother or the origin of the now fidget-spinner but now certainly in a new form. We made this from avocado seeds or "pear" seeds as we call it in Jamaica.

This was quite fun to make and to play with. We would cut out a circle from the seed, about 1 cm thick and about 4 cm in diameter.

You would then get a string, thick thread or fine cord about 16 inches long or about arm's length and make an incision in the middle of the seed, carving a small hole (probably about enough for a pencil to push through). Next, get two match sticks or tooth picks and push through the pear seed so that they make a cross in the hole you carved. Be sure to smooth the edges for safety.

You would then push the cord through one side of the cross and pull through on the other side. Keep the seed in the centre while you place your index finger inside both ends of the cord and spin it for about a half minute to build some tension.

After this, you would release by bringing both hands together to about half way to the seed, you would feel the tension as it makes a wheezing or whirring sound until it spins out.

Hopefully, we can do a video on this one later :-)


So there you have it, Jamaican games and toys, I'm feeling a bit of nostalgia now :-)

Thanks again Shana, I hope this information will prove beneficial both to you and all the other future visitors here.

I also recommend you read: What Items Can I donate to a Jamaican school.

Regards,
DC

References:



https://www.my-island-jamaica.com/jamaican_ring_games.html

https://www.my-island-jamaica.com/jamaican-games-the-good-ole-stuff.html

https://www.jamaicaobserver.com/teenage/10-games-jamaican-pickney-played




Editor's Note
And you? What's on your mind? Submit your question here! With well over 2000 questions already answered, chances are we assist :-)