What can 1 dollar buy in Jamaica?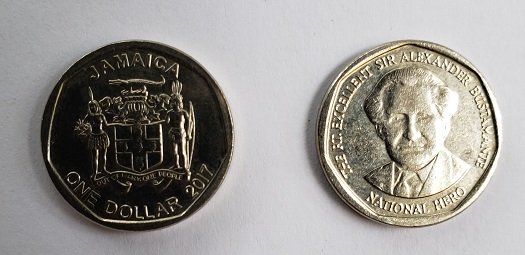 Answered by Aneisha Dobson, Associate Writer
What can 1 dollar buy in Jamaica?
Was that meant to be a joke? Or a rhetorical question?
But on a serious note, what really can a person buy with $1. For now, I am speaking about one Jamaican dollar (I'll speak about
the US dollar later
).
If you talk to the older folks here, you would often hear them reminiscing about 'back in the days', when $1 JMD could actually provide a meal for an entire household!
But as the saying goes, "things and times change". Today, "it can't even buy an icy mint".
And that is literally true, because $1 can't purchase a mint or any other type of sweets. But, why is this so?
If you send money to relatives and friends to Jamaica, you would know that the foreign exchange rate plays a vital factor in the value of our local currency.
Here's a little economics...
Basically, in Jamaica we have a floating exchange rate. Floating exchange rate occurs when the exchange rate is determined by the demand and supply.
For instance, in Jamaica import a lot of items from various countries, such as the United States, China, Venezuela, Trinidad and Tobago, the United Kingdom and Canada.
Some of the items imported from these foreign countries are: food and consumer goods, oil, wheat, ethanol, rice, metals and a host of others.
However, Jamaica's main trading partner is the US, which accounts for approximately 40% of imports. As such, one can say that US products are high in demand.
This causes an increase in the demand for the US currency and this results in a devaluation in the value of the Jamaican currency against the US currency. Now this significantly affects our spending power.
One day you are paying $9 for an item, then the next day you are paying $11 for the same item. So, due to the devaluation of the local currency, I now have to pay $2 extra.
Currently, the US $1 is equivalent to approximately $136 Jamaican dollars. See what I mean!
Definitely it is a cause for concern, especially since our income remains the same or increases at a slower rate compared to the sliding dollar.
As such, a lot of emphasis and effort has been placed on promoting the purchasing locally produced products.
For the meantime, I'll continue saving my one dollars in my piggy bank. Although it's not worth much, it still has value and incrementally, it will add up - as we say in Jamaica, "Every mickle mek a muckle".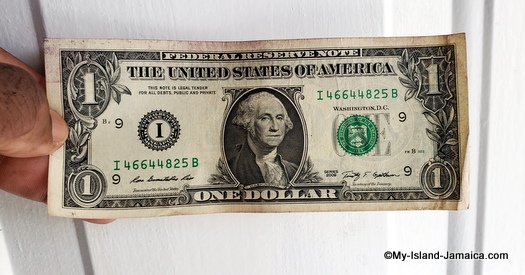 And what can 1 USD buy today in Jamaica at the current rate of approximately 130 JMD to 1 USD?
Perhaps the easiest one to relate to to my readers is a bottle of 500 ML Pepsi Cola which is currently sold between 110 JMD -140 JMD.
But even better, here's a wider grocery list of items that are just under or about 1 USD per item.


A bottle of Pepsi (500ML) - 120 JMD

1 pound of sugar - 100 JMD

1 pound of flour - 70 JMD

1 pound of refined cornmeal - 90 JMD

1 ICool - 100 JMD

1 Small Tin Makerel - 100 JMD

1 Banana Chips - 80 JMD

A Royal Cream Crakers - 100 JMD

1 Coco bread - 80 JMD

Small Monster chocolate milk - 115 JMD

Note that a Jamaican Patty is priced just above the 1 USD rate now, it cost approximately 160 JMD

I hope this helps.
See also:
Travelling around with money in Jamaica
.
Regards,
AD
Posted: September 30, 2018
Edited: October 31, 2018
Sources: