Who is the richest man in Jamaica?
by Aneisha Dobson, Associate Writer

The World Bank describes Jamaica as an upper-middle income country that has struggled with high public debt and low growth.

In fact, for the last 30 or so years, Jamaica's real per capita GDP increased at only an average of one percent per year.

This makes Jamaica one of the slowest developing countries in the world.

However, despite being classified as a developing country where poverty is utterly present, Jamaicans still yearn for the finest things in life.

In fact, if you are up-to-date in the dancehall scene you will realize that many songs talk about getting 'the paper'. ("paper" is a popular jargon for money?)

Songs like "Set Up Shop" by Damian Marley are one of the popular songs that speak about crawling your way to the top.

It is this hope and aspiration that has built the spirit of resilience and determination in Jamaicans to rise above dire economic circumstances.

Yes, that's right! We Jamaicans are known for "tuning we hands mek fashion". This simply means utilizing one's talents to make something out of what little you have.

If you commute around Jamaica, you'll see this on a daily basis. The man who sells peanut porridge in the morning and "soupy" serving pumpkin or chicken foot soup in the afternoon are good examples.

Head downtown and you'll also find "nutsy" with his parched peanuts and other local sweets such as coconut drops and gizzardas. And for sure, you'll find a rastaman with his fruits stall.

The entrepreneurial spirit is abundant in our country and this spirit has allowed our people to thrive. Some have even gone on to build empires!

These individuals have utilized their talents and knowledge to set themselves a cut above the rest.

If you consider some of the wealthiest people here in Jamaica, you will realize that these individuals engage in various occupations. Musicians, such as Shaggy; athletes, like Usain Bolt; and business tycoons such as Joseph M. Matalon; are just a few who comes easily to mind.

So with everyone "chasing the paper", have you ever wondered who is, right now, the richest man in Jamaica?

I am just as curious as you and so started the search. Admittedly, finding the answer to this question was very tough as it is hard to find their real net worth

But to unravel this mystery I took a scroll through Forbes' List of the World's Billionaires, which offers real-time Wealth Ranking!

And, according to the list, the highest ranked, and therefore the richest man in Jamaica, coming in as the 1867th richest billionaire in the world is the Hon. Michael Lee-Chin, OJ. .

At the time of this article he had at an estimated net worth of USD$1.2 billion!


By the way
, do you know that
getting rich
is completely teachable and learnable?
Yes, you too can be rich!
LISTEN to
Robert T. Kiyosaki's
How to Get Rich and Stay Rich
.
Click Here
to get the link on Amazon.
But who is Michael Lee- Chin? What is his story? What has he achieved?
His Story
Described as a visionary, the Hon. Michael Lee- Chin, OJ, has amassed fortune and success in the business sector.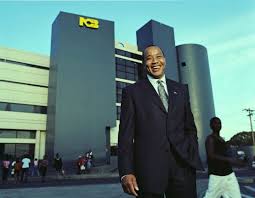 He is the founder and chairman of Portland Holdings Ltd and also the chairman of National Commercial Bank here in Jamaica. He lives by the philosophy "doing well and doing good".
It is this philosophy that has earned him a spot as, not just a Jamaican, but one of the first black people on Forbes Magazine's World's Billionaires in 2001.
His Early Years
Michael Lee-Chin was born in Port Antonio, Portland on January 3, 1951. During his teenage years he attended Titchfield High School. He later migrated to Canada in an effort to study civil engineering at McMaster University in Hamilton, Ontario.
Returning to Jamaica, he began working on highway infrastructure projects. However, he only stayed for two years and returned to Canada.
Upon his return in Canada, he was employed as a financial advisor and quickly moved up the ranks to the position on branch manager.
Acquisitions and Investments
His first major acquisition as chairman of Portland Holdings Ltd in 1987, was AIC Limited, a small Ontario-based investment firm. Under his management, AIC grew from less than $1 million in assets to $15 billion at its business peak!
He later went on to set up Berkshire Group of Companies', which was consisted of a security dealership, an insurance service operation and an investment planning arm.
This business venture was also proven to be successful, as Berkshire accumulated more than $12 billion by 2007.
And that's how it all began!
Some of his other business ventures include:


Columbus Communications

National Commercial Bank of Jamaica (NCB) and its subsidiaries

Radio Jamaica

Reggae Beach (resort), Jamaica

Trident Hotel (Resort)

But, he's not only a business magnate, Michael Lee-Chin is also a philanthropist. In fact, in 2001 he reported donated $5 million to McMaster University, his alma mater.
He also attracted attention in 2013 when he pledged do donate $30 million to Royal Ontario Museum's Renaissance ROM Campaign.
In 2008, he donated $4 million to Northern Caribbean University, in honour of his mother. These funds were used to build the Hyacinth Chen School of Nursing.
Due to his continuous success in business, in 2016 he was appointed Chairman of the Economic Growth Council (ECG) established by the Jamaican Government to spark economic growth.
He has also received several awards. Here's a list:


Entrepreneur of the Year in the Services Category, Ernst & Young (1996)

Honorary Doctor of Laws, McMaster University (2003)

International Humanitarian Award, American Friends of Jamaica (2004)

Outstanding Philanthropist of the Year, Association of Fundraising Professionals (2005)

Honorary Doctor of Laws, Northern Caribbean University (2007)

Honorary Doctor of Laws, University of Toronto (2007)

Lifetime Achievement Award, Canadian Youth Business Foundation (2008)

Honorary Doctor of Laws, Wilfrid Laurier University (2008)

Honorary Doctor of Laws, The University of the West Indies (2008)

Order of Jamaica (2008)

Honorary Doctor of Laws, York University (2009)

Luminary Award, The University of the West Indies (2011)

Distinguished Alumni Award for the Arts, McMaster University (2011)

Lifetime Achievement Award, Association of Chinese Canadian Entrepreneurs (2013)

Queen Elizabeth II Diamond Jubilee Medal (2013)

A.G. Gaston Lifetime Achievement Award, Black Enterprise (2015)

Wealth Professional Award for Lifetime Achievement in the Financial Planning Industry, Wealth Professional (2015)

What a mouthful!
I leave with this quote from the Hon. Michael Lee-Chin, OJ- " I wouldn't be where I am, if not for Jamaica. My formative years were here. I wouldn't have the confidence that I have if I wasn't born here, because growing up here I knew I could become anybody I wanted to become. There was no ceiling on top of me".
Be sure to read more on this great man
at JIS
.
I hope his story inspires you.
Sources
http://www.portlandholdings.com/Info.aspx?disp=history_founder

https://jis.gov.jm/information/get-the-facts/michael-lee-chin/

https://www.thecanadianencyclopedia.ca/en/article/michael-lee-chin/