Why were free villages created in Jamaica? And Where Are They Located?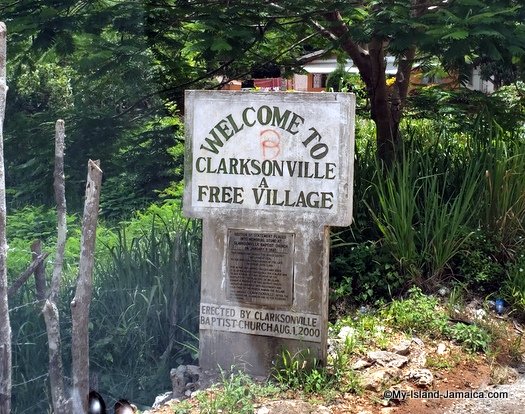 It's an important, but often forgotten, topic in our history, that's the purpose and background around the free villages in Jamaica.
Well we just 'freed up' that issue. Here below is the question, follow by our response.

Why were free villages created in Jamaica? And how did the missionaries help with the setting up of these free villages?

ANSWER:
Contributed
After the abolition of slavery in 1838, the plantation owners made a vow not to sell any land to the newly freed slaves in a bid to force them to remain on their former owners' properties as agricultural workers.
The passing of the Ejectment and Trespass Act further reinforced this, as it stated that persons could be ejected at a week's notice from the homes that they lived in as slaves, with the police allowed to capture and imprison any person found in their former home after receipt of a notice of ejectment.
This forced the freed former slaves to work for whatever wages the plantation owners chose to pay (regardless of how minimal) and perform whatever work they were given (no matter how much it was), if they wanted to remain at their former residence at whatever rent cost the owner dictated (regardless of how steep).
In a bid to circumvent these restrictions and provide a chance at decent living arrangements, missionaries from the Baptist, Moravian, Presbyterian and Methodist denominations raised funds in Great Britain to buy land (through land
agents in London) that were then sub-divided into lots that were either rented or sold (with title) at a reasonable cost to members of their congregations.
These Free Villages were founded around a church, with the missionaries also forming schools in the settlements.
The first registered Free Village was founded on the 10th of July, 1835 in Sligoville, St Catherine, by Reverend James Phillippo (the Baptist Minister at Spanish Town).
The settlement was named after Jamaica's Governor at the time: Howe Browne (2nd Marquess of Sligo), with the first plot of land being purchased by Henry Lunan, a former headman at the Hampstead Estate.
The second registered Free Village was Sturge Town (also called Sturgeville) in Brown's Town, St Ann, which was actually the first settlement started.
This village was named after the English abolitionist, Joseph Sturge, who founded the British and Foreign Anti-Slavery Society and supported pacifism, working class rights and the universal emancipation of slaves.
More Free Villages were formed island-wide, under the leadership of ministers such as: Reverend William Knibb and Reverend James Phillipo.
These are listed below by parish:


Free Villages In St Thomas

Airy Mount (Mount Airy),
Bachelor's Hall,
Bath Castle,
Beldona,
Delvery,
Elmwood,
Greenwood,
Leith Hall,
Navarino,
Pigeon Hill,
Spring Mount,
Stony Gut
and Unity Valley.


Free Villages In Portland

Belle Castle,
Cedar Valley
and Happy Grove


St Andrew

Trinityville


Free Villages In St Catherine

Clarkson Town,
Kitson Town,
Sligoville,
Sturge Town,
and Victoria Town


Free Villages In St Mary
Islington


Free Villages In St Ann

Buxton,
Clarksonville,
Endeavour,
Happy Valley,
Harmony,
Moneague,
Philadelphia,
Pleasant Valley,
Salem, Brown's Town,
Sturge Town,
Trysee
and Wilberforce.


Free Villages In Trelawny
Albert Town,
Alps,
Clark's Town,
Deeside,
Gibraltar,
Granville,
Kettering,
New Cargen,
Refuge,
Sherwood-Content,
Stewart Town
and Time & Patience.


Free Villages In St James

Goodwill,
Irwin Hill,
Maldon,
Mount Carey,
Salters Hill,
Shortwood
and Sudbury.


Free Villages In Hanover

Mount Horeb
and Sandy Bay


Free Villages In Westmoreland

Bethel Town,
Carmel,
Salem
and St Leonard's Gurney


Free Villages In St Elizabeth

Ballard's Valley,
Cairn Curran,
Carisbrook,
Commer Pen,
Cruze,
Ipswich,
Kilmarnock,
Lacovia,
Lititz
and Springfield.


Free Villages In Manchester

Bethabara,
Beaufort,
Beulah,
Hillside,
Maidstone (Nazreth),
Mizpah,
Vale Lionel (renamed Porus)
and Walderston.


Free Villages In Clarendon

Crofts,
Cross,
Farm Colonel's Ridge,
Halse Hall,
Hayes,
Howell's Content,
Mitchell's Town,
Nairne Castle
and Rhyme's Bury.

Over the years, some of the original villages have disappeared, while others have evolved into residential communities, or contributed to the informal establishment and growth of new communities.
Whatever has become of these however, it is an undeniable fact that Free Villages In Jamaica forms an important part of our history and heritage.
Be sure to read more on in our articles on the
history of Jamaica
and the
important events in Jamaica's history
.
Thanks again for your question! As usual, I welcome
your feedback here
.
Have another question, please
submit it here
.
Regards,
WG
P.S. We've answered HUNDREDS of questions,
click here
and
here
to get even more answers.

References:

1) https://jis.gov.jm/information/get-the-facts/free-villages-jamaica/
2) http://digjamaica.com/m/blog/free-to-live-jamaicas-free-villages/
3) http://www.jnht.com/free_villages.php