Ackee Production In Jamaica
by George
(London, UK.)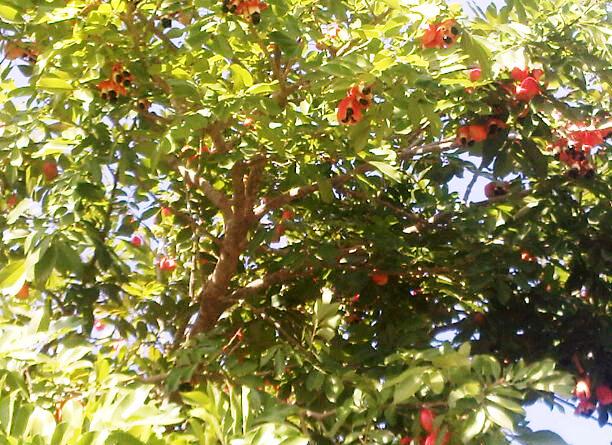 Photo: Ackee Tree In Jamaica
Good day Wellesley, A question for you: How and where is ackee produced in Jamaica?
Regards

RESPONSE: by Deon Clarke
Hi George,
Thank you George for visiting our website and thanks for your question regarding how and where ackee is produced in Jamaica.
By the way, I should tell you that Ackee, our national fruit, is now not only a favorite for Jamaicans, local and in the diaspora, but also our visitors!
And yes, you can find ackee trees right across the length and breadth of the island of Jamaica, in every parish. However, the main areas in which ackee is produced are in the parishes of St. Elizabeth, St. Thomas, and Clarendon.
And to you question...
How Is Ackee Produced In Jamaica?
I'm interpreting your question (how it is produced) to mean
after
the fruit is opened and picked from the tree - as all of that is natural and organic. Am I right?
And so, as far as I know we only plant the tree - whether from suckling or seeds, and then wait for it to grow and produce its fruits.
The key though is to make sure that the fruit is fully mature and opened naturally, especially if it was picked unopened.
And so, from there on, the procedure is pretty simple.
To be canned, the arils are cleaned and put in 1.5% brine and then the can is sealed.
'Clean' here means the removal of the seed (the black 'head') and the red membrane inside the open ackee.
The cans are then sterilized, usually for about 15 minutes at 210ºC. This way, the arils will remain firm and full of flavor.
Is the canned ackee safe to eat?
Yes, it absolutely is! You will just need to take the same precautions that you normally would as with any other canned food, such as bulging cans or dents.
Now to the second part of your question regarding where ackee is produced in Jamaica.
Where Is Ackee Produced In Jamaica?
As mentioned earlier, the main production areas for ackee in Jamaica are in St. Elizabeth and Clarendon. If you take a trip for example, to Bull Savannah in St. Elizabeth, you will find Southern Fruits and Food Processors Ltd.
Their operations also include the processing of callaloo, carrot juice, mango nectar, jerk sauces and seasonings, tomato ketchup, hot pepper mash, crushed scallion, vegetable, and purees though.
Below though is also a list of companies in Jamaica that also produce and/or distribute canned ackees.


Grace Agro Processors, located in Denbigh, Clarendon, Jamaica.

Spur Tree Spices, Jamaica Ltd., located in Spur Tree, Manchester, Jamaica.

Stanmark Processors Co., Ltd., located near Yallahs, St. Thomas, Jamaica.

Central Food Packers Ltd., located in Central Village, Spanish Town, Jamaica.

Double Deuce Jamaica Ltd., located in Yallahs, St. Thomas.

Tijule Co., Ltd., located in Palmer's Cross, May Pen, Clarendon, Jamaica.

Carib Jamaica Imp. Exp., located in Richmond Park Ave, Kingston 10, Jamaica.

Goshen Distributors Ltd., located at Orange Street, Kingston, Jamaica.

Ashman Food Products Ltd., located at Vineyard Cresc., Bushy Park, St. Catherine, Jamaica.

Southside Distributors, located in Comma Pen, St. Elizabeth

Canco Ltd.(Linstead Market Jamaica), located in Seaforth, St. Thomas

And more...

So you see, there are many food processing companies in Jamaica that produce and distribute ackees.
And your second question...
When Is Ackee Season In Jamaica?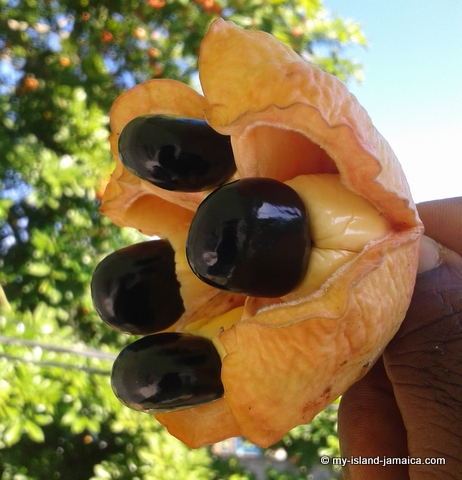 There are two bearing seasons for ackee in Jamaica. They are from January to March, and from June to August. When the fruit reaches maturity, it turns into a bright red color and splits open with continuous sun exposure.
It is usually harvested at this time and the edible part (aril) is cleaned and then prepared for cooking.
I hope this helped!
Thanks again for asking.
To learn even more, I invite you to read more on this, the
versatile Jamaican ackee here
.
See also:
Authentic Jamaican Ackee & Saltfish Recipe
Regards,
DC
References:



http://wwwchem.uwimona.edu.jm/lectures/ackee.html

https://jis.gov.jm/information/symbols/jamaican-national-fruit-ackee/

https://amazingackee.com/ackee/

https://www.researchgate.net/publication/249995099_Processing_of_Ackee_Fruit_Blighia_sapida_L_
Present_and_Future_Perspectives

https://www.southernfruitsjamaica.com/about-us

https://panjiva.com/Jamaican-Manufacturers-Of/ackee

https://jis.gov.jm/agro-processing-factory-opens-in-yallahs/

Editor's Note
Do you have another question, don't hesitate to
send it to us here
! With
well over 2,000 questions answered
, chances are we can help you :-)