George William Gordon- National Hero Of Jamaica | 10 Amazing Facts
by Deon Clarke | Associate Writer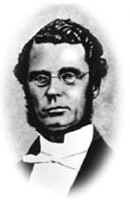 Photo: National Hero - The Rt. Excellent George William Gordon
Heritage Week celebrations in Jamaica could never be the same without acknowledging our national heroes. Our national heroes paved the way for the freedom we enjoy today. We honour their memory when we highlight their achievements and contributions to the building of our nation. Today, we introduce
George William Gordon - The Illustrious Advocate of poor blacks
. What was his life's work? What was his contribution? Let's take a look as we sum this up in 10 amazing facts.
George William Gordon was born near Mavis Bank in St. Andrew in 1820 to father Joseph Gordon, a Scottish planter and slave mother Ann Rattray. He was the second of eight children. His father Joseph Gordon had migrated to Jamaica to serve in the capacity of a lawyer for a number of sugar estates whose owners were absent. He later bought several properties for himself including the Cherry Gardens Estate where George grew up. Joseph Gordon also served as a member of the House of Assembly and also as Custos for the parish of St. Andrew.


George William Gordon was a self-educated slave child. He taught himself to read, write, and do simple accounting. At the age of 10, his father gave him his freedom and he was allowed to live with his godfather, James Daly in Black River in St. Elizabeth. Within a year, he started working in his godfather's business.


He opened his first store in Kingston in 1836 and became a successful businessman. By 1842, he had earned enough to send his sisters to France and England for their education. Three years later he was worth £10,000. Though his father didn't have much to do with him while he was growing up, George was the very one who rescued him from his financial difficulties, as well as clearing his debts on the Cherry Gardens Estate and returning it to him.


Gordon later relocated to the parish of St. Thomas at the eastern end of the island where he continued his business prowess and became a wealthy businessman and landowner. He also sub-divided his lands and sold them to the peasants as cheaply as was possible. He even organized a marketing system where they could sell their produce.


In the 1840's Gordon became the co-founder of the Jamaica Mutual Life Assurance Society. He was also appointed as a Justice of the Peace in seven parishes.


In the 1850s he became actively involved in politics and ran as a political representative. He was elected as a representative of the House of Assembly for the St. Thomas-In-The-East parish. He also deputized as Mayor for Kingston on many occasions for Edward Jordon. He was considered to be a "radical" politician and was popular among the people in St. Thomas. He was also deeply concerned about the conditions and sufferings of the poor black people. He had expressed his concerns about the condition of the Morant Bay jail to the previous Governor, Charles Henry Darling. He expressed similar concerns to the new Governor, Eyre who wasted no time in having him removed from the magistrates while the Colonial Office backed the decision but hypocritically praised George for highlighting the need for improvement of the conditions.


By the 1860s Gordon had earned himself a reputation as being a critic of the Colonial Government, especially Governor Edward John Eyre. He was also friendly with English evangelical critics of the colonial government and also established the Native Baptist Church, where Paul Bogle (another National hero) was a deacon. Though he was previously an Anglican, he became a Baptist and was also a preacher and started several churches at his own expense where he also ordained ministers.


In 1863 he defeated a white planter as was again elected as a representative in the House of Assembly for the St. Thomas parish with a small settler vote, organized by Paul Bogle. He was also made a member of the parish vestry which many of the white colonial members objected to as Gordon was an advocate of the poor black peasants. A father and son team, both named Stephen Cooke conspired to have him ousted from the vestry which made the black people angry. The following year, the settlers re-elected Gordon and he took the Custos of the parish, Baron von Ketelhodt, to court.


During 1865, Gordon continued to criticize the draconian punishments such as flogging and the treadmill for minor offences by Governor Eyre. The majority of the Jamaican population were ex-slaves, poor black people who were already suffering from epidemics such as cholera and smallpox.


The Morant Bay Rebellion of 1865 was fuelled by many factors including outrage from the people for the expulsion of Gordon and Bogle from the vestry.

Following the Morant Bay Rebellion of 1865 which was led by Paul Bogle (in which a police station was raided for weapons, Custos Baron von Ketelhodt and 15 vestry members were killed, and the courthouse was burnt down) Governor Eyre, ordered the arrest of Gordon whom he suspected to be the main instigator and planner of the rebellion. Under orders from Governor Eyre, Gordon was transported from Kingston (where no martial law existed) to Morant Bay (where martial law was in place). In a matter of two days, Gordon was tried and convicted of high treason without due process of the law. He was sentenced to death on October 21, 1865, and was executed on October 23, 1865.

There's so much that could be said about George William Gordon – a large landowner, a shopkeeper, a produce dealer, a preacher, a politician, a social worker, and a philanthropist. He was a true advocate for the suffering black peasants and a well-deserved National Hero of Jamaica. Gordon was one of the three conferred with Jamaica's Highest National Honour,
Order of National Hero
in 1969. Also on October 27, 1960, the Jamaican Parliament building (where Parliament meetings are held) was named in his honour as
Gordon House
. His face was featured on the Jamaican 10-dollar note, which is no longer in circulation but is now a coin.
I also recommend you read
Paul Bogle National Hero Of Jamaica
.
Regards,
DC
References:

George William Gordon, Jamaica Information Service, https://jis.gov.jm/information/heroes/george-william-gordon/

George William Gordon - Jamaica's National Hero, My-Island-Jamaica, https://www.my-island-jamaica.com/george_william_gordon.html

George William Gordon, Wikipedia, https://www.my-island-jamaica.com/george_william_gordon.html

National Heroes, National Library of Jamaica, https://nlj.gov.jm/qcontentnational-heroes/

Editor's Note
Do you have a question?
Submit it right here
! With well
over 2000 questions already answered
, chances are we can assist :-)