Harmony Beach Park – The Best Family Chill Spot In Montego Bay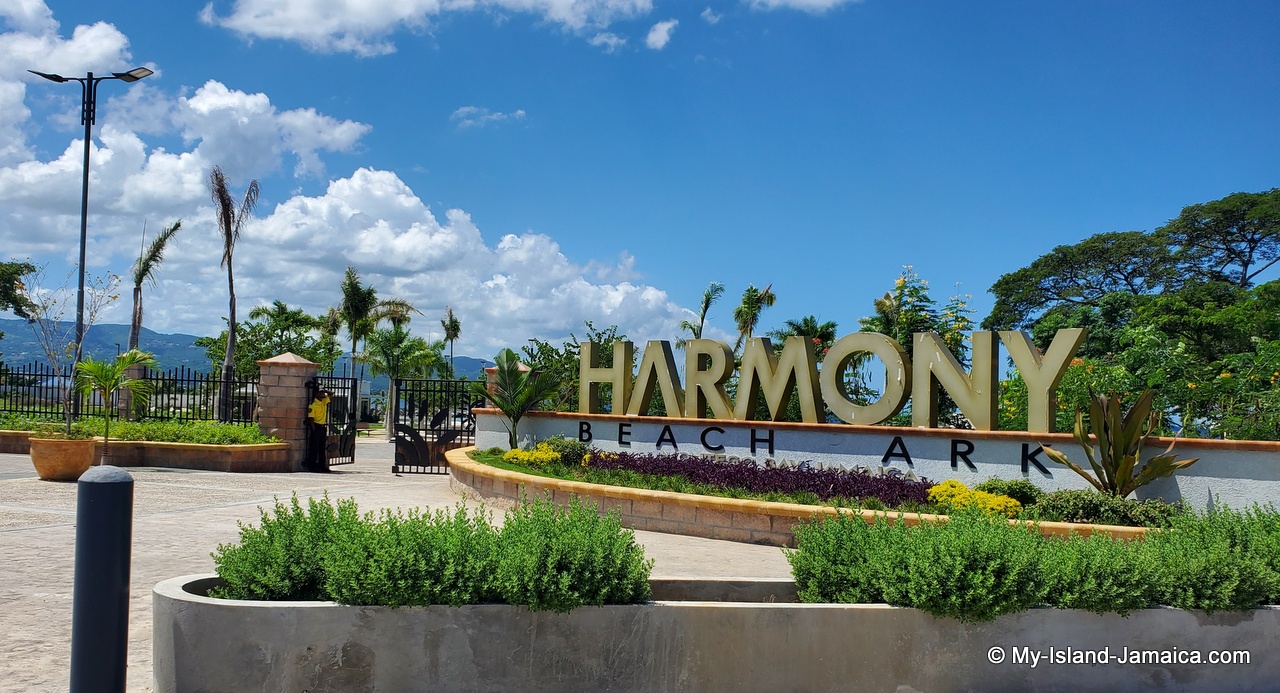 by Deon Clarke | Associate Writer


The Urban Development Corporation (UDC) has certainly done it this time! And what is it that they have done? They have created a beautiful chill spot for Montegonian families and just about anyone who wants to have a fun time there. Top-quality recreation! For as long as I can remember, there was actually nowhere in Montego Bay to actually hang out safely or take kids to have a fun time except Coral Cliff (when they have the kids section operational) or maybe Aquasol Beach when they had the skating ring or the go-carts. But the Harmony Beach Park is not just a beach. It is so much more. Again I say, "top quality" recreation for the whole family. I've been there twice last month and I'm so excited to tell you about everything that goes on there and what you can do there. It is a beach and a park in one. And guess what? it's all absolutely free! So chill with me as I give you the latest!
Where is Harmony Beach Park Located?
I'm sure every Montegonian knows "Dump UP" Beach. But if you aren't familiar with that term, that area is now the home of Harmony Beach Park. It is located right across from the KFC downtown, practically at the intersection of Howard Cooke Boulevard and Jimmy Cliff Boulevard (the beginning of the
Montego Bay Hipstrip
). I don't think anyone can get lost finding this place. It's also about seven minutes drive from the Sangster International Airport.
When Was The Harmony Beach Park Opened?
The park had its groundbreaking on February 22, 2019, and was officially opened on Friday, May 21, 2021, by Prime Minister Andrew Holness. In his address, he noted that this park is a representation of the future of urban development in Jamaica. The beach park became open to the public on Tuesday, May 25, 2021.
What To Expect When You Arrive At Harmony Beach Park?
You must note that there are actually three entrances to the park. (I recently found out about the third one, LOL). There's a drive-in entrance for persons who drive (parking cost of $200 per hour or $700 for the day) - this is actually the first entrance coming along the Howard Cooke Blvd., and a little further up (across from KFC) there's the pedestrian or walk-in entrance. At the gate, you will find a reasonable amount of security who will advise you of the rules of the beach park and will question you about having any weapons (which are not allowed) and any prohibited items. You can also expect a quick search of your bag. Then you're free to explore! Oh, the third entrance is a little further up on Jimmy Cliff Boulevard, this is the staff entrance (if you are not staff, you won't be allowed in from here). I learnt this as I was in a taxi which could not stop at the pedestrian entrance so we had to go up the road to turn.
What Are At The Opening Hours At Harmony Beach Park?
The opening hours at the park is currently 6:00 am to 6:00 pm (Mondays to Saturdays) and 6:00 am to 1:00 pm on Sundays. Of course, these could be changed due to curfews and changes to the Disaster Risk Management Act so keep informed. They can be contacted at 876-590-5961 or email: harmonybeachpark@udcja.com.
What Amenities Are At Harmony Beach Park?
So what will you find here? A 16-acre property, yes! All of 16 acres, no joke! Space to no end! So you won't have to worry about bumping into anyone especially in these times when you want to practice social distancing. And the amenities are awesome. Let me just list them for you.
Bathroom/Restroom facilities

132 parking spaces ($200 per hour or $700 for the day)

An activity centre

A multipurpose court

A 600 metre jogging trail

A promenade (strolling space) along the beach

Snack shops

Secured beach area

Foot patrols (security guards)

Lifeguards

Play area with slides for kids

Multiple park benches across the property

Shaded Tree Areas

Beautiful lawns

Indigenous trees throughout the property
What To Do At Harmony Beach Park?
From the list of amenities above, I think you're getting the picture of the many things you can do, but to get some ideas, check these out:
It's a great spot for any photo or video shoots

That book that you have been wanting to read or can't get to finish, just take it with you with some drinks and snacks or you can buy on property and just curl up under one of those shaded trees, take your chair or your blanket, or just sit on one of the benches

Small birthday celebrations with your immediate family or friends (large groups require permission from the administration)

Have a swim with family and friends

Go jogging on the trail which has a beautiful rubberized surface made of recycled material

Take a stroll along the beach to clear your mind

Have a picnic with your family. Find the largest blanket or blankets and fill your baskets with goodies and spread out on the well-manicured lawns or under the trees

Explore the entire property, take "selfies", relax and have a great time

Soak up some sun. Rent a beach chair and tent on property or bring your own.
Oh, and by the way, we had an amazing time there for our
Jamaican Patty Challenge
recently. Below is a pic. You may also
watch that video here.
The 'Jamaican Patty Challenge' at Harmony Beach Park in Montego Bay
I leave the rest up to you, remember it's a family-friendly environment. It's a place to just leave the problems of the world outside for a while and just relax.
For 1.3 Billion dollars, I would say, this is money well-spent! There are also plans to have free wifi and CCTVs installed.
Thanks to the efforts of the UDC in collaboration with the Tourism Enhancement Fund (TEF), the Inter-American Development Bank (IDB), the Ministry of Economic Growth and Job Creation, the St. James Municipal Corporation, and the project contractor, M and M Jamaica Limited, Montego Bay now has a "real" public family-friendly recreational park.
I must give my two cents, I implore the administration to ensure that the security presence is maintained and even upgraded where possible. This beautiful park deserves it, our generations to come, deserve to be somewhere where they can have a sense of security while having fun. Keep the unscrupulous at bay.
You should try it sometime. Pick your perfect spot. You'll be glad you did. Be sure to take your umbrellas too, it can get quite hot as some of the trees do not yet provide adequate shade. I can't wait to go back and take the kids.
I also recommend you read
Top Montego Bay Attractions, Beaches and Places To Visit
.
Regards,
DC
References:

Harmony Beach Park, Urban Development Corporation, https://udcja.com/harmony-beach-park/

$1.3 Billion Harmony Beach Park Opens In Montego Bay, Jamaica Information Service, https://jis.gov.jm/1-3-billion-harmony-beach-park-opens-in-montego-bay/

PM To Open Harmony Beach Park Friday, Jamaica Information Service, https://jis.gov.jm/pm-to-open-harmony-beach-park-friday/

Editor's Note
Submit your questions here
! With well
over 2000 questions already answered
, chances are we can assist :-)