Jamaican Breadfruit Pudding
by My-Island-Jamaica.com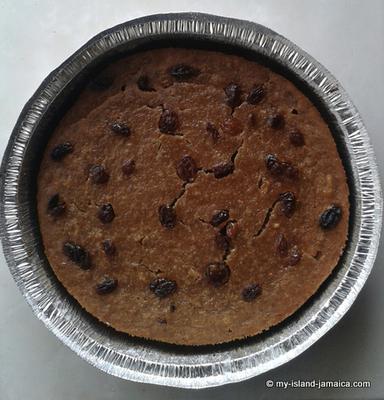 Jamaican Breadfruit Pudding
It was harvest time at church! And as customary, the members were divided into groups (Matthew, Mark, Luke & John) to add more excitement and creativity to the proceedings.

Each group was given a local fruit to present on. 'Presenting' here meant using the fruit and/or by-products of it to make interesting foods and dishes. And that would have been displayed in a booth format on harvest day.

I was placed in John (that's another story), but my daughter and wife were placed in Luke, the 'youth' group :-) Their product was....

Yes, you guessed it, breadfruit!

And they were asked to try the breadfruit pudding!

Breadfruit pudding, by the way, is novel here - apparently liked but not highly popular as yet here; most Jamaican still roast or boil the breadfruit.

Anyway, she did some research, made some calls, and came up with a recipe (see recipe below).

Well, the pictures above showed the result! And it tasted great too!

But even better, that group (Luke) was adjudged the winning group over Coconut, Banana and Yam/Pineapple!

The exciting dramatization they did, speaking to the history of the breadfruit in Jamaica and its uses, impressed everyone including the judges, but the breadfruit pudding and breadfruit porridge were the talk of the evening!

And yes, almost everyone wanted a taste!
Congrats again to my family!

Below is the recipe for your own trial - give it a shot nuh, you might positively surprise yourself!


Jamaican Breadfruit Pudding Recipe
Ingredients:




1 coconut

1 cup sugar

1 tsp nutmeg

1 tsp cinnamon

1 tsp vanilla

1 tsp salt

3/4 cup flour

2 cups grated green breadfruit

2 eggs

1/2 cup raisins

3/4 cup dark rum - we used Appleton rum

1/4 cup melted margarine




Procedure




Preheat oven to 180°C or 350°F.

Great (or blend) coconut and juice.

Add salt, sugar, vanilla, cinnamon, margarine and nutmeg to coconut milk juice in a large bowl and mix thoroughly.

Beat the eggs in separate bowl and add to the mixture

Add the grated breadfruit and the flour and mix thoroughly.

Add the rum and raisins, combining all ingredients well.

Pour the batter into a greased baking tin and bake

Use a small knife or pick to check it's readiness by inserting it and check if it comes out clean.

Cool and serve when ready.

That's it :-)




Be sure to let us know how it goes by
commenting below
.
See Also: Other
Free Jamaican Recipes
&
Pictures Of Jamaican Food