Jamaican Rice and Peas - 5 Things You Should Know
by Deon Clarke | Associate Writer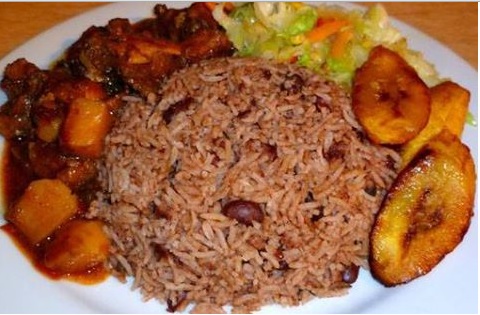 Photo: Jamaican Rice and Peas
Can you imagine life in Jamaica without rice and peas especially when it has that coconut milk flavour rising up to your nostrils and tantalizing your taste buds? I don't think so, especially on a Sunday. For me, if I don't have rice and peas on a Sunday, it's like I haven't had
'Sunday dinner'
. Can't beat tradition, can you? But how did this become a tradition anyway? We will look at how rice became a part of our diet and 5 things you will find quite interesting about Rice and Peas in Jamaica.
Rice was a very popular food in West African culture and the slaves brought the recipe with them to Jamaica. This was passed on to their descendants and down the generations. Cooking food that they were familiar with, helped the slaves to adjust to their harsh new way of life and environment and rice and peas was just one of the favourites. So you see, Rice and Peas is coming all the way from slavery.
Jamaicans both home and abroad treasure this flavourful dish but most are not even aware of its history so let's take a look.
Rice and Peas was adopted from the Akan tribe out of the West African countries of Ghana and Ivory Coast. No surprise, the dish, still exists in these countries today and is popularly known as Waakye. The Akans however, add baking soda and sorghum leaves to their dish, while in Jamaica, it is flavoured with scallion, thyme, and scotch bonnet pepper, all simmered in coconut milk.


The Jamaican Rice and Peas has been nicknamed 'Coat of Arms'. The use of this term was originally noted in 1930 when A. Bain Alves saw how hundreds of men and women at a race meeting in Kingston could get up to "a quattie rice and peas" which was also known as the Jamaican Coat of Arms. Decades later some persons still refer to our rice and peas as "Jamaican Coat of Arms". This one is new for me though as I never heard of this reference before!


More than half of this popular dish is the staple, rice. The rest is made up of peas. In Jamaica we call the peas "red peas" but it is known as kidney beans. Rice is such a popular staple here in Jamaica that it is served with just about any kind of meat.


I think there might be a stiff battle between dumplings and rice and peas but I believe the rice and peas would come out on top with the title of 'The Most Eaten Jamaican Food'! It could have been named Jamaica's National Dish as some people jokingly call it, Lol. Now, Jamaicans do not just have rice and peas on a Sunday but actually every day and sometimes even twice per day (lunch and dinner). From one generation to the next, Jamaicans have highly revered this dish and I can't think of any occasion where rice and peas is not a part of the menu. You will find it served at weddings, funerals, festivals and almost at every special event in Jamaica. Rice and Peas is a popular lunch favourite among Jamaicans and sometimes there's is not much of an option either as it is so popular. It is a main course at practically every restaurant in Jamaica.


As I mentioned before, 'Sunday Dinner' is not the same without even a little rice and peas but have you ever wondered why Sunday is the most popular day for making rice and peas? There's actually a reason for that. It's not just a coincidence. The custom goes all the way back to the 1700s. In those times, Sunday was the only day that the slaves were allowed to get a break or a day off from their strenuous hard work. As you can imagine, the slaves made the best foods on a Sunday as a result and this included the famous rice and peas. This is one tradition that really stuck with the generations I must say, as, on a Sunday, It is customary in Jamaica to prepare and serve up the best meals. Everyone looks forward to 'Sunday Dinner'. If you haven't eaten well during the week, Sunday's definitely make up for it!
So how about that! Definitely some interesting considerations about our Jamaican rice and peas. I bet you will now have a greater appreciation of rice and peas when you next serve it up or sit down to enjoy this tasty, flavourful staple option with your favourite meat selections, especially on a Sunday, lol. Enjoy.
I also recommend you read
Jamaican Pumpkin Soup A Sat'day family favourite!
.
Regards,
DC
References:

Traditional Jamaican Rice and Peas - The Secret Ingredients!, My-Island-Jamaica, https://www.my-island-jamaica.com/jamaican_rice_and_peas.html

5 Things You Don't Know About Jamaican Rice and Peas, Jamaicans, https://jamaicans.com/5-things-you-dont-know-about-jamaican-rice-and-peas/

Jamaican Food, About Jamaica, https://www.about-jamaica.com/jamaican-food-history/

Editor's Note
Don't hesitate to
submit your questions here
! With well
over 2000 questions already answered
, chances are we can assist :-)