Jamaican Shrimp Recipes
Tasty Shrimp Dishes -

Jam

ai

can

Style!
Sharing Is Caring! Share this awesome content with your friends now.

Watch! See the real Jamaica in VIDEOS!
Click Here and see why over 90,000 fans are raving about my YouTube Channel!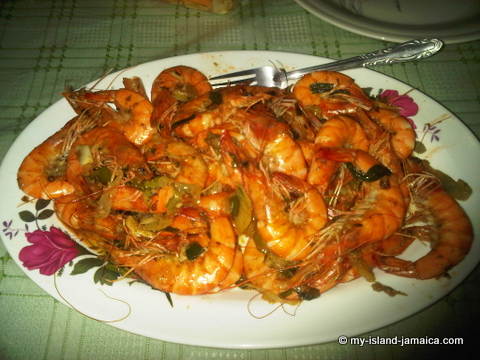 Jamaican Shrimp by Kemoy McCurbyn

I love all seafood, but moreso shrimps! Shrimp is treated like a delicacy here in Jamaica.
Outside of the cost per pound, it is a very healthy seafood - high in calcium iodine and protein. Shrimp is also healthy for the circulatory system because saturated fat is almost non-existent in shrimp.
---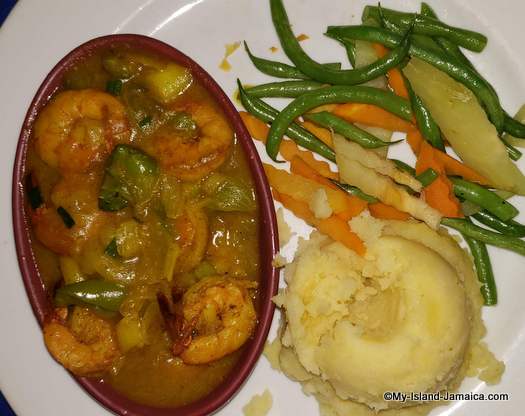 We actually have a parish (St. Elizabeth) that has a section known as Middle Quarters. That area is famous for its "Peppered Shrimp".  There you will find groups of vendors on the side-walks tempting passers-by with bags of bright red piping hot, spicy, peppered Jamaican shrimp (photo below).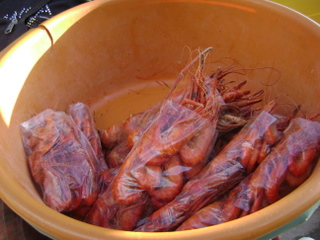 From their stalls you can see big pots boiling on wood fire and plastic bowls full of shrimp that they place on well decorated tables to attract buyers.

The shrimp here is usually boiled in salted water laced with crushed scotch bonnet peppers.  These spicy and salty flavours complement each other perfectly when it is absorbed by the shrimp.  Most of the vendors catch their shrimp in the nearby Black River.

But like any other seafood the shrimp can be prepared in many  other ways.  I will outline a few of the ways we prepare shrimp here in Jamaica.

CURRIED SHRIMP:
Curried Shrimp is a simple and quick meal that can be prepared in only a few minutes, and like all the other shrimp recipes this is one of the most popular and the favorite way that Jamaicans prefer to cook there shrimp.  This method is mostly served with plain rice.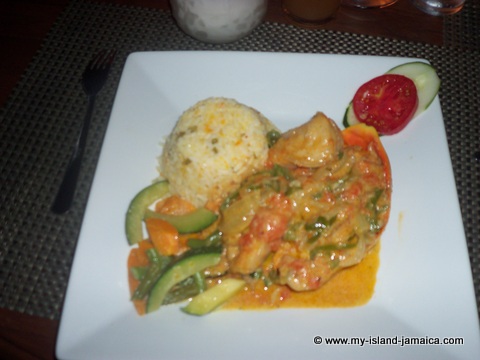 SHRIMP SCAMPI:
Shrimp Scampi, is also very simple and easy way that shrimp can be prepared. It is made with plenty of butter and garlic, onions, white wine, lemon juice parsley and seasonings.

GARLIC SHRIMP:
If you like shrimp and love garlic then you'll love Garlic Shrimp. It is also another simple but tasty way to prepare shrimp as the burst of garlic in this recipe will certainly make your taste buds come alive.

COCONUT SHRIMP:
Coconut Shrimp is a crunchy, juicy, delicious dish that can be served as full meal or just as an appetizer. The shrimp is dipped in coconut and deep fried until it is golden brown. I guarantee that your friends or family will be asking for more .

FRIED SHRIMP:
Here the shrimp is dipped in batter and fried to perfection in a pan over high heat.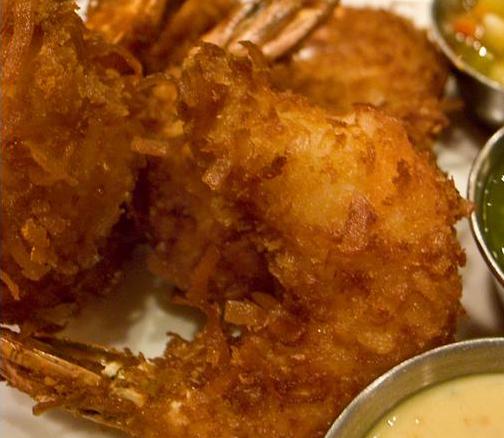 ---
Jamaican Shrimp Recipes

Jamaican Coconut Shrimp

Ingredients:

• 2lbs large shrimp, shelled, deveined, leaving tail on
• 1 cup flour
• ½ teaspoon sugar
• ½ teaspoon salt
• 1 egg lightly beaten
• 1 cup ice water
• 2 tablespoons vegetable oil
• 2/3 cup grated coconut
• 1 ½ teaspoon curry powder

Method:

• Shell and devein shrimp leaving tail intact, dry well
• Combine flour, sugar salt, egg, ice water and vegetable oil, beat until smooth. Set aside
• Mix together grated coconut and curry powder.
• Dip each shrimp into batter then into coconut mixture.
• Heat ½ cup vegetable oil in frying pan
• Fry coconut shrimp in heated oil until golden brown.

Serve on its own or with salad.

---
Jamaican Curried Shrimp

Preparation Time: 40 Minutes

Cook Time: 15 Minutes

Ingredients:

• 1 Pack pre-cooked shrimp
• 1 medium onion (Minced)
• 1 clove garlic (crushed)
• 1 tsp. salt
• 1 tsp. black pepper
• ½ hot pepper
• 2 tbsp. vegetable / olive oil
• 2 tsp. curry powder

Method:

• Clean and wash shrimp
• Combine shrimp, minced onions, crushed garlic, 1 tsp. of the curried powder, black pepper and salt in dish.
• Rub in seasoning with hands thoroughly
• Leave to marinate for 30 minutes
• Hot sauce pan, add oil and the remaining 1 tsp. curried powder, and allow the curry to soak in the oil.
• Add shrimp, stir and cover for 3 minutes.
• Allow shrimp to simmer slowly over low flame for about 10 to 15 minutes

Serve with white rice and enjoy…….

---
Jamaican Scampi Shrimp
Ingredients:

• 1 pack pre-cooked shrimp
• 1/3 cup butter
• 2 cloves garlic (minced)
• 1 large onion (finely chopped)
• ¼ cup dry white wine
• 2 tbsp. lemon / lime juice
• 2 tbsp. parsley
• Salt and black pepper to taste

Method:

• Rinse shrimp and set aside.
• Heat butter in large skillet over medium heat.
• Cook garlic for 1 or 2 minutes or until tender, but not browned.
• Add shrimp, onions, salt, and pepper, wine and lemon juice, cook until shrimp is firm, do not overcook.
• Add chopped parsley before serving.
• Garnish with lemon slices if desired

Serve this wonderful scampi with as a first course or serve with rice, pasta and a salad for a complete meal.

---
Jamaican Garlic Shrimp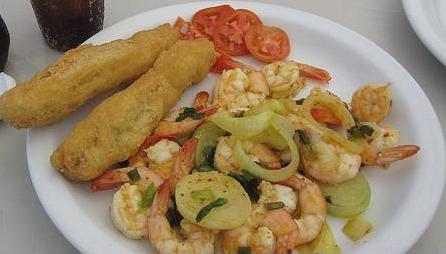 Ingredients:

• 6 tbsp. butter
• 1 ½ to 2 lbs large shrimp, peeled and deveined
• 4 to 6 cloves garlic, crushed and minced
• 1/3 cup chopped fresh parsley
• 2 to 3 tbsp. lemon/lime juice
• ½ tsp. salt
• ½ tsp. black pepper


Method:

• In a large skillet, heat butter over medium heat until the butter stops foaming
• Add shrimp and garlic and sauté over medium heat, turning frequently, until the shrimp turns pink.
• Add the parsley, lemon juice, salt and pepper, stir well
• Remove the pan from the heat.

Serve immediately with rice, pasta or salad.

Serves 4

Click Here to see the full list of our easy and exciting Jamaican recipes, completely free!
Pages Related To Jamaican Shrimp
Return to Jamaican Fish Recipes from Jamaican Shrimp Dishes
Return to Homepage from Jamaican Shrimp Recipes

Other Great Articles You Might Have Missed
P.S. Didn't find what you were looking for? 
Still need help?
Click Here to try our dependable and effective Site Search tool. It works!
Or, simply click here and here, to browse my library of over 500 questions and answers! Chances are someone already asked (and got an answer to) your question.
---