Stay
up-to-date
with all that's new at My-Island-Jamaica,
Click Here to subscribe
for my updates and don't miss a thing!
Custom Search
Sharing Is Caring! Share this awesome content with your friends now.
Unpopular Jamaican Dishes


5 Jamaican Dishes You've Probably Never Heard Of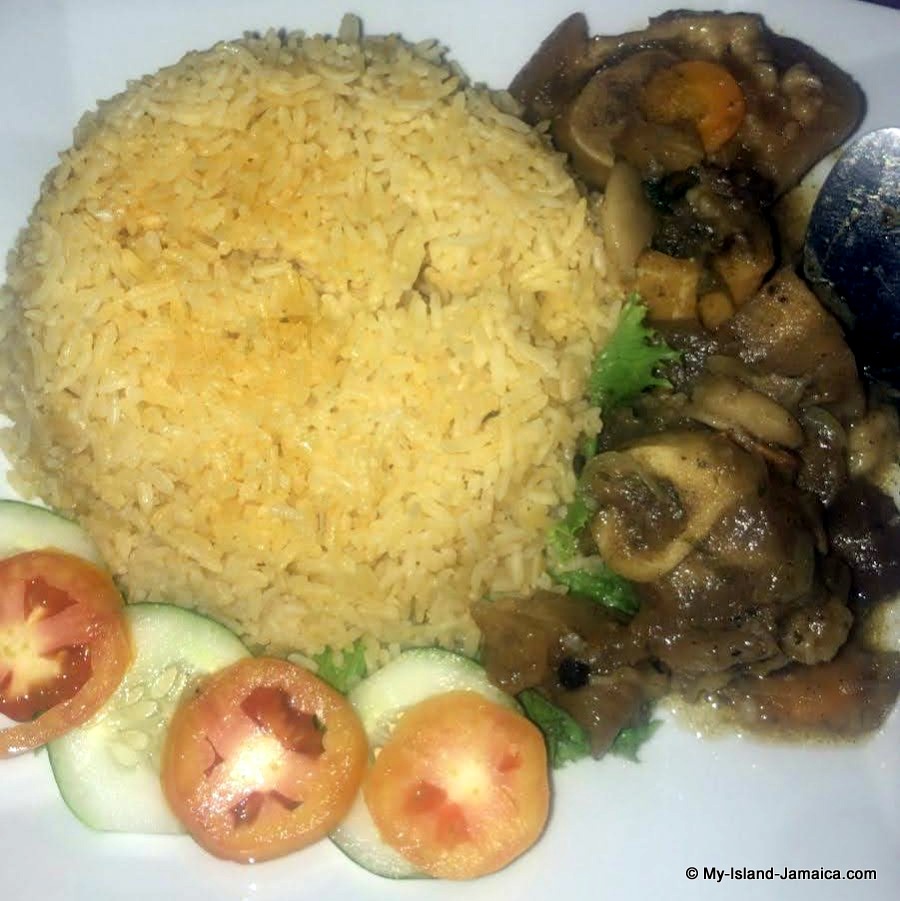 Jamaican Cow Foot & Rice Dish

Watch! See the real Jamaica in VIDEOS!
Click Here and see why over 60,000 fans are raving about my YouTube Channel!
Unpopular Jamaican Dishes | by Venesha Johnson, Associate Writer
Some dishes are synonymous with Jamaican cuisine. I'm sure you've tried or at the very least, heard of Jerk Chicken! But, contrary to popular belief, we don't eat that every day. There are some unpopular Jamaican dishes that deserve just as much recognition because they are just as delicious. Ever heard of Tripe and Bean? I doubt you have. Don't worry, I'll explain it soon, read more to find out what that is.
---
If you do a Google search for Jamaican dishes you will see ackee and saltfish or oxtail pop up immediately. Those are some of the dishes that Jamaica is known for worldwide. But we are not limited to that, there are so many other dishes that most households prepare on a daily basis that hardly ever get mentioned.
You will not find these dishes in fine dining restaurants or in the all-inclusive hotels. Some, you may find at a few low-scale restaurants and cook shops. But these meals are mostly prepared in our homes. Here are some of Jamaica's top home-cooked dishes.

1. Tripe and Bean

So what is tripe you may ask? It is a form of offal. Jamaicans typically use tripe from the cow, which is what we call the intestines, to make soups and stews.
How to Prepare Tripe and Bean: It is normally boiled in water for a few minutes to get it scald, then cut into small pieces and seasoned with curry powder, black pepper, salt, ginger, garlic, onion, pimento allspice, scallion and pepper.
After marinating for about an hour, in your pressure cooker add a small amount of curry to a small amount of hot oil to "burn" the curry, then add the tripe and cover with water. Leave to pressure for 30 minutes or until tender. Once that is done remove the cover of the pressure cooker and add coconut milk, butter beans, sweet peppers and thyme, let simmer for another 10 minutes. 
2. Chicken Foot

Chicken feet are prepared in most households quite frequently. It is oftentimes used in soups, stews or curried. Just as most other things curried, Curried Chicken Feet are a favourite among many. And its savoury sticky sauce is delicious.
How to prepare curried chicken feet: remove the nails from the chicken feet and remove any of the yellow scales that might be present. Dipping them in hot water can make this process easier. Season with your favourite herbs and spices and include ginger, garlic, onion, pimento seeds, escallion, and thyme.
Don't add all the seasonings here, you'll need them a little later. Add a generous amount of curry to a small amount of hot oil in a pressure cooker.

Once the curry powder becomes dark brown or orange add the pieces of chicken feet to the pot and give it a stir. Cover the feet halfway with water, attach the lid of the pressure cooker and let it cook for around 30 minutes.
Once the 30 minutes is up or the feet are tender, add medium chopped pieces of carrots, Irish potatoes and the remaining seasonings. Remove from the heat once the carrots and potatoes are soft and the sauce has a thick consistency.

3. Crayfish(Janga) Soup

Crayfish, or Janga as they are called by Jamaicans, are basically small freshwater crustaceans that resembles lobster. To prepare this soup you will need some ground produce of your choice, yam, carrots, and Irish potatoes are great choices. Most persons include dumplings but this is totally optional. Add your ground produce (and dumplings) to a pot of boiling water.
The next step is to add your crayfish to the pot, this should be washed prior with vinegar and water. It can be added in with or without the shell. Just like lobster, Janga does not need a lot of time to be cooked, so add your seasonings such as thyme, escallion and your chosen soup mix in at the same time and cook for an additional 7 minutes.

4. Cow Skin and Foot

To get the skin and the feet of the cow edible, the hair of the skin and feet are usually burnt off then scraped. In Jamaica, cow skin and feet are usually used to make red peas or pumpkin soup or brown-stewed and mixed with butter bean. Cow skin can be quite tough and may take over an hour to prepare.

5. Chicken Back

This arguably the most common dish and most frequently eaten type of meat in Jamaica. While chicken back is enjoyed by all, it is especially eaten among those with more financial constraints because it is affordable, or it used to be.
Chicken back is quite literally the back of the chicken. If you should get a whole chicken, and remove the thighs, breasts, legs and wings, the back is what you will be left with.
It is seasoned and prepared just as we would prepare chicken and is very versatile.
Here are some of the most popular ways for preparing chicken back:

Curried
In soups
In stews
Grilled
Jerked
Fried
Cut into small pieces then fried and combined with ackee, callaloo, or cabbage.
If you have never had any of these unpopular Jamaican dishes before, try preparing them at home with your loved ones. If you can't prepare them at home, that's okay too. Just add them to your list of things to try on your next visit to Jamaica.
Other Pages Related To Unpopular Jamaican Dishes
You will also find these pages quite helpful as well:

Return to Jamaican Food from Unpopular Jamaican Dishes 
Return to My Island Jamaica Homepage from Unpopular Jamaican Dishes
References & Sources For Unpopular Jamaican Dishes
Tripe: Nutrition, Benefits and Uses, https://www.healthline.com/nutrition/tripe  
Red Claw Crayfish in Jamaica, http://www.jamaicachm.org.jm/Article/April2005.asp
Other Great Articles You Might Have Missed
P.S. Didn't find what you were looking for? 
Still need help?
Click Here to try our dependable and effective Site Search tool. It works!
Or, simply click here and here, to browse my library of over 500 questions and answers! Chances are someone already asked (and got an answer to) your question.
---