Coffeehouses in Jamaica | 8 of the Best!
by Sheree-Anita Shearer | Associate Writer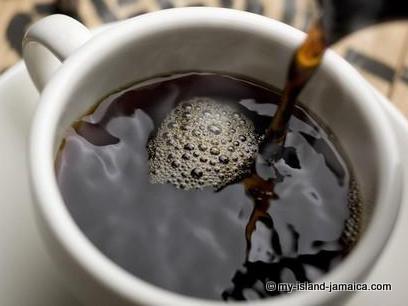 Photo: A Cup of Jamaican Coffee
As the home of one of the,
best coffees in the world
, Jamaican Coffeehouses will most definitely be a treat. While it was difficult to just include these; here are 8 of the best coffee houses in Jamaica.
Cafe Blue has been serving the island for 16 years through its seven locations and its many products. Started by the Sharp family, specifically Richard Sharp, the company has served not just Jamaicans, but the entire world coffee, grown from their family-owned Clifton Mount Estate estate in the Blue Mountains fulfilling their motto: "from bean to cup". Customers enjoy the relaxed ambience of the stores which is ideal for work, study or just some quiet time, the delightful goodies and exceptional service make the revered coffee drinks even better.

In addition to the delightful food and drinks, you can also purchase Blue Mountain Coffee in whole beans, pods and grounds from Cafe Blue for your personal use. They ship both islandwide and overseas. They also have a rewards card that gives each customer their tenth coffee free, after nine purchases.


Deaf Can! Coffee is as delicious as it is inspiring! Located at 4 Cassia Park Road Kingston, Jamaica, the Deaf Can! team seeks to, as the name suggests, inspires young deaf men and women to believe in their capabilities and they have been able to do so through this venture. The coffeehouse is known by its customers for its great product and service, talented staff and overall enjoyable experience.

This coffee Venture was birthed from a trip by the Caribbean Christian Centre for the Deaf (Kingston, Jamaica) to meet Evelyn Clarke, a coffee farmer in Top Hill, St, Elizabeth who happened to be deaf. With the farmer as their inspiration, teenagers who were on this school trip began roasting, packaging and selling their coffee. After a while, they were able to brew their own coffee and a few months later opened up a small coffee shop at their school. Out of this was born the social enterprise Deaf Can! Coffee that trains students at the school and also operates in the public space.


Island Coffees Limited was started by Johnathon and Paula Surtees because of their love for coffee as well as the need to create a legacy for their family, specifically their five children. Jonathan had been a coffee planter in Strawberry Hill since 1986. He and Paula first developed home-grown produce for hotels and then ventured to get a licence from the Coffee Industry Board (CIB) to deal in Blue Mountain coffee. The couple then started Strawberry Hill Coffee and expanded into Island Coffees. Now in addition to three locations, they also sell coffee products both at home and abroad.

This is the true definition of a family business and it is completely run by Johnathon, Paula and their children - Mitoya and Anastasia(Jamaica) Atavia (Canada), Mathew (England) and Rebecca (Germany), representing overseas expansions, franchise opportunities and distribution.


The Gap Cafe is known for its picturesque view of the sea from its station between the Blue and John Crow Mountains in Eastern Jamaica. What was a frequent retreat for Sir Donald Sangster and allegedly, where Ian Flemming wrote Dr No, is now a must-visit chill spot less than 40 minutes away from Kingston. With a very rich history, The Gap Café is no stranger to the world of fine dining and serves as a rustic escape from the busyness of the city of Kingston. Gloria Palomino is the owner and operator of the hilltop coffeehouse.


With locations on the famous Hip Strip and Fairview Shopping Centre in Montego Bay, Mocha Restaurant & Cafe or Cafe Mocha as it is more widely known is at the centre of all that happens in Montego Bay. It is a favourite for tourists and locals alike and many visit the coffeehouse for its coffee and tasty menu options as well. With its strong social media presence, Cafe Mocha advertises its many meal options and promotions that customers can partake in. It's an ideal spot for coffee breaks from work, school or just to have a meal.


EITS Cafe (Europe In The Summer) is one-third of the Mount Edge Guest House, EITS Café and Food Basket Farm experience cultivated by the father-daughter duo Michael and Robyn Fox. Nestled in the New Castle area in St. Andrew, Jamaica. The EITS Cafe offers Blue Mountain Coffee and fresh farm to table produce for its customers. While they do accept walk-ins, they encourage us to make reservations.


Rituals is a coffee franchise that started in Trinidad and Tobago and came to Kingston and Montego Bay, Jamaica. While the Montego Bay location has since been closed, the Kingston location continues to provide signature coffees and teas as well as food options for breakfast, lunch, snacks and pastries. It's a popular spot for relaxation, studying for students and a good spot to hang out with friends. Its comfortable and creative style makes it ideal for casual first dates and happy hour.

Rituals is a full-fledged coffeehouse, serving its patrons with popular menu items like espressos, mochaccinos and hot chocolate. Their signature drink, however, "The Chiller" is Rituals' take on a frappuccino and comes in 27 flavours! The Chiller is often served with various food combos. Not to be left out, there are options for health-conscious eaters including soy, almond and skimmed milk - nothing deep-fried - and only adds mayonnaise to sandwiches. At Rituals "everything is modifiable".


Starbucks is one of the newer additions to the coffeehouses in Jamaica. While it isn't a Jamaican owned company, rights to the franchise in Jamaica is owned by Caribbean Coffee Traders Limited, a joint partnership between Margaritaville Caribbean Group's Ian Dear and Deputy Chairman and Chief Executive Officer of Sandals Resorts International Adam Stewart. Jamaica is the 17th country in the region to welcome Starbucks to its shores.

They opened their doors in 2017 with just the Doctor's Cave location in the Montego Bay - a far cry from the 10 stores they have currently, with plans in the pipeline to open another three over the next three years. In addition to its countless options including non-dairy, there are also sandwiches and dessert options. Although it is just four years old in Jamaica, it has become one of the most popular coffee spots on the island.
Although producing one of the best coffees in the world, Jamaica did not have a large population of casual coffee drinkers. That fact has significantly changed in the past few years which is the reason for the increasing popularity of coffee houses. Now, many Jamaicans enjoy a cup of coffee as often as possible, me included :-).
I also recommend you read
Jamaica's Blue Mountain Coffee Awarded The World's Best!
Regards,
SS
References:

Cafe Blue, https://cafeblue.com/about-us /
Our Story, Island Coffees Limited, https://www.islandcoffeesltd.com/our-story.html

Island Coffees, Jamaica Observer, https://www.jamaicaobserver.com/magazines/food/island-coffees_10242913

Deaf Can! Coffee, https://www.deafcancoffee.com/
http://stejamaica.com/the-gap-cafe-893

Mocha Restaurant & Cafe (@mocharestaurantandcafe) Instagram photos and videos, https://www.instagram.com/mocharestaurantandcafe/?hl=en

Editor's Note
Have a question? Ask Away!
Leave it right here
! With well
over 2000 questions already answered
, chances are we can assist :-)