Traditional Jamaican Christmas Dinner Ideas -

With A Twist



Sharing Is Caring! Share this awesome content with your friends now.

Watch! See the real Jamaica in VIDEOS!
Click Here and see why over 90,000 fans are raving about my YouTube Channel!
Exciting Jamaican Christmas Dinner Ideas
Wellesley Gayle

It's Christmas baby!  Perhaps the family is coming over?

Or you are just looking to have something uniquely different from the popular Christmas menu items?
Well, here are some old time Jamaican favourite Christmas menu items - with a twist, that we surely add a zip and zest to this special day!
---
These, by the way, are extracted from two of my old Jamaican Christmas Cookbooks. I know you'll love them.
Oh yes, the pork lovers will be thanking me, two of them are pork. Also two drinks and a dessert item!
Here they are below, six (6) great Jamaican Christmas Dinner Ideas!
Jamaican Oxtail Stew - With Noodles
INGREDIENTS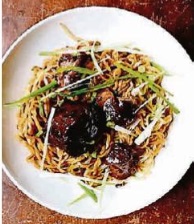 2.5-3 lbs oxtail
2 medium size onions
4 medium size carrots
1 clove garlic
1 cup tomatoes
4 tsp cornflour
1 tsp salt
2 tbsp black pepper
1/4 cup vegetable oil
8 cups hot water
2 stalks escallion
2 sprigs thyme
PROCEDURE


Cut oxtail into bite-size pieces, slice onions, and carrots, crush garlic, chop tomatoes, and finely chop scallion.


Trim away excess fat and place oxtail pieces in boiling water for 2-3 minutes.


Dry well on absorbent paper and coat with corn flour. Sprinkle with salt and black pepper.


Heat oil in a heavy-bottom pot and brown oxtail on both sides.


Pour off excess oil.


Return oxtail to pot with hot water.


Cover and simmer gently for 3 hrs or until oxtail is almost tender. 


Add more liquid, if necessary, and seasoning.


Add carrots, onions, garlic, tomatoes.Cover and simmer for a final 20-30 minutes.


Cook the noodles separately, according to package directions, and add to the sauce along with the oxtails.


Garnish with scallions.
Back To Top Of Jamaican Christmas Dinner Ideas

Brown Sugar Glazed Ham
INGREDIENTS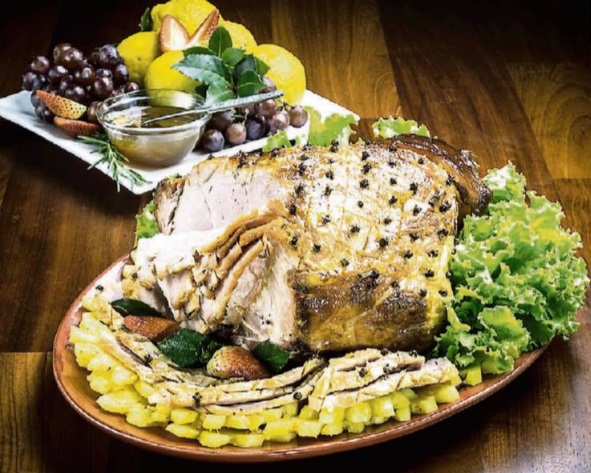 1 Leg or Picnic Ham
1 and 1/4 cup brown sugar
1 pack cloves
1 pastry brush (or basting brush)
2 tins of sliced pineapples
1 cup of pineapple juice (or orange or sorrel juice)
12 each maraschino cherries
1 pack of wooden toothpicks
1 large sheet of foil paper to cover ham
A baking sheet or tray
PROCEDURE
Preheat oven to 350 degrees Fahrenheit.


Remove ham from casing, place on baking tray, and cover completely with foil.


Cook ham as per the package instructions.


To test readiness, just insert a skewer or knife directly to the bone.

If juices run clear, then the ham is ready.


For crunchy, crackling skin, remove foil from fully cooked ham and return to oven at 400 degrees Fahrenheit for an additional 25 minutes.


Once ham is cooked, remove from oven and remove crackling skin.


On a flat surface, cut vertical and horizontal lines at about 1 inch apart to create a checkered look.


Put cloves where each line crosses.


Open two tins of pineapple slices and drain juice into saucepan.


Add one cup of brown sugar.


Add 1/2 cup of pineapple, orange, or sorrel juice for flavor.


Keep stirring for 10 minutes on a low flame until liquid thickens.


Use a large pastry or basting brush to apply glaze to the ham.


Sprinkle 1/2 cup brown sugar loosely on ham as a coating.


Put ham in oven for approximately 5 minutes.


Remove ham from oven, then add pineapple slices using toothpicks to hold in place.


Add a cherry to the middle of each pineapple slice. 


Brush again with glaze and return to the oven for an additional 5 minutes.


Serve and enjoy!
Back To Top Of Jamaican Christmas Dinner Ideas

Orange Roast Pork With Pineapple Avocado Salsa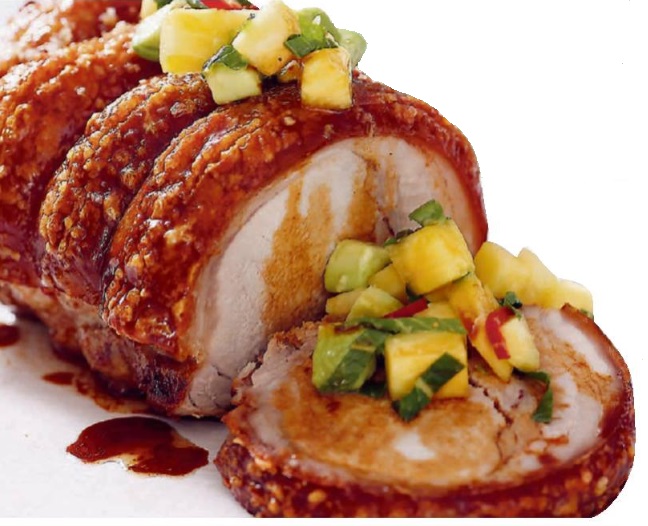 INGREDIENTS
4 lbs pork
1 cup fresh orange juice
1 cup vinegar
Approx. 1/2 tsp cinnamon
A slice (thick) of ginger 
2 cloves of garlic
3 tbsp of fresh thyme
1 large onion
3 stalks of escallions
1 Scotch bonnet pepper (remove seeds)
2 tbsp soya sauce
1 tbsp of olive oil
1/2 tsp of black pepper
A dozen pimento berries (also called allspice)
1 tbsp of brown sugar
Salt (optional, to taste)



For The Salsa
1/2 of pineapple, diced into small pieces
1 Scotch bonnet pepper finely chopped (seeds removed)
A handful of fresh mint, also finely chopped
A 1/2 of medium avocado, diced into small pieces
The juice of a lime
A pinch of salt, &
Cracked black pepper
PROCEDURE
Chop escallion, thyme, onion, garlic, ginger and Scotch bonnet pepper, then place everything (except the pork) into a blender and purée for two minutes. 


Wash and pat-dry the pork, then place it in a deep bowl (or large ziplock bag) and pour the marinade over it. 


Give it a good toss, cover with plastic wrap and set in the fridge to marinate overnight.


Place the well-seasoned pork into a roasting pan (with a cover) and pour in all the marinade into the pan. 


Set your oven at 400 degrees Fahrenheit and place on the middle rack for 1 hour. After 1 hour, turn to the other side and roast for another hour. 


Be sure to baste the pork as it roasts with the marinade at the bottom of the pan.


After approximately 2 hours, remove the lid and roast for another 15 or so minutes to give it some lovely color and to reduce the gravy at the bottom of the pan.


Spoon some of the gravy over the pork as it roasts. The pork is done when it reaches an internal temperature of 160 degrees Fahrenheit.


Slice and top with salsa.


( For Salsa )
Gently mix all ingredients, making sure not to mash avocado.
And if you are looking to have something different (or in addition to the Christmas fruit cake) for dessert, here's are great option...
Back To Top Of Jamaican Christmas Dinner Ideas

Christmas Carrot Cake - With Cream Cheese Frosting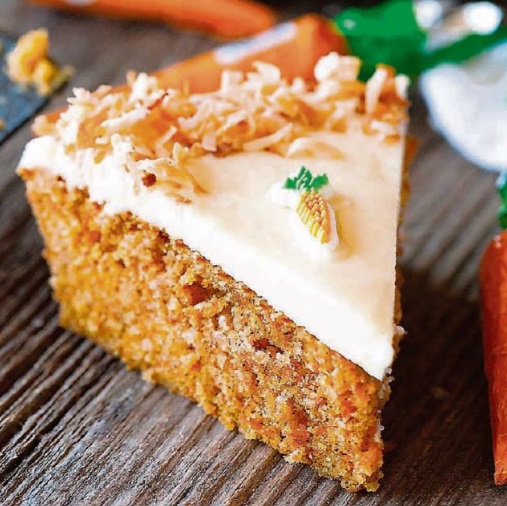 INGREDIENTS
For the cake
1 and 1/2 cups all-purpose flour
1 tsp baking soda
1 tsp baking powder
1/2 tsp salt
1 teaspoon ground cinnamon
2 large eggs
1 cup granulated white sugar
1 1/2 tsp vanilla extract
3/4 cup canola oil
1 and 1/2 to 2 cups of carrots, shredded


For the Cream Cheese Frosting


4 oz cream cheese (softened)
3/4 cup unsalted butter (softened)
1 and 3/4 cups of confectioners' sugar
1 tsp vanilla extract
1 cup sweetened coconut, optional
PROCEDURE
Preheat the oven to 350 degrees Fahrenheit and grease a 9-inch round cake pan.


In a medium bowl, whisk flour, baking soda, baking powder, salt, and cinnamon.


Combine eggs and sugar and mix together. Beat until combined and add vanilla extract and canola oil. 


Slowly mix in dry mixture into wet mixture until no lumps remain.


Remove from the mixer and fold in shredded carrots.  Pour mixture into the prepared cake pan and bake in the oven for approximately 35-40 minutes or until a toothpick inserted into the middle comes out clean.


Remove from the oven and invert the cake on to a wire rack, and let cool completely.


Meanwhile, for the cream cheese frosting, mix together the cream cheese, butter, confectioners' sugar, and vanilla extract until smooth and creamy.


Line a baking sheet with the parchment paper and place sweetened coconut on top pf it. 


Place in a 350 degrees Fahrenheit oven for between 8 and 10 minutes, stirring often.


Spread the cream cheese frosting evenly over the cake and garnish with toasted coconut if desired.
And now the delicious drinks, starting with Egg Nog. Remember this needs to be started a day or two before Christmas.
Back To Top Of Jamaican Christmas Dinner Ideas

Jamaican Christmas Egg Nog
INGREDIENTS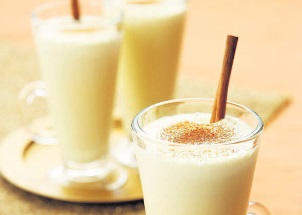 A dozen egg yolks
5 whole cloves
4 cups of milk
4 cups of cream
3 cups of light rum
1 and 3/4 cups sugar
2 and 1/2 tsps vanilla essence
1 tsp cinnamon, ground
3/4 tsp nutmeg, grounded
PROCEDURE


In a saucepan over low heat, blend the milk, the cinnamon, the loves and a half teaspoon of the vanilla essence.


Keep stirring while the mixture heats, then remove from heat just before it stars boiling.


Mix together the sugar with all those egg yolks in a bowl.
Be sure to whisk them well so that they are light & fluffy.


Lightly pour in the milk mixture while whisking.


Transfer mixture back to the saucepan over a medium heat - continue to stir.


Keep stirring until the eggnog mixture starts to resemble custard; Don't let the mixture reach boiling point.


Pour and strain the mixture into a jug, remember to remove the cloves.


Put container in the fridge for about an hour or two.


Gently stir in the cream, rum, remaining vanilla and nutmeg.


Leave in the fridge overnight.


When ready, serve in cups with a little nutmeg, cinnamon or baking cocoa sprinkled lightly on top.
Back To Top Of Jamaican Christmas Dinner Ideas
Jamaican Sorrel Drink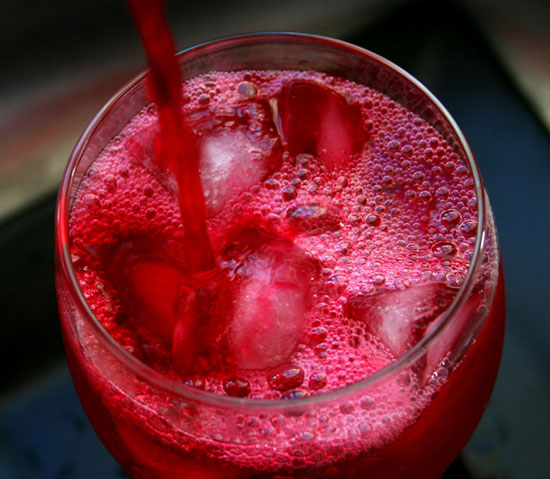 And finally... the cream of the crop, the real taste of Christmas, Jamaican Sorrel Drink.

I already have that recipe, so please click here to get that recipe.
References

Jamaica Gleaner 2016 Christmas Cookbook
Jamaica Gleaner 2011 Christmas Cookbook
Other Pages Related To Jamaican Christmas Dinner Ideas
Return to Christmas In Jamaica from Jamaican Christmas Dinner Ideas

Return to My Island Jamaica Homepage from Jamaican Christmas Dinner Ideas
Click Here to see the full list of our easy and exciting Jamaican recipes, completely free!
Other Great Articles You Might Have Missed
P.S. Didn't find what you were looking for? 
Still need help?
Click Here to try our dependable and effective Site Search tool. It works!
Or, simply click here and here, to browse my library of over 500 questions and answers! Chances are someone already asked (and got an answer to) your question.
---