Vegan in Jamaica? No Problem!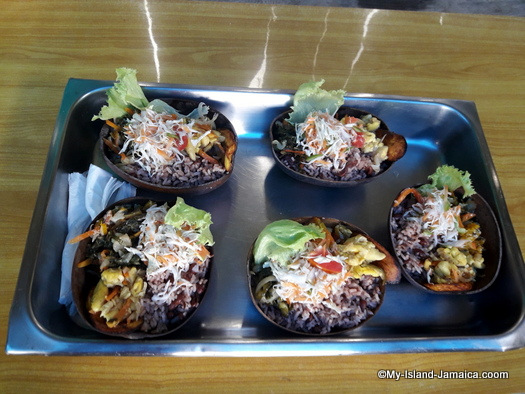 Photo: Charlestown Maroons Vegetable Stew
by Kesha Stewart | Associate Writer
Sweetsop and guineps in the summer, avocados from July straight to November, breadfruit all year-round, watermelons, pineapples and papayas at every fruit stand and cabbage, cucumbers, ackees and plantains at every local market, is just a fraction of the list of vegan foods available in Jamaica. Many of them such as naseberries are grown organically. We are a tropical island and the offering of fruits and vegetables is almost inexhaustible.
Good food is always in style and you won't have to sacrifice taste, health choice or lifestyle changes to eat well as a vegan in Jamaica. Jamaica has a wide selection of herbs such as thyme and spices such as pimento to make any meal flavoursome. Our food has emerged as a melting pot of the best of African, Asian, English, and even Spanish cuisine. In my mind, African and Asian food are locked in a battle for the top spot. However, there is something to be said for ital food prepared under strict Rastafarian health rules.
If your diet is such that you consume only vegan food, I have some suggestions for you.
Consider Rastafarian Eateries.


Ital foods are prepared there and you're going to be pleasantly surprised by the taste. Rastafarians believe in purity and as such their diet is built around the concept of the food we eat acting as a medicine contributing to good health. Food is supposed to restore the person mentally and physically. Consequently, natural herbs and spices such as ginger, turmeric and thyme are used to flavour meals. They also prepare tonics made with the roots and leaves of medicinal plants which are reputed to restore vitality in and out of the bedroom (while this is not a medicinal fact, Jamaicans swear by it). These restaurants have a very good selection of natural juices made from combining seasonal fruits and vegetables.



Try Health Food Stores.


You can select products from many health food stores catering to even the most discerning vegan. Here you will find plant based proteins and milk, nuts, grains, seeds, gluten-free foods and supplements.



Check out the Health Food Section in the Supermarket.


If you're intent on preparing your own meals, then you will find good vegan choices at major supermarkets. There is usually a section stacked with vegan offerings and a section for fruits and vegetables too.



Inform your Vacation Provider Before you Arrive.


Your travel planner can help you find accommodations that will cater to your specific needs. When you're booking your vacation you can share the information so that the right arrangements for your holiday is already in place by the time you arrive.



Call Ahead to Restaurants.


If you decide to eat out, call ahead and let the restaurant share information about their menu offerings. That way you'll be sure that where you're going will have exactly what you need. Most rooms have a local directory but a quick search on google for nearby eateries won't hurt you either.



Ask questions about Your Food.


Since you may not always be familiar with all the local food varieties and methods of preparation I do advise you to ask pertinent questions about what's on display before you eat. It will limit the number of surprises that you'll try to eject after tasting.



Get Ready for the taste of Coconut Milk.


Most vegan and ital eateries utilize coconut milk (mostly made from scratch) in their meal preparation, it enhances the flavour of the food and also adds natural plant fats and oils. Meals such as peanut porridge, sip (soup made vegan/ital style), chocolate tea, will have coconut milk. So will local specialties such as coconut run down and veggie stews. Coconut milk is used religiously in the preparation of our local Sunday favourite – rice and peas (beans). Here in Jamaica, a dry coconut is "king".

You will get to try new foods such as curried ackee, peanut porridge, ackee patty and peanut soup. Beverages such as guava juice, passion fruit juice and june plum juice will keep you refreshed.
Some popular vegan eateries include:


Veggie Meals on Wheels - Kingston

Millennium Victori - Montego Bay

Reggae Pot Restaurant – Ocho Rios

Rasta Ade Refreshments – Negril

Stush in the Bush - St. Mary

BODYKURE Vegan Restaurant & Herbal Health Shop – Portland

There are countless others across the island! Isn't it great to know that you can enjoy flavourful food on your Jamaican vacation and still maintain your dietary choice?
I also recommend you read
Jamaican Breadfruit Flour
.
Regards,
KS
References:


"A Vegan Guide to Jamaica", Cultture Trip, https://theculturetrip.com/caribbean/jamaica/articles/a-vegan-guide-to-jamaica/

Stush in the Bush, http://stushinthebush.com/visit-us

Editor's Note
Have a question? Ask Away!
Leave it right here
! With well
over 2000 questions already answered
, chances are we can assist :-)