What's Jamaican Food Like?
Answered by Tracie Shortridge

Close your eyes for a sec. Picture yourself sitting in the living room of a Jamaican friend – feel free to choose me if you don't have one :-)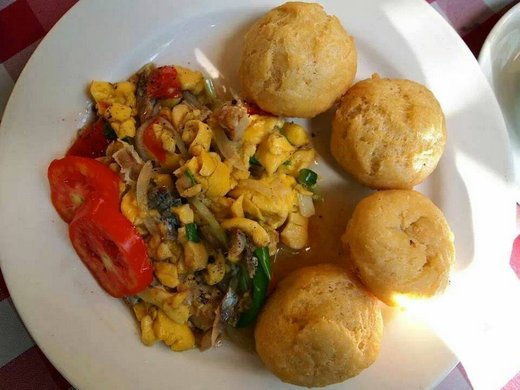 Now inhale, take in a whiff of the strong smell of herbs blended in with the steam from the pot, taste the spices perfectly infused into the hot buttery smell of the rice in the back of your throat. Can you taste it?

That is Jamaican Food being cooked my friend!

Jamaican food is all about spices and the blending and mixing of ingredients from the land of traditional techniques and methods.

The use of spices originally started as a part of the preservation process of meats, however, the flavourful aroma and taste resulted in the spices remaining, not only a permanent part of the Jamaican cooking, but to almost being sacrilege if not used in cooking.

Yes, Jamaican food has to be nicely seasoned and spiced up!
Of course, the Europeans (mainly the Spanish and the English) brought their own styles of cooking foods to Jamaica which quickly got infused into the culture.

Typical Foods Eaten In Jamaica Today
Fruits, vegetables and starches form a major part of the food we eat on a daily basis. More on Jamaican
fruits here
But, let us look at a typical Jamaican home and what their three (3) meals per day comprise of .
Breakfast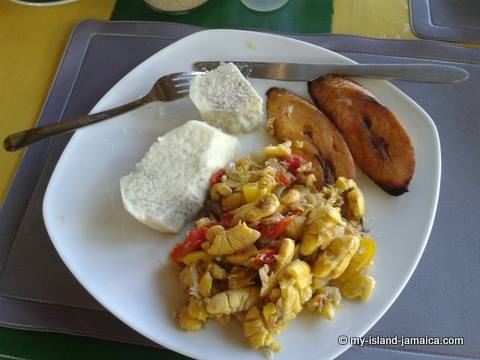 Fried eggs

Ackee & saltfish (the national dish of Jamaica)

Fried dumplings

Fried plantains

Steamed callaloo (this is like spinach)

Brown Stewed chicken

Boiled yams

Saltfish (cod fish)

Steamed cabbage

Bread

Lunch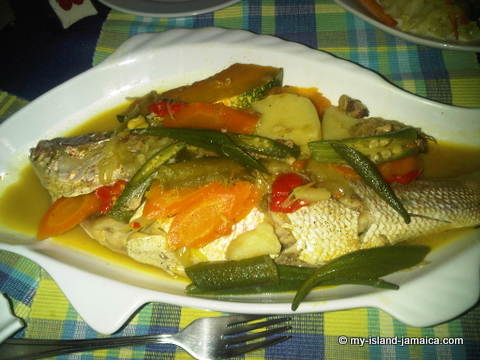 Fried/Baked Chicken

Rice & Peas

Patties (pastry stuffed with beef, chicken or vegetables)

Fried Fish & Bammy (made from cassava tuber)

Steamed Fish with Okra and Water Crackers

Curried mutton (goat)

Dinner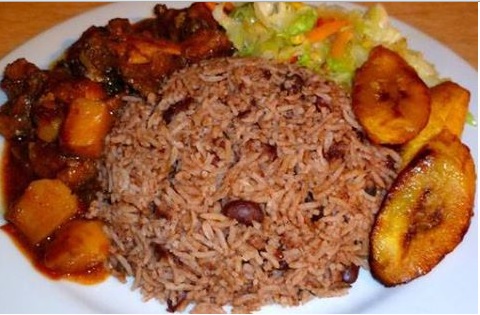 Fried/Baked/Brown Stewed Chicken

White rice/rice & peas

Jerked Pork/Chicken

Boiled dumplings, sweet potatoes & irish potatoes

Steamed vegetables

What About The Soup Day?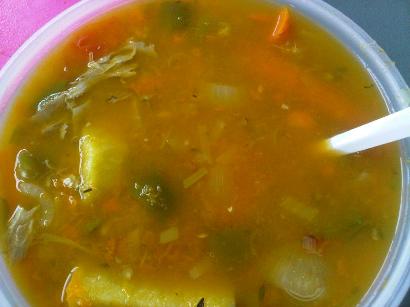 Tradition also dictates that every Saturday, dinner comprises of soup (red peas or pumpkin being the most popular with 'chicken foot', beef and chicken noodle spice).
And, every Sunday is rice and peas, fried chicken with potato salad and cole slaw.
And Beverages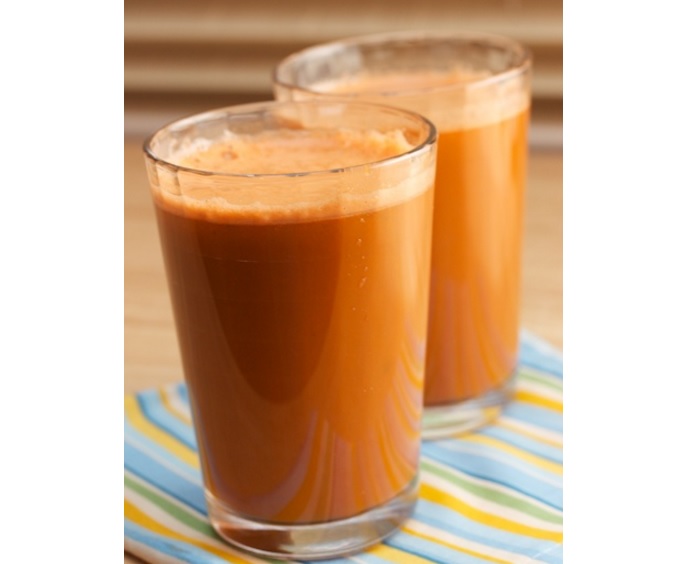 Breakfast is usually had with a warm beverage whether it is tea steeped with the leaves of local fruit trees or herbs (eg fever grass, mint, lime , soursop etc), or hot chocolate, milo or coffee.
And for lunch, we typically have sodas, fruit juices or water. For dinner we savour the natural juices; soursop, carrot and irish moss been the most favourite.
Dessert Anyone?
This is my favourite part of the day. For dessert we typically have:


Fruit Cake – Usually more popular around Christmas time.

Pudding – Cornmeal or sweet potato, coconut, sugar and spices.

Duckunu – Ingredients of the corn pone wrapped in banana leaves and boiled.

Gizzada – A coconut and brown sugar in a pastry puff.

Drops – Sliced coconut with brown sugar, boiled and laid out in sun to dry thereby setting it to a solid perfect delectable tasty treat.

And even more desserts here.

But this is just a quick taste. As you get to learn more about the rich Jamaican culture, you'll, little by little, realize how important food is to our culture and heritage, without a doubt, one of the most distinctive aspects of this beautiful Caribbean island.
Be sure to read more about the delectable
Jamaican foods here
. Also, make sure to get these,
a list of the top Jamaican recipes - all free
!
See also:
What is Jamaica?