How To Say Hello In Jamaican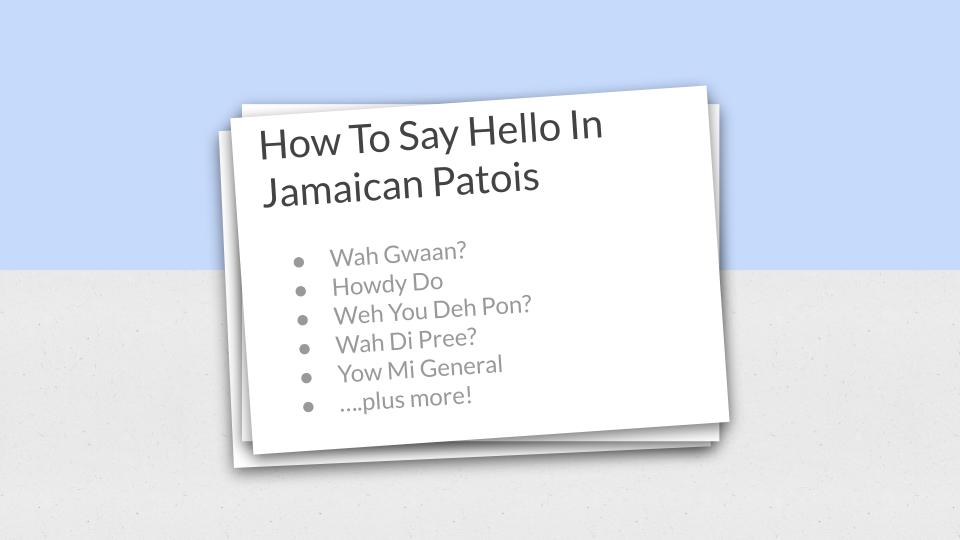 How Do I Say Hello In Jamaican Language?
RESPONSE: by Kesha Stewart, Associate Writer
I like your question!
There are many ways to say hello in Jamaican patois, and new ones seems to emerge, ever so often.
Perhaps the most 'universal' though is 'Wah Gwaan', with a sort of question tone.
That greeting/ response by the way, was made even more popular after former US president, Barack Obama, used it during his inaugural visit to Jamaica on April 8, 2015.
But there are a lot more.
Let me expand on this a little more for you.
There is also 'gud maawnin', 'gud eveling' and 'gud nite'
Translation: Good morning \ evening\ goodnight.
But us Jamaicans have the tendency to act as if the day has only these segments :-)
So once it's not morning, its evening and then night. The period called afternoon is often disregarded :-)
How you are greeted in Jamaica also has lot to do with:


How you are perceived by the individual?

Who is greeting you, and even...

What the current slang is. There is always a current slang and in fact you can get a good guess as to a person's age based on the slang they use when they express themselves.

In the early days 'yow!' (Hey!) was the popular expression.
It has survived several generations and is still in use currently, albeit with some modifications.
For instance there, is 'yow mi boss!' and 'Yow mi general!' today.
Literal Translation: "Hey my boss / general".
You'll find that most youths, young men use this.
However, as I indicated to you earlier, the most generic greeting is "waah gwaan?'
Translation: What is going on?' Interpretation: what's up?'
And what's the response?
It is usually, 'Mid eh yah'
Literal Translation: I am here
Interpretation: "I am doing ok".
Other variations which carry the same essence include:


"Waah guh dung?"
Translation: What is going down?

"Weh yu deh pon?"
Translation: What are you up to?

In both cases you are asked how you are doing and what are your plans.
You may also encounter a number of Rastafarians on the island that might greet you another way.
It may involve simple gestures such as a bow of the head, accompanied by a right hand placed across the chest touching the left breast.
Others may give a salute with a raised right fist or general conversation. Don't be alarmed, it a mark of respect. "One Love", "blessings", or "hail" (my lord)".
To greet older persons we, as a mark of respect, address them with a good morning (good mawnin); to which any of the following gender reference are attached as appropriate: uncle, aunty, grandpa or grandma.
The greeter is simply saying that they view this individual like a family member.
Aunty and uncle is linked to middle–aged person and grandma and grandpa are for those who are much older.
These older individuals may greet you with "howdy do?", "how you duh?", or "howdedoo?"
Literal Translation: How do you do?, How are you doing?
Interpretation: How are you getting along?
Jamaican will also ask questions quite often, "Yu gud?"
Translation: Are you good?
Interpretation: Are you alright / is everything ok with you?
The ever-popular "PSSST", is a sometimes annoying sound guys will make to the attention of a female. Of course, you may be wondering what a typical response you could give in patois (patwah).
Here are two examples:
Patois: "What a gwaan mi general?"
English : What is going on my friend?
Response in Patois : Mid eh ya a easy."/Mi criss/"Mi gud"
English : I am here chilling /I'm doing ok / I'm good /great / fine"
And
Patois Question: "Weh di pree mi girl?"
English: What are your plans my girl?"
Patois Response : "Mi a pree fi go a di hairdressa rite ya now"
English: I am planning to go to the hairdresser right now.
Suppose you're not having a particularly good day, how do you make that known if someone greets/ asks you?
You say...
Patios :"Nutten nah gawan"
English Translation: Nothing is happening
Interpretation: Things are not going my way
Typical Patois Response : "Everyting soo irie"
English Translation: Things will be alright soon
Note that when things are
going right or on point
, such as the hairstyle, attire, dance moves, or even a meal, you'll likely hear a younger say things like...


'Mi ting shell'
Interpretation: My thing is at a high level

'Mi ting sort out'
Interpretation: I looked really well/ I did very well.

And finally... To part company (as I do now with you), you'll hear Jamaicans say things like:


'Mi gaan'
Translation: I am gone / I'm leaving/ goodbye

'Lata'
Interpretation: See you later

'Likkle more'
Translation:I will see you in a little while
Interpretation: See you later!, And...

'Inna di morrows'
Interpretation: See you tomorrow

So over to you know, go ahead and have some fun trying these at home so you can sound like a real Yardie when you get 'home'
So I say to you now...
Likkle More
!
Regards,
KS
Wellesley's Note
:
I hope this was helpful. I'd love to hear from you. Please share your feedback in
the comments below
.
In the meantime, here also are additional resources you might find helpful.
P.S. Looking For Reasons NOT visit Jamaica?
Here they are!
.