Kingston Harbour, Jamaica - Before Bedtime
by Allan J.
(Brampton, ON, Canada)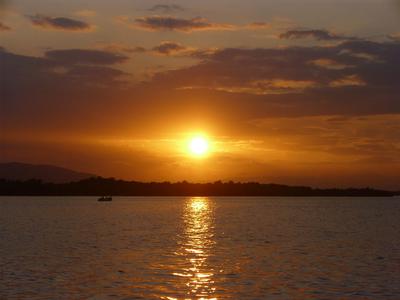 Photo Of Kingston Harbour, Jamaica
This photo of a beautiful sunset over the Kingston Harbour was captured 4 years ago on the Port Royal road.


It caught my eyes and I had to hurry as it was fading very fast. I titled it "Kingston Harbour before bed time".
Editor's Note
Lovely! Thanks for these beautiful photos Allan
Visitors are invited to
add a comment below
and also
share their own photo
.
See Also:
Kingston, Jamaica
Join in and write your own page! It's easy to do. How? Simply click here to return to Jamaican Photos.
Like our Facebook page https://www.facebook.com/myislandjamaica
Follow us on Twitter https://twitter.com/myislandjamaica
Thanks For Reading!
Like What You Just Read?

Please join me in my effort to share the beauty and uniqueness of Jamaica with the world. You can do so by sharing this insightful narrative with your friends on the social media of your choice and ask them to do the same (BELOW). 
Great Articles You Might Have Missed
Need Help?
We have a cherry list of top Jamaican companies that might be able to help you. Please click here to see them, our preferred partners and site sponsors.
Get Exclusive Updates & Tips!
You are also welcome to join my special friends list and receive exclusive updates (like this), tips, trivia and stories from lovers of Jamaica!
I'll Gift You A FREE COPY of my eBook, 101 Intriguing Facts About Jamaica - just for subscribing!

Just enter your email & name below:

Top Of Page