Christmas in Jamaica
Exciting Ja'can Christmas Traditions

Custom Search
We do engage in many of what the rest of the western world does, but Christmas in Jamaica is enviably different - it's sweeter, keep reading :-)
The Carols
The radio stations start playing carols quite early, sometimes as early as in October! My favourite radio DJ, Francois on Fame FM, is guilty of this.
We play all the popular carols that you'll probably associate with the western cultures.
Silent Night,
Away in A Manager,
The First Noel,
Holy Night,
...you name them
But remember, Jamaica is the home of reggae music, so you bet; we also do them -reggae style!
New! See Jamaican Christmas Music & this Chrismus dung a yard poem- in Jamaican dialect!

Concerts and Parties
Christmas concerts are very popular leading up to the day, and they are in every area of public domain.
They are in the schools, in the community centers, the workplaces, the squares, and even some of the churches that once denounce the celebrations decades ago.
The parties are never ending!
Honestly though, that is my main problem with that time of the year- I tend to spend all my money way before the actual day!
And if all the concerts and parties were not enough, there are the Christmas Eve Balls and final parties the night before. Here the merriment continues until daylight.
Traditionally families go to the town areas and the cities on Christmas Eve-for nothing more than the lights and the thrill!
The traditional 'JohnKonnu"- An African inherited celebration brought by our ancestors, is not too popular in the city areas these days, but it too is quite exciting.
Decorations
The decorations do start quite significantly early as well. Houses are painted and 'pepper lights'[Christmas Lights] as-we call them- goes up, even on trees!
But wait until Christmas morning!
You will see the most elaborate ornamentations. The newest curtains, table cloth, sheet sets etc. goes up!
The Food
But perhaps the most telling part of Christmas in Jamaica is the food!
Despite the poverty by many, everyone seeks to present the most elaborate, expensive and appetizing dishes on the table.
Curried Goat, Pork, Chicken, Oxtail, all served with Rice and Gungo Peas forms the entree!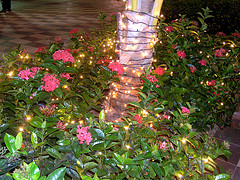 Some of the more affluent families do include ham and imported Turkey. And there is also the sorrel and Jamaican Christmas Cake!
Both requires special care to be done in time for Christmas.
For the Christmas cake, fruits are soaked in red wine and white rum for months before Christmas! Rum is also an integral part of the sorrel punch preparation.
Charity Initiatives
Between the fun, food and frolic though, we never leave out the charity. Both individuals and corporations do share the Christmas spirit by giving.
My community club, the Retirement Sports and Social Club, sponsors an annual Children's Treat too. Many public and private sector companies donate freely to this cause at this time of the year.
By the way, I included a few of those Christmas treat pictures from last year on my main pictures page.
Family Reunions
My favourite part of Christmas in Jamaica though is the family togetherness. The actual day is spent at home-usually at the family home with friends and families.
I can't wait for the family reunions at that time!
My uncle, Toney cherishes this time of the year. Myself and him kinda assumes the lead role (and the bigger costs) in the annual preparations.
Last year we chartered a bus and went to 'Little Ochie'. The food was awesome and we had the best of the best -and lots of it!
So you see, we have no snow nor chimneys, but Christmas in Jamaica, while reflective- is a scintillating experience!
Below are a few of the pics I took on our way to, and while at the famous beach side in
'Little Ochie'
for
Christmas 2006
! For more Pics from Jamaica
Go to my Pictures Page.
And by the way, don't miss these informative pages about Jamaica


Return to My Island Jamaica from Christmas in Jamaica
How was ur last Christmas? Great! Share Your Experience with us! If you were in Jamaica, be sure to let us know.
Where do you start?

C'mon, don't make it so complex....just start typing as the memories comes to you. It's that simple :-)

Of course, I need not mention that my other site visitors will truly appreciate it.

Ready?
Memorable Christmas Stories Already Shared
Below are all the other captivating Christmas experiences shared thus far, Click each below to read and post a comment.

Sweet Memories of Christmas in Africa as a Child

Christmas is a joyous season full of love. As an occasion which symbolizes peace, giving and sharing, adults love it. So guess what it is like for …
Christmas 2012 -Jamaican Style

Christmas 2012 was yet another memorable occasion for me. To be honest, it is the first Christmas in about 10 years that I didn't feel overwhelmed, …
Christmas Trip To Westmoreland

Can I share my trip down west (Westmoreland) with you yesterday? Well, its our annual Grandpa visit ! It's an initiative my mom had started well before …
My Christmas in Jamaica -2011!

Ever since migrating over 2 decades ago I always pinned for A Jamaican Christmas. This year I finally had to opportunity although I was excited to as …
Christmas Dung A Yard (Christmas Down in Jamaica) - The Poem

...as recited by Karena Gayle (My Daughter) today December 18, 2011, her birthday, at church. We hope you like it. Hoo-much a oonu miss Crismus …
Christmas in Barking Lodge, St Thomas- My Best Christmas Ever! Not rated yet
Barking Lodge in St. Thomas Many people I know tend to go overseas on their Christmas holidays to experience the white Christmas, while others think …
Dull Christmas - 2012 Not rated yet
Hello Wellesley! My Christmas was special all right; especially dull, boring, unexciting, uneventful, uninteresting and any other 'UN' will definitely …
Fabulous Christmas - My Best Ever! Not rated yet
I got married on Christmas Eve. It was the happiest Christmas I've ever had. Wow! I've not come back to earth yet! Editor's Note "Here come the …
Worst Ever Christmas (2012) Not rated yet
This was my worst Christmas ever! I had been invited to my bff's house to spend Christmas with her family as I am in the UK for longer than expected and …
My 2012 Christmas in TN, USA Not rated yet
I enjoyed my Christmas with family. I prepared most of the Christmas dinner. A family friend came over to join us. I uploaded a video sharing greetings …
Thanks Jamaica for the tender moments Not rated yet
Haven't spent Christmas in Jamaica but I was there one year ago the 29th of December for New Years. It was awesome! I have to admit, the most exciting …
Christmas 2011 - A true Jamaican Christmas Not rated yet
Mom was not around this year, but this Christmas was, ironically, one of my (and indeed the family) best ever! Mine actually started with a host of …
Didn't find exactly what you were looking for?
Click Here to do a quick search of the entire site
Like What You Read?



If so, please join my special friends list and receive exclusive monthly updates, tips, trivia and stories from lovers of Jamaica!
PLUS get a FREE COPY of my eBook, 101 Intriguing Facts About Jamaica! Just enter your email & first name below:


It's Your Turn!  :-)
I want to hear from you, yes YOU.
Please click here to get started, right now.

Top Of Page