If you are looking for a list of Jamaican airlines - notice the emphasis on the list, you wont' find one.
Why? Because we currently have only one national carrier, Air Jamaica.
For a list of some of the top airlines that flies to and from Jamaica however click here.
Colloquially known as Air J, Air Jamaica is our national airline and is the largest Caribbean based airline.
Headquartered in capital city Kingston, it operates scheduled services from there as well as from Montego Bay to 26 destinations in the Caribbean, Canada, the USA and UK.
Its main base is Norman Manley International Airport in Kingston with a hub at Donald Sangster International Airport here in Montego Bay. It has never recorded any fatal incidents.
The airline, with its state of the art fleet of A320s, A321s and A340s, serves the country with over 330 flights a week from its 10 gateways in the United States, 8 in the Caribbean and London in the UK. The airline's interline agreements with its major US partners affords it direct access to over 150 cities in North America.
These code agreement includes airlines such as:
Cubana
Delta Airlines
LIAT
Saudi Arabian Airlines
Virgin Atlantic Airways &
Air Canada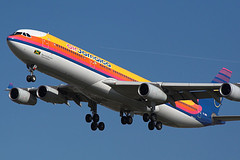 For more information on our national airline, visit their website HERE
[Opens in a new window].
Here also is a list of other top airlines that flies to and from Jamaica.
American Airlines

American Airlines offers nonstop service to Kingston and Montego Bay.

British Airways

Offers direct flights to Kingston from London Gatwick.

Caribbean Airlines

Caribbean Airlines offers direct flights from Kingston to St. Maarten and Antigua.

Cayman Airways

Cayman Airways offers flights to Kingston from Grand Cayman.

Condor

Condor Airlines offers flights to Montego Bay from Frankfurt, Germany.

Continental Airlines

This airline offers flights to Montego Bay

Copa

Copa Airlines offers flights to Kingston.

Northwest Airlines

Offers daily direct flights to Montego Bay from Minneapolis, MN; Omaha, NE; Memphis, TN; Chicago, IL; Indianapolis, IN; Detroit, MI; and New York.

Spirit Airlines

Spirit is a US ultra-low-cost airline. The airline is headquartered in Miramar, Florida, in the Miami metropolitan area.

TimAir Limited

Of all the current "air taxis" on the island, TimAir is the charter airline that has been in continuous operation the longest, with the best service and an impeccable safety record!

United Airlines

United Airlines offers flights directly to Montego Bay.

US Airways

US Airways offers nonstop flights to Montego Bay from Charlotte, NC; Philadelphia, PA; and Boston, MA.
Depending on where in the world you are you may just find the list quite useful. Stay in touch!
Back to Top of Jamaican airlines
References:
http://www.airjamaica.com/
http://www.Caribbeanedge.com
http://Wikipedia.org
http://www.skyscanner.net

---
And please don't miss these related pages either:
Make sure you subscribe to my free monthly e-zine My Island Jamaica Digest (MIJD) and stay with the latest from Jamaica!
---
Didn't find exactly what you were looking for?
Do a quick search of the entire site.
---
Back to Top of Jamaican airlines
Return to Jamaican Vacation from Jamaican Airlines
Return to Homepage from Jamaican Airlines