My-Island-Jamaica.com's Official Blog
Custom Search
The My Island Jamaica Blog is my little mini-journal about Jamaica.
"...Awesome site! You are very thorough with information."- Mari (USA)
It...
keeps you up-to-date with the latest postings, or news about Jamaica (like events or happenings!)
lets you know whenever any new and interesting Web pages appear on this site.
points out some of our super-special past postings that you might otherwise miss
It also lets you know when I send out the latest newsletter, 'My Island Jamaica digest' (in case you don't like to give your e-mail address, or if your ISP tends to over-filter causing you to miss an issue).

To subscribe to the Jamaica blog (no e-mail necessary), simply right-click on the orange RSS button (It's at the top of the navigation buttons to your left) and then paste the URL into your RSS reader.

Or, click on

the 'My Yahoo!' button
the 'My MSN' button or
the 'Add To Google' button

...if you keep a personalized home page there.
If you are not sure what RSS and blogging is all about, click here...[What is an RSS feed]?
Once you start, you will be amazed at what RSS can do.
It is fun, so Learn and Enjoy!

You are welcome to follow us on twitter and on facebook. Please also Tell a Friend about this site.
Visited Jamaica Before?
Your feedback becomes part of this blog (which shows the site's most recent pages) and a permanent part of My-Island-Jamaica.com for others to read!
And, I'll tweet your story on my my Twitter account as well!
Jamaica Headline News
The Jamaica Blog delivers the latest pages and visitor stories, right here at My-Island-Jamaica.com. If you want Jamaica news, updated daily from top local news resources, simply
click here for the latest headline news from Jamaica
.
---
Fishing in Jamaica - The Best Fishing Tours & Charters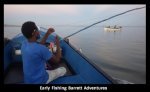 Enjoy the exciting adventure of fishing in Jamaica with these tours and charters
Continue reading "Fishing in Jamaica - The Best Fishing Tours & Charters"
Like our Facebook page https://www.facebook.com/myislandjamaica
Follow us on Twitter https://twitter.com/myislandjamaica
Articles You Might Have Missed...
Thanks For Reading!
Like What You Just Read?

Please join me in my effort to share the beauty and uniqueness of Jamaica with the world. You can do so by sharing this insightful narrative on the social media of your choice and ask others to do the same (BELOW). 
Need Help?
We have a cherry list of top Jamaican companies that might be able to help you. Please click here to see them, our preferred partners and site sponsors.
Get Exclusive Updates & Tips!
You are also welcome to join my special friends list and receive exclusive updates (like this), tips, trivia and stories from lovers of Jamaica!
I'll Gift You A FREE COPY of my eBook, 101 Intriguing Facts About Jamaica - just for subscribing!

Just enter your email & name below:

Top Of Page