Port Royal Jamaica had the reputation as both the richest and wickedest city in the world! This was during the 17th century when it was the considered center of shipping commerce in Jamaica.
It was notorious for its gaudy displays of wealth and loose morals, and was a popular place for pirates and privateers to bring and spend their treasure.
During the 17th century, the British actively encouraged and even paid buccaneers based at Port Royal to attack Spanish and French shipping.
An earthquake struck at 11:43 a.m.on June 7, 1692, largely destroying Port Royal, causing two thirds of the city to sink into the Caribbean Sea, such that today it is covered by a minimum of 25 ft (8 m) of water.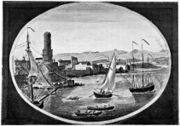 Known today to 16th–18th-century focused archaeologists as the "City that Sank", it is considered the most important underwater archaeological site in the western hemisphere, yielding 16th–17th-century artifacts by the ton and many important treasures from indigenous peoples predating the 1588 founding from as far away as Guatemala.
Pirates from around the world congregated at Port Royal Jamaica, coming from waters as far away as Madagascar on the far side of Africa.
Several 17th and early 18th century pirate ships are sunk within the harbor and being carefully harvested under controlled conditions by different teams of archaeologists.
Other "digs" are staked out along various quarters and streets by different teams.
After this disaster, its commercial role was taken over by the city of Kingston.
Today, this famous place in Jamaica has inspired several movies, books, other place names and even beers!
Current development in progress will redevelop the small resultant fishing town into a tourist destination by 2015-16, serviced by cruise ships as early as 2008, with the archaeological findings the heart of the attractions, which will include a combination underwater museum-aquarium and restaurant with underwater dioramas and the ability to see the native tropical sea life.
For the entire report on Port Royal visit this wikipedia page.
Here also is a map interpretation of Port Royal by Shaun Brown- as it was before the earthquake.
Source:wikipedia.org
Return to Famous Places in Jamaica from Port Royal Jamaica
And please, don't miss these informative pages!
And if you haven't done so, make sure you subscribe to my free monthly e-zine My Island Jamaica Digest (MIJD) and stay with the latest from Jamaica!
Return to My Island Jamaica Homepage from Port Royal Jamaica