Delicious & Delectable

Food From Jamaica
Custom Search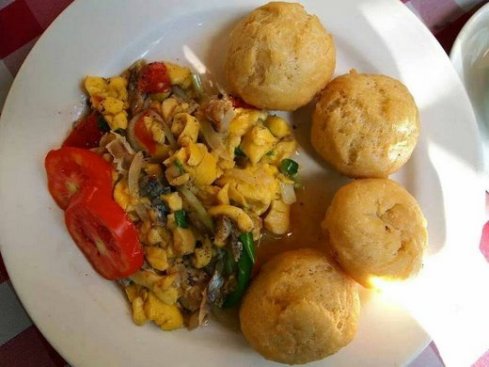 Delectable food from Jamaica
by Wellesley Gayle
You haven't really savour your taste buds if you haven't had some Jamaican food - seriously :-)

New! Get your Jamaican Grocery here

I can speak authoritatively on Jamaican food since, not only do I eat it, I also prepare a few of the dishes myself :-) Thanks to my belated grandmother "Mammy" - an expert chef, mother and disciplinarian.
Our food is truly a celebration of the diverse cultures we boast- but with a touch of novelty and innovation. 

The Arawaks [or Tainos]- the island's earliest recorded inhabitants, contributed the famous 'Jerk' idea.
I learnt also that it was the English- who captured the island from the Spanish, that brought the concept of patties to the island. Today, Jamaican Patties are now a world favourite!
The Indian influence is dominant in our curry dishes. Today, we not only have curry meats, but curried vegetables and fruits!
The annual Westmoreland Curry Festival provides a wide array of appealing curry dishes. Incidentally, my former high school- Manning's High, provides the venue.

Some of the popular Jamaican dishes we feature include...

[Click Here for a list of free recipes]

'The National Dish': [Ackee and Saltfish] I have not yet met a fellow Jamaican who does not relish this dish. This is usually served with roasted breadfruit or boiled bananas. It is a Sunday morning breakfast favorite!


Curried Chicken Curried chicken and dumpling is one of my personal favourite!


Curried Goat:...is not not only popular but a delicacy as well.


Manish Water: Also known as 'power water' and 'goat belly soup'. This is a must at funerals or indeed any large gathering, including traditional dance parties.


Stewed Peas


Mackerel Run Dung: Another breakfast favourite.


The Jerk Dishes-Jerk Chicken, Jerk Fish, Jerk Pork, etc.

One of the 'brand' food from Jamaica, Jerk dishes can be had at any of the top hotels we have and even on the roadside -if you prefer that, courtesy of the 'Drum Pan' chefs.

Jamaican Jerk is an international favourite. Of course by now you know that it is pimento, aka Jamaican allspice, that is the core ingredient in our jerk preparations.


Rice & Peas & Chicken:Yes, that's actually the name of the dish! It is possibly the most popular dish here.


Patties:Now famous the world over! And hey, I now owe my US based co-worker Rukhsana, over 100 patties! Whenever I ask her for a favour she usually says, 'that's another Jamaican patty'. (More on Jamaican meat patties here)


Festivals:I love them unending! Festivals are usually served with our Jerk meats.


Porridge (Cornmeal, Oats, Peanut etc)
Gungo Peas Soup &
Escoveitched Fish
New! Make sure you don't miss the new Pictures of Jamaican Food page. All pictures!
Back to Top
..and what's for dessert?
There is:
Sweet Potato Pone
Gizzadas
Toto
Gingerbread
Rum Cake, & aunt Estell's favourite...
...Salt Fish fritters
and much more Jamaican desserts here!


Back to Top of food from Jamaica


..and the Drinks/Juices?
I can easily recollect:
Soursop Juice
Sorrel: (with the rum!)Most popular at Christmas time.
Blended Roots Drinks
These have become increasingly popular. They are believed to help with masculinity [if you know what I mean]. I had one brand which had no less than 15 different roots ingredient!
Sangster's Rum Cream liqueur A favourite the world over!
Coconut Water: Cool and refreshing!
Coffee: How could I forget authentic Jamaican coffee?
Jamaica's Blue Mountain Coffee is world premium.


And of course, Jamaican wines & Jamaican Rums, including, Appleton.
...all Jamaican style
Learn more about drinks on my Jamaican Drinks page and feel free to try some of the the Jamaican drink recipes.
..and the Succulent Fruits?
In addition, to the popular Soursop and Coconut, there are:
Naseberry:My family has loads of trees around the old family house in the country.
Jackfruit
June Plum
Mangoes:Of all kinds, names, shapes and sizes. My least favourite- the 'stringy', but overall they are sumptuous!
Jamaican Apple
Custard Apple
Sugar Cane. not sure about the classification, but there you go)
Avocado Pear
Guava and
Guinep
Star Apple: Despite the stain it can emanates, I can't get enough of it....really tasty!
and more.
---
Back to Top
of 'food from Jamaica'.
Don't Miss These Informative Pages Related To Food From Jamaica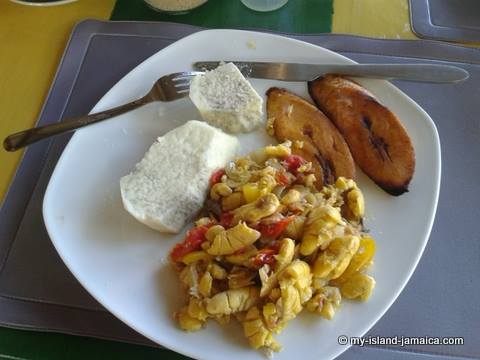 Back to Top of food from Jamaica
Go to Jamaica Culture from Food from Jamaica OR
Return to My Island Jamaica from Food From Jamaica
Suggested Reading:
Jamaican cuisine - Wikipedia, the free encyclopedia

Great Articles You Might Have Missed
Was The Information Helpful?

Great! Please help me get the message out by sharing with your friends on social media (links below)
You are also welcome to join my special friends list and receive exclusive updates (like this), tips, trivia and stories from lovers of Jamaica! Just enter...
Also connect with My-Island-Jamaica.com on Social Media: 
Facebook | Twitter | Instagram | Youtube
Thank You!
Need More Help?
We have a cherry list of top Jamaican companies that might be able to help you. Please click here to see them, our preferred partners and site sponsors.

Top Of Page