About Me

Custom Search
A little about me?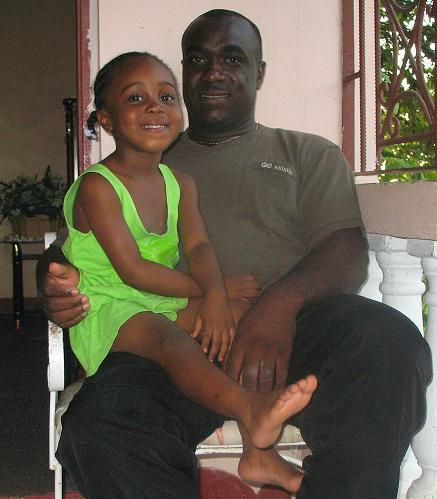 Sure...
My name is Wellesley Gayle, author and publisher of this little website, www.my-island-jamaica.com.
Yes, I am from JAMAICA, born and raised in the rural community of Beeston Spring, Westmoreland.
I attended the Salem All Age school, Manning's High, Northern Caribbean University (NCU), and Bradford University (UK).
My day job is currently with an established US fortune 500 company that has an offsite here in Montego Bay, Jamaica - where I now reside with my family (Bogue Village).
I love my country, I really do. So much so that I decided to create this website to share my passion with the world.
There is oh so much about this blessed little rock that astounds me everyday; the scintillating beaches, the alluring reggae music, the rich history, the creativity of our people, the world class blue mountain coffee, the variety and love of sports, the hospitality of our people & the delectable food are just a few.
I however, sincerely owe a lot to a company called SBI.
They gave me the inspiration and proved to me that I could do it - I could take this passion for my country (indeed any passion I had)and create a profitable little website.
And that I did!
Not easy, but very simple!
I never hesitate to share this amazing story with my site visitors.
You too are more than welcome to take a look. Click Here to see it.
I do trust you'll find the information here very helpful in your research of our beautiful and unique Caribbean island.
And by the way, if there is anything you need my help with, please don't hesitate to contact me.
Thanks for your time and for visiting my site, and please, stay in touch.
NB. I recently completed an exciting online training as a home-based travel agent and is loving it!  The opportunity is however open to others like you, if you are interested, read more here.


Regards,
Wellesley Gayle
Founder & CEO, My-Island-Jamaica.com

Back To Top of about me page
Thanks For Reading!
Like What You Just Read?

Please join me in my effort to share the beauty and uniqueness of Jamaica with the world. You can do so by sharing this insightful narrative on the social media of your choice and ask others to do the same (BELOW). 
What's New? Here Are The Very Latest Articles I Added

Apr 19, 15 09:53 AM

Can you get cheap flights to Negril Jamaica? We answer the question here.

Apr 15, 15 09:55 PM

Bringing English reliability and Jamaican builders together ...it works !! We can arrange if you so wish all the difficult things, your desired building

Apr 12, 15 09:35 AM

The video and lyrics of Tony Rebel Sweet Jamaica song
Get Exclusive Updates & Tips!
You are also welcome to join my special friends list and receive exclusive updates (like this), tips, trivia and stories from lovers of Jamaica!
I'll Gift You A FREE COPY of my eBook, 101 Intriguing Facts About Jamaica - just for subscribing!

Just enter your email & name below:
Now, It's Your Turn!  :-)
I'd like to hear from you, please click here to share your thoughts and opinions, right now.


Didn't find exactly what you were looking for?
Click Here to do a quick search of the entire site
Top Of Page