About Me
Custom Search
A little about me?
Sure! With pleasure :-)
My name is Wellesley Gayle and I am the founder & CEO of this unqiue Jamaican website, www.my-island-jamaica.com.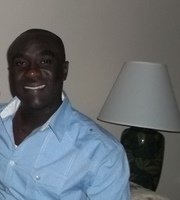 Yes, I am from JAMAICA, born and raised in the rural community of Beeston Spring, Westmoreland. 

I attended the Salem All Age school, Manning's High, Northern Caribbean University (NCU), and Bradford University (UK).
Over the past 10 years, my day job was with an established US fortune 500 company that has an offsite here in Montego Bay, Jamaica (until last August)
And yes, I currently reside here in Montego Bay - in a residential area called Bogue Village.
I love my country, I really do.
So much so that I decided to create this website to share my passion with the world.
New! There's a new interview of me! Click Here to listen and learn a bit more about me.
There is oh so much about this blessed little rock that astounds me everyday:

I however, sincerely owe a lot to a company called SBI.
They gave me the inspiration and proved to me that I could do it - I could take this passion for my country (indeed any passion I had) and create a profitable little website.
And that I did! Not easy, but very simple!

I never hesitate to share this amazing story with my site visitors.
In fact, I created a short report that I shared exactly how I did it. 

You too are welcome to get a free copy.
I do trust you'll find the information here very helpful in your research of our beautiful and unique Caribbean island.
And by the way, if there is anything you need my help with, please don't hesitate to contact me.

Thanks for your time and for visiting my site.  I invite you to stay in touch with me by subscribing to my free newsletter.
Regards,

Wellesley Gayle 
Founder & CEO, My-Island-Jamaica.com
Montego Bay, Jamaica, WI

P.S. Read my sbi story here.
Top of about me page


New! By the way, I've recently launched our new and innovative Research & Consultancy arm of this website. Please click here and see how we might be able to help you.
Like our Facebook page https://www.facebook.com/myislandjamaica
Follow us on Twitter https://twitter.com/myislandjamaica
Thanks For Reading!
Like What You Just Read?

Please join me in my effort to share the beauty and uniqueness of Jamaica with the world. You can do so by sharing this insightful narrative with your friends on the social media of your choice and ask them to do the same (BELOW). 
Great Articles You Might Have Missed...
Need Help?
We have a cherry list of top Jamaican companies that might be able to help you. Please click here to see them, our preferred partners and site sponsors.
Get Exclusive Updates & Tips!
You are also welcome to join my special friends list and receive exclusive updates (like this), tips, trivia and stories from lovers of Jamaica!
I'll Gift You A FREE COPY of my eBook, 101 Intriguing Facts About Jamaica - just for subscribing!

Just enter your email & name below:

Top Of Page