Buying, Building Or Aquiring

Property in Jamaica
Custom Search
Acquiring Property in Jamaica
As most of my ardent fans know, I started this website purely from my passion some years ago.
Since then, I have gotten hundreds of questions about (almost) everything Jamaica. From 'where is Jamaica' to buying real estate in Jamaica.
Well I want to think I do a good job with questions related to the former, but the latter, no way :-) I do try but I am no real estate resource at all; far from that!
So if you are looking to me for such advise, run! :-) (Just kidding (Here's my original page on Jamaica Real Estate)
But seriously though, I must be brutally honest and say that the process can take forever (especially for an outsider) to gain property (house, land, other assets) here; there is still (sadly) too much 'red tape' and bureaucracy, compare to the USA, for example.
Well, thank goodness for folks like Maura!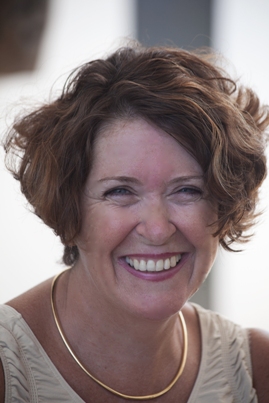 They help to protect us from of all the headaches, heartaches and in some cases, nightmares, that obtaining property in Jamaica can bring - seriously.
A true professional, Maura (picture left) is a personal friend of mine and a top real estate agent in Jamaica so it is with great pleasure that I recommend her to you.
She's originally from the USA - Boston, Massachusetts to be exact, but she fell in love with Jamaica and eventually moved here in 2007 with her husband and three children; all three of whom are attending local schools here.
Her family currently resides at the beautiful South Sea Park, a tranquil beachfront neighborhood on the favored south coast of Jamaica.
Maura's Property (Real Estate) Services
Maura is extremely experienced and professional, and as such, is highly respected here in Jamaica.
In fact, she is associated with some of the very best builders, attorneys and architects locally. Bottom line, she has all the contacts you might need.
And may I also add that she is duly qualified? Yes, both in the USA and Jamaica? In fact, she is a top agent of Century 21 here in Jamaica.
She sell houses, villas, land, and other commercial properties all across Jamaica, although she concentrates greatly on the South Coast, Negril and Montego Bay.
She also does villa management and rentals.
So if your need some help or direction as it relates to building or buying a house in Jamaica, renting a villa or acquiring land in Jamaica, I'd highly suggest that you contact Maura.

Above all, she is one of the most professional, warmest and congenial persons I know.
Simply complete the form below. She'll get back to you soon.
Maura and I at the Sandals Whitehouse Hotel In October

Maura stands apart!

Outside of her inviting personality, experience, expertise and extensive local resource base (contacts), she also has that (important) 'outsider' (non-Jamaican) view.
Remember that she is American by birth so she will 'speak your language'; she will perfectly understand your position.
See Also:Article On Real Estate In Jamaica
Return to Jamaica Real Estate from Property in Jamaica.
Return to My-Island-Jamaica.com homePage from Property in Jamaica.
Back to Top of Property in Jamaica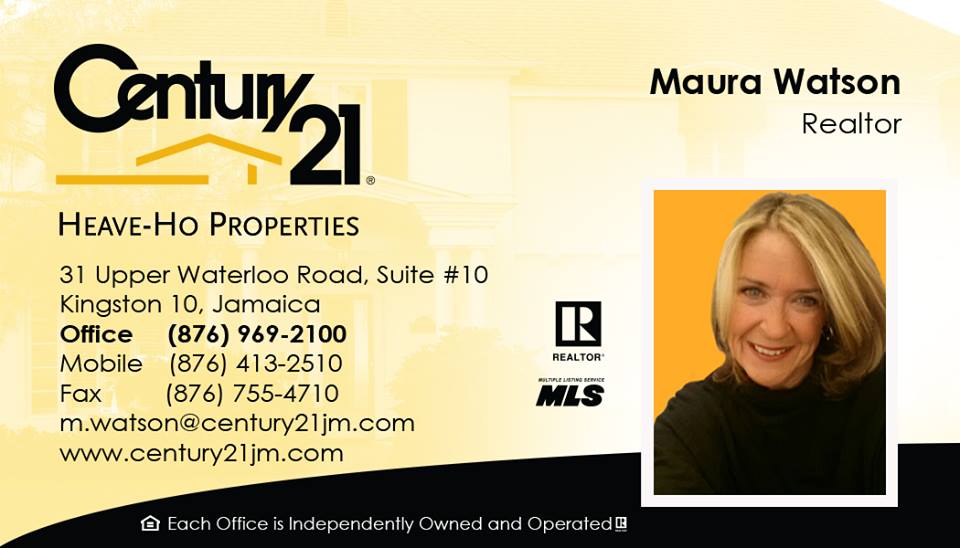 Like our Facebook page https://www.facebook.com/myislandjamaica
Follow us on Twitter https://twitter.com/myislandjamaica
Articles You Might Have Missed...
Thanks For Reading!
Like What You Just Read?

Please join me in my effort to share the beauty and uniqueness of Jamaica with the world. You can do so by sharing this insightful narrative on the social media of your choice and ask others to do the same (BELOW). 
Need Help?
We have a cherry list of top Jamaican companies that might be able to help you. Please click here to see them, our preferred partners and site sponsors.
Get Exclusive Updates & Tips!
You are also welcome to join my special friends list and receive exclusive updates (like this), tips, trivia and stories from lovers of Jamaica!
I'll Gift You A FREE COPY of my eBook, 101 Intriguing Facts About Jamaica - just for subscribing!

Just enter your email & name below:

Top Of Page