Music 99 FM

Smooth Jamaican Radio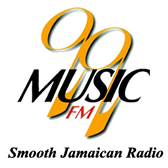 Contributed by Shermaine Anderson-Gayle
Music 99 FM is one of the youngest, but is already one of Jamaica's favourite radio stations.
Located at 6 Bradley Ave, Kingston 10, it is one of the substations under the Independent Radio Company Limited brand.
The station hit Jamaica's airwaves in the year 2000, after being influenced by the program Super Sundays on Power 106 FM.
Super Sundays was started 10 years prior to the inception of Music99 station. The program was like no other, getting excellent feedback and reviews- the demands were overwhelming, thus it's tag line "Smooth Jamaican Radio".
Music 99 can be found on 5 frequencies: 99.1, 99.3, 99.5, 99.7 and 99.9. The music played range from Jazz, Mellow Reggae, Soft Rock, Soul, Country & Western, Alternative, and Urban Contemporary.
The station is known for its continuous music, playing 13 songs per hour with 3 advertisement breaks each hour at 4 minutes in length.
Currently, news can be heard at 6:30, 7:30, 9:30, 12:30 and 5:30 each day.
The censored music choices make it easy for anyone, of any age, to tune in to the station. It is the popular choice of many business establishments.
Music FM also has a vibrant outreach and community program. Sponsorship from the station covers a wide range of events and activities, for example the 4H Clubs, JCDC Festivals, church & school projects and other community development initiatives.
We are not aware of them having a website at this time, but rest assured, if and when they do, we'll be the first to share it with you.
posted: Feb/6/10
Return to radio stations in Jamaica from Music 99 FM.
Return to My Island Jamaica Homepage from Music FM.
Related Pages:
Didn't find exactly what you were looking for?
Click Here to do a quick search of the entire site
Like What You Read?



If so, please join my special friends list and receive exclusive monthly updates, tips, trivia and stories from lovers of Jamaica!
PLUS get a FREE COPY of my eBook, 101 Intriguing Facts About Jamaica! Just enter your email & name below: