Jamaica – The Foods We Like And Where They Came From
by Deon Clarke | Associate Writer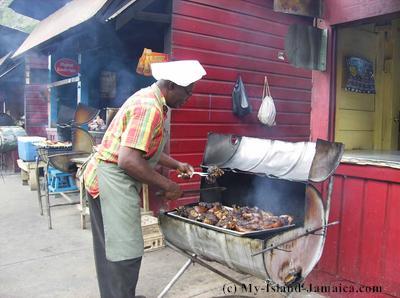 Photo: Jamaican Jerk Vendor
As we celebrate our Jamaican heritage in the month of October, with Heritage Week being October 10 and ending on Heroes Day, Monday, October 18, 2021, there is so much to talk about. Today we will take a look at our food heritage. Yes, Jamaicans are foodies. We love food – some spicy, some sweet, some sour, and all full of flavour. And don't blame us, you'll soon see why. But where did all this food come from to form our food culture? Let's take a look at some of our favourite foods and their history.
How Did The Food And Recipes Get Here?
It is no surprise to find that the Jamaican cuisine that we have come to know and love was brought here by the earlier settlers on the island.
You will find that there are numerous items as well as recipes that were created by the early inhabitants such as the Tainos, the English, the Spanish, the Africans (who came to Jamaica as slaves), the Indians, the Jews, the Chinese, and even persons from other Caribbean islands.
How Was The Food Prepared?
The foods they consumed were prepared using various cooking styles that were known only to them and were later adopted or passed down to the generations that followed. Some of these foods and recipes are today called traditional foods.
As you can imagine, most, if not all of the meals were cooked on a wood fire in the open air, or in an "old-time" coal stove. Baked products were made in "dutch pots" or in a brick oven.
Though we are now living in modern times with upgrades to our cooking appliances, the same cooking methods have been applied and as a result, does not change the way we actually prepare our meals nor does it change the taste in any evident way. Though lots of persons would say that food cooked the traditional way (over a wood fire and smoke) always taste better somehow.
Let me give you some insight as to where our Jamaican cuisine is coming from.
What Is The "Barbacoa"?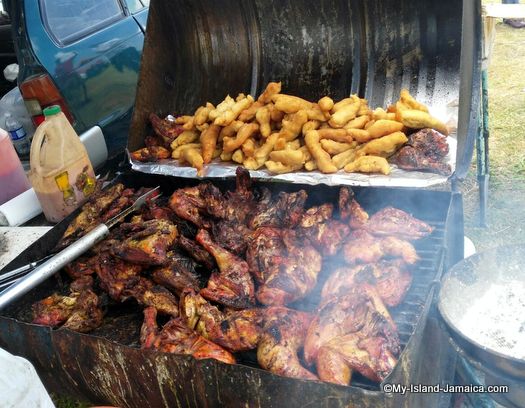 Photo: Jerk Chicken and Fesival
So, how do you think people cooked their food before the brick oven and the coal stove became a thing? Thanks to the Tainos and their ingenuity in creating the "barbacoa" (a piece of cooking tool resembling a wooden grate that stood on four forked sticks placed over a slow fire) we were able to make a modern adaptation to this device which we call the barbeque grill. The barbacoa was the barbeque grill of their time and they used it to roast fish and meats. Modern-day grills are inspired by the barbacoa. It is used for barbequing and most importantly for Jamaicans, jerking. In Jamaica, while grills are used, it is most common to use a homemade version made out of a metal drum or 100lb cooking gas cylinder cut in half. Jerking incorporates the African method of curing meats by placing it in the jerk pan atop live coals and closing it to trap most of the smoke inside. Today we apply this process to pork, chicken, seafood, sausages and even vegetables.
What Foods Did The Tainos Bring To Jamaica?
The Tainos are believed to have come from South America and settled in the Caribbean some 5000 years ago. They brought with them sweet potatoes, corn, beans, callaloo, pineapples, guavas, papayas (or most commonly known as paw-paw)conies, iguanas, and cassava (which they used to make bread). I'm sure you will agree that their contribution to the foods we now enjoy in our Jamaican cuisine is truly invaluable.
What Foods Did The Spanish Bring To Jamaica?
The Spaniards first arrived in Jamaica in 1494 and some 150 years later, they brought horses, cattle, goats, pigs, and lard from the fat of animals. They also brought several trees such as lemon, lime, Seville orange, Valencia orange, pomegranate, ginger, plantain, date palm, figs, grapes, coconut, bananas, and sugarcane. Additionally, popular dishes such as escovitch fish, and peas and bean dishes originated in Spain. Try picturing a Jamaica without these items. These contributions are also invaluable to our culture.
What Foods Did The English Bring To Jamaica?
As you know, the British took over from the Spaniards in 1655 and continued their colonization right up to 1962 when Jamaica got independence. What foods did they bring? They introduced foods such as otaheite apples, breadfruit, ackee, oranges, mangoes, rose apples, mandarin, black pepper, turmeric, and coffee. As plantation owners and involved in the cultivation of sugar cane (done by the African slaves) they exported rum and molasses in exchange for pork, flour and pickled fish.
A number of the English sweets and dishes are still entwined in Jamaican cuisine today such as corned beef, roast beef, salted beef, Christmas puddings, Easter bun, pies, tarts, jams and marmalades. Even porridge that is so well-loved is said to be a legacy of the Scottish.
What Foods Did The Africans Bring To Jamaica?
Now we get to the
Africans
and their contribution. The Africans contributed dishes such as duckunoo (dukunu and various other spellings) and fufu. They were also noted for the famous mackerel (rundown) and bananas and even our national dish, the
ackee and saltfish
, are both said to be the invention of the African peasants after slavery.
What Foods Did The Indians And The Chinese Bring To Jamaica?
The Indians who were brought to Jamaica as indentured servants did not leave their culinary skills behind, they were the ones that actually created and left with
curried goat
. They also brought spices like curry powder, turmeric. They also introduced curried potato, bitter gourd, eggplant, okra, roti, and callaloo.
The vegetable pak choy is also a legacy of the
Chinese
. The Chinese also introduced soy sauce, a now popular addition to most Jamaican meat dishes for both colour and flavour. They also introduced the oyster and hoisin sauces as well as the infamous sweet-and-sour sauce.
These are all without a doubt, significant contributions to our local cuisine. I'm sure you can see how each group and the items they brought have added to the variety and flavour of Jamaica's cuisine.
With all of these foods that have been introduced by our earlier settlers, it is no wonder that our Jamaican cuisine is highly accepted and favoured by worldwide travellers. The richness in delicacies and variety in spices is what makes our food so special both locally and internationally and I dare say, the best.
We are truly blessed as a nation, to have so many cultures which makes, the Jamaican cuisine so unique.
I also recommend you read
Chinese in Jamaica | How They Got Here and Chinese Contribution to Jamaica's Cuisine
.
Regards,
DC
References:

Jamaican Cuisine - Past to Present, Jamaica Land We Love, https://www.jamaica-land-we-love.com/jamaican-cuisine.html

Before the Europeans came | West Indies | The Places Involved | Slavery Routes | Bristol and Transatlantic Slavery | PortCities Bristol, Discovering Bristol, https://www.discoveringbristol.org.uk/slavery/routes/places-involved/west-indies/before-europeans/

175 years of Indians in Jamaica, Jamaica Observer https://www.jamaicaobserver.com/opinion/175-years-of-indians-in-jamaica-towards-closer-cultural-and-economic-cooperation_194277

Sweet and savoury - the beloved Chinese-Jamaican food, Gleaner Jamaica, https://jamaica-gleaner.com/gleaner/20110703/arts/arts2.html#

Use Heritage Week to thank frontline workers — Grange, Jamaica Observer, https://www.jamaicaobserver.com/latestnews/Use_Heritage_Week_to_thank_frontline_workers_Grange

Editor's Note
What's on your mind?
Submit your questions here
! With well
over 2000 questions already answered
, chances are we can assist :-)