All About Jamaican Jerk | The History of Jerk in Jamaica
by Deon Clarke | Associate Writer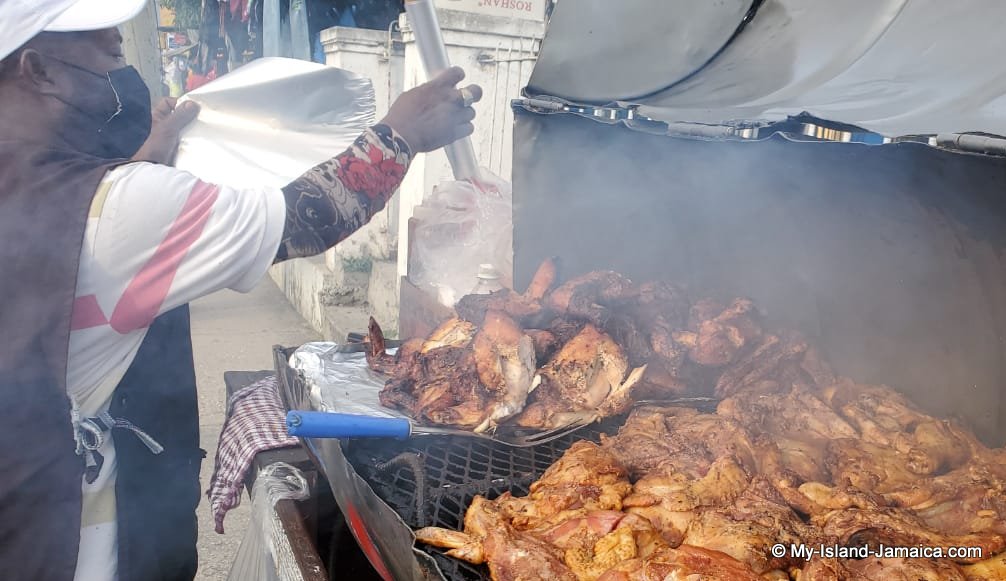 Photo: Jamaican Jerk Chicken Vendor In Sav-La-Mar
When you think of Jamaica, you think of music, warm sunshine, beautiful white-sand beaches, friendly people and great food. One of these awesome food types is our famous Jamaican "jerk". What is Jamaican Jerk? Jerk is a method of cooking originating in Jamaica, where meat is dry-rubbed or wet marinated in a spicy mixture called
Jerk Spice
. You cannot visit Jamaica without trying any of our sumptuous jerk options and if you are living here, I'm sure you can't wait to get some!
As we celebrate our heritage in this month of October as we do yearly, I will share with you all about our Jamaican jerk, which is a very important part of our heritage. We will look at the history of jerk, jerk food options, and where you can get jerk food to purchase. So let's go!
The History of Jamaican Jerk
So, how much do you really know about Jamaican jerk foods? How do you think people cooked their food in the past? Have you ever heard of the
Barbacoa
? Long before brick ovens, coal stoves, kerosene oil stoves, gas stoves, electric stoves, and electric grills, there was the
barbacoa
. The
'barbacoa'
was a cooking tool built like a wooden grate that stood on four forked sticks placed over a slow fire. This method of cooking was developed by the
Tainos
, where they used it to roast fish and meats. This served as their barbeque grill or jerk pit at the time.
In 1655, the Maroons are said to have met up with the remaining Tainos in the hills, and shared their culinary techniques.
The Maroons
, however, had to use their method of cooking underground in fear of notifying the English of where they were hiding in the hills. They would blend spices and herbs to marinate and cook the meat, which at the time was mainly Wild Boar(Pigs). The meat was then roasted over hot coals in buried pots covered with green branches from
pimento
trees.
Actually, the Maroon Villages still practice the underground method of Jerk and whenever you visit, especially during their community festivities, you will be able to taste meat jerked by this method.
What We Call Jerk Today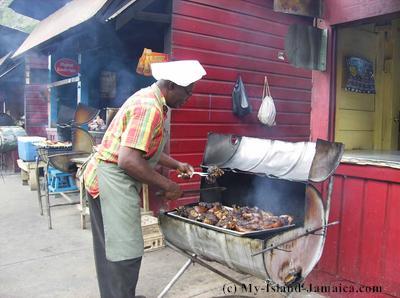 Photo: Jamaican Jerk Vendor
What we know today as Jerk is actually a fusion of both methods from our ancestors, the barbacoa has now evolved into a grill or a jerk pan (mostly made from metal drums cut in half); above ground but covered. This way most of the smoke is trapped inside the pan along with the meat, which contributes to the distinctly smoky flavour of the meat. We have also adopted the African method of seasonings and now use a dry rub or marinade on our meats before jerking.
While the original
barbacoa
was the inspiration behind today's jerk or barbeque grills and barbacoa is the word from which barbeque is derived, Jerk meats should not be confused with barbequed meats. The tools used might look similar but the process of jerking as well as the seasonings used are different. The seasonings and marinades used in the process are also mostly from our African ancestors and includes the spicy flavours of scotch bonnet pepper, pimento, allspice, thyme, scallion, and various other seasonings.
What Meats Do Jamaicans Jerk?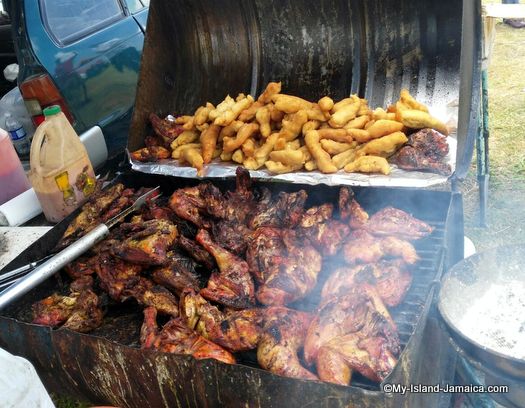 Photo: Jamaican Jerk Chicken and Festival
Traditionally the Jerk method was applied to pork. However, you could say that just about any form of meat or vegetables can be and is jerked, but the most popular jerk items in Jamaica are:
Jerk Fish

Jerk Sausages

Jerk Lobster

Jerk Shrimp

Jerk Conch
Of these, Chicken and Pork are the top favourites. Jamaicans and visitors alike just can't seem to get enough of these. Where can you find them though?
Where Can You Get Jamaican Jerk To Buy?
It would be futile for me to list all the places where you can get your favourite jerks to buy in Jamaica as it is sold in just about every nook and cranny of the country but I will go ahead and summarize some of the places for you.
Hotels and Guesthouses - It is a popular menu item at hotels and guesthouses (mostly jerk chicken and jerk pork, possibly jerk lobster and jerk shrimp).

Jerk Centres - Here you can expect to get a variety of jerk options. These are located all over the island.

Restaurants And Cookshops - Jerk pork and jerk chicken are available on restaurant and cookshop menus (maybe not every day) throughout the island.

Pan Chicken Vendors - There are jerk chicken vendors all across the island especially in evenings and nights and a lot more on the weekends, serving up delicious jerk and sides on the street corners. You might even be lucky to get some jerk pork.

There is also a pan chicken festival that is usually held annually for the past 15 years up to 2019 (pre-covid), filled with music and entertainment but more so, pan chicken vendors serving up their best jerk chicken to patrons and waiting excitedly to be determined the winner for the best jerk chicken. However, the event has been postponed since the Covid-19 pandemic.
All this talk about jerk is making me hungry, lol. I feel like getting some jerk chicken right about now, lol. How about you?
I also recommend you read
A Quick and Easy...Jamaican Curry Goat Recipe
.
Regards,
DC
References:

A Brief History of Jamaican Jerk | Arts & Culture, Smithsonian Magazine, https://www.smithsonianmag.com/arts-culture/brief-history-jamaican-jerk-180976597/

Best Jamaican Jerk Chicken Recipe - Mouth Watering!, My-Island-Jamaica, https://www.my-island-jamaica.com/jamaican_jerk_chicken_recipe.html

Jerk (cooking), Wikipedia, https://en.wikipedia.org/wiki/Jerk_(cooking)

PAN, big on entertainment, Jamaica Observer, https://www.jamaicaobserver.com/entertainment/pan-big-on-entertainment_171506

Senior, Olive, Encyclopedia of Jamaican Heritage

Editor's Note
Don't hesitate to
submit your questions here
! With well
over 2000 questions already answered
, chances are we can assist :-)