Top 7 Jamaican Spices


The Source Of Our Secret Blends


Sharing Is Caring! Share this awesome content with your friends now.

Watch! See the real Jamaica in VIDEOS!
Click Here and see why over 90,000 fans are raving about my YouTube Channel!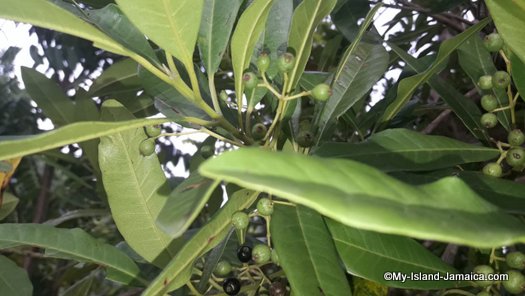 By Denise Salmon

Ask me and I'll hastily tell you that Jamaican spices are the real secret to the great taste we all enjoy when we eat Jamaican food.  Without them the food simply does not taste as great - ask any Jamaican living overseas too :-)
---
That is why (I heard) that Jamaicans who live abroad have such a hard time satisfying their taste buds, its just not the same. :-)

So when they come home for a visit they try to take back as much food, including spices, as they can.

Below is seven (7) of the most used (or popular) spices us Jamaicans use to make our food the best in the world; yeah, I know I am bragging :-)

These, or the blends of them, creates magic in our kitchen!

Scotch Bonnet Pepper
Our Scotch Bonnet pepper is said to be the hottest pepper in the world! It is shaped like an old time Scottish Bonnet, so that is where we think it got it's name from.

Outside of the Caribbean, it is said to not found in many other places around the world. Jamaica and Belize have been producing most of these peppers.
 
This pepper is used in our Jerk Chicken and Pork, rice and peas,  curried goat, fried fish and pickle.
Scotch bonnet gives our 'Satday'  (Saturday) soup that extra uumph!

For 'Satday soup, a green pepper is placed  on top of the soup when it is almost ready, left to simmer, and then removed as soon as the soup is cooked so we get all the flavor and not the heat.

Scotch Bonnet is a variety of Chilli peppers, which is similar to the habanero. In Barbados they are called Bonnie Peppers and they are used in a hot pepper sauce.
Be careful though, excess use of the Scotch Bonnet pepper however can lead to heartburn and, if is eaten raw, may cause numbness of hands and feet.

Sweet Pepper
Jamaican sweet peppers are packed with vitamin c and has a great flavor. They can be found in three colors, green, yellow and red.
They are sometimes used as garnish as well, just to make meals look more attractive and delectable. They are available all year but are more predominant in the summer months.

Escallion
Escallion or eskallion (See also: Thyme) is another of our most popular seasonings in Jamaica. It is a part of the onion family and has a similar flavor.
It has a bulb at the base and tall green leaves. It is used in soups and meats mainly, but truly almost every other Jamaican dish.

Jamaican Onion
Compared to others on the market, Jamaican Onion (local onions) provides a stronger flavor.  I find, from experience, that although Jamaican onions tend to be a bit more expensive, they move much faster in the produce market - that's  testament to its quality for sure.

Pimento (AllSpice)
Pimento is also called all spice, is the dried unripe berry of the pimento. Without any doubt it is the most adored of Jamaican spices. It is the spice that gives Jamaican Jerk it's special flavor.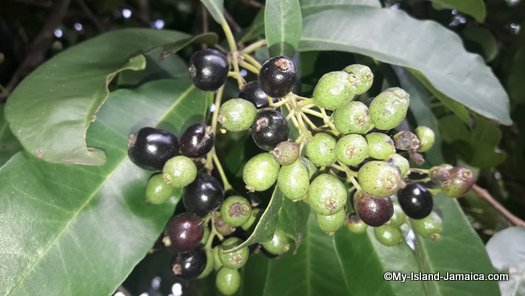 In Portland Jamaica, the place where we go for the best jerk , the leaves of the pimento are used in the fire beneath the meat that is being jerked to boost the flavor.
As you know jerk is a very old tradition here on the island , as the maroons used this method to preserve their meat long before there were refrigerators and electricity were available.

Pimento trees grow to a height of 9 meters and has aromatic ,green leaves and white flowers. And these trees are only found in the Caribbean islands. The first tree was discovered here in Jamaica by early Spanish explorers in 1509, and later a pimento tree was found in Cuba and Mexico.
 
The ripe berries can also be used to make liquor with rum. It has an excellent flavor and it can be served alongside many meals. It can also be served by itself like wine. As a child I remember spending hours helping my Dad as we removed the green pimento berries from the stems before we put them out on a sheet of zinc to dry in the sun. Those days ;-)
 
But this allspice is used in Jamaica in many different recipes.
It is used in fish, soups, stewed peas, rice and peas, stewed beef, curried goat, chicken etc.
 
This spice is perhaps the flagship of Jamaican spices - surely the most demanded. So when you want to add some flavor to your meats ask for some Jamaican Pimento.
By the way, did you now you can also get pimento/allspice seeds to purchase online these days? Click here to see the current prices on Amazon.

Nutmeg
Although Grenada is known as the place for this spice (aka The Spice Island), Jamaicans, like Grenadians, have cherished this amazing spice. I know for sure, my grandparents were never short of their cinnamon and nutmeg in the kitchen.
Perhaps that's another reason those 'good ole days' food tasted so good.

The nutmeg tree is still being grown here and there has been some recent research carried out on it's chemistry that shows immense potential.
It is the seed of the Myristica fragrans and the red or golden aril covering the seed is called mace.

The nutmeg has been used as a type of brain tonic, because it can effectively stimulate the brain so that fatigue, anxiety , depression and stress is eliminated. Nutmeg can also improve your concentration so you can be able to focus on your work, great for students! 
 
It has also been used for pain relief as the nutmeg oil can be applied to directly to the aching area. A sedative, it can be an effective treatment for insomnia, indigestion and all those abdominal related problems like constipation, bloating , diarrhea and more. It can be used to remove excess gas from the intestines.
 
Nutmeg is also used in the treatment of bad breath or halitosis as it helps to reduce the bacteria in the mouth - it has antibacterial properties as well. It can also be used in the treatment of toothache and gum problems.
 
You and I might agree that dtoxification is needed more these days than ever because the toxins enter our bodies through the air we breath, the food we eat, medication and smoking.
When these toxins build up in our livers and kidneys, these organs are not able to perform as they should. Nutmeg can help to remove toxins from these organs, so they can perform better.
 
We are not done yet, there is more :-)
Nutmeg is also good for the skin. A glass of warm milk with a little nutmeg or cinnamon sprinkled on top can do wonders at bedtime.

Cinnamon
Cinnamon is another of the excellent Jamaican spices. It is made from the inner bark from the genus cinnamon. It is used in our spice buns, porridge, puddings and cakes.
The leaves of the tree has equal flavor, so before you start the ingredients for your porridge, put some cinnamon leaves in the water before it start boiling.

A tea made from cinnamon and ginger is popularly used in Jamaica for the treatment of high blood pressure and diabetes. Bear in mind however that if you are taking prescription medication, it is best for you to speak to your doctor prior to consuming cinnamon.

Bartenders in Jamaica sometimes give a cinnamon stick to patrons to stir their drink. These sticks comes from the bark of the cinnamon tree that is harvested twice per year in the rainy season. It is usually stripped and put to dry.

Those are just a few of the many spices of Jamaica; I say the most popular ones.

For those looking to purchase Jamaican spices, you would be happy to know that we now have scores of recognizable brands that bottle and distribute Jamaican spices.
There is, for example...


Grace Kennedy

Walkerswood

Spice Appeal

Island Spice

Blue Mountain Country
And better news, many of these brands are available both locally and online!  Get yours now and enjoy the real Jamaican flavours.
Click Here to see the full list of our easy and exciting Jamaican recipes, completely free!
See also: What are some spices in Jamaica?
Pages Related To Jamaican Spices
Return to Jamaican Food from Jamaican Spices
Return to HomePage from Jamaican Spices

Back To The Top Of This Page
See The Best Of Jamaica -
In Videos!
| | |
| --- | --- |
| | My channel reaches over 100,000 subscribers worldwide and has leveraged over 11 million views, sharing, what I call 'The Real Jamaica'. Subscribe today and join our family of viewers. |

---
P.S. Didn't find what you were looking for? 
Still need help?
Click Here to try our dependable and effective Site Search tool. It works!
Or, simply click here and here, to browse my library of over 500 questions and answers! Chances are someone already asked (and got an answer to) your question.
---