Catcha Falling Star Gardens, Negril - Hot Specials!
by Jane Arthurs
(Negril)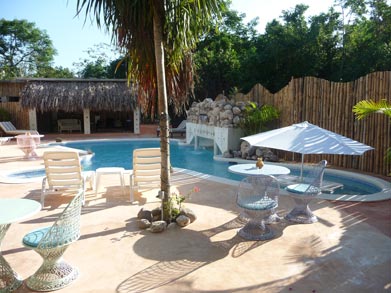 catcha_falling_star_gardens_poolside
Catcha Falling Star Gardens, Negril - Hot Summer Special 49$US

---
Catcha Falling Star Gardens is situated on the West End Road in Negril, 3 minutes walk form Rick's Cafe. (
See original post
)
We have a great Hot Summer Special for fan rooms from 1st May to 31st October 2011 for 49$US dollars per night for 2 people including breakfast.
Breakfast can be served on your veranda, by the swimming pool or overlooking the beautiful Caribbean sea.
Our property is set in lovely gardens which are very private and serene. Our staff is dedicated to making your stay with us as perfect as possible.
Contact us on 876-957-0279 or by e-mail: catchafallingstargardens@gmail.com
Check out our website for further details on our rooms and the property in general with pictures of rooms, swimming pool and for room rates.
We look forward to your stay with us.
Website:
http://www.catchafallingstargardens.com/
Return to
Homepage from Catcha Falling Star Gardens Villa
.
---
---
Share Your Own Here
or
See other submissions here
Join in and write your own page! It's easy to do. How? Simply click here to return to Jamaican Products, Services & Business Directory.
Thanks For Reading!
Like What You Just Read?

Please join me in my effort to share the beauty and uniqueness of Jamaica with the world. You can do so by sharing this insightful narrative on the social media of your choice and ask others to do the same (BELOW). 
What's New? Here Are The Very Latest Articles I Added

Dec 20, 14 04:11 PM

Blue Hole Mineral Spring is one of the rarest hidden gems in Jamaica and is one of the most authentic of attractions in Negril Jamaica

Dec 13, 14 11:39 PM

We're spending our first visit ever in Jamacia. What's the Christmas like in Negril or anywhere on the Island? ANSWER: BY Wellesley Gayle Hello there

Dec 08, 14 10:53 PM

Looking for a cheap charter flight to Jamaica? Here is a list of the top ones from the USA, UK and Canada
Get Exclusive Updates & Tips!
You are also welcome to join my special friends list and receive exclusive updates (like this), tips, trivia and stories from lovers of Jamaica!
I'll Gift You A FREE COPY of my eBook, 101 Intriguing Facts About Jamaica - just for subscribing!

Just enter your email & name below:
Now, It's Your Turn!  :-)
I'd like to hear from you, please click here to share your thoughts and opinions, right now.


Didn't find exactly what you were looking for?
Click Here to do a quick search of the entire site
Top Of Page