The

Jamaica

Flag

Custom Search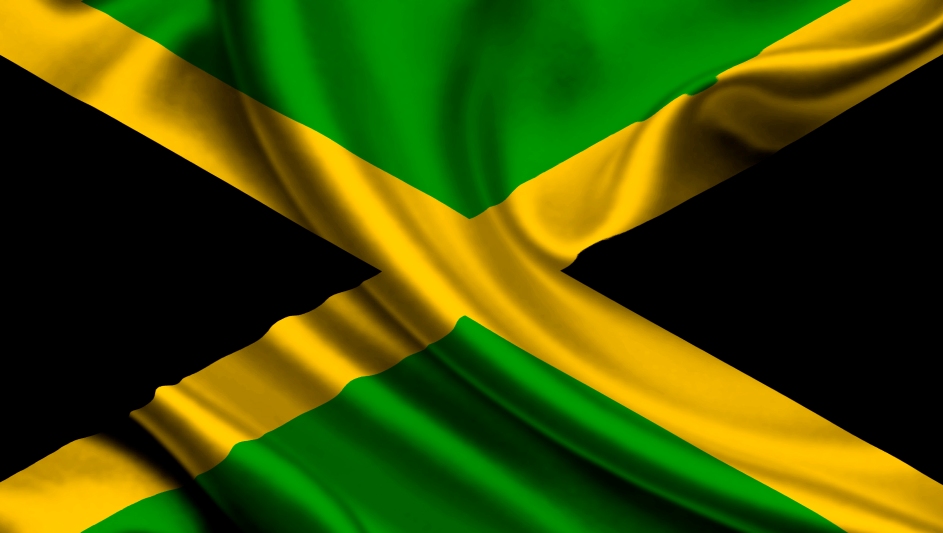 Without a doubt, the Jamaica flag is the most symbolic item that is used to demonstrate Jamaican patriotism.

Therese days it is very popular at national events, particularly sports. I tell you, I don't believe any other nation take it the way we do now.
This new found favour and approval may have started with the 1998 football (soccer) world up qualifiers when professor Rene Simoes successfully drummed up support for the national team (The Reggae Boyz)

[We eventually qualified for the world cup and made history] More on Football in Jamaica Here
Back then, everywhere you go and almost every other person you meet owns a small portable flag! Of course the number of flags at the matches themselves was another story! [I am sure we may have broken some of the codes then-see below]
The Jamaica Flag - Here is probably what you never knew.
Design
A bipartisan committee of the Jamaica House of Representatives designed the Jamaican Flag which consists of a diagonal cross with four triangles placed side by side.
The diagonal cross is gold; the top and bottom triangles are green; and the hoist and fly (side) triangles are black.
Symbolism
"The sun shineth, the land is green and the people are strong and creative" is the symbolism of the colours of the flag.
Black depicts the strength and creativity of the people; Gold, the natural wealth and beauty of sunlight; and green, hope and agricultural resources.
Code for use of the Jamaican Flag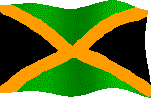 The flag should never be smaller than any other flag flown at the same time.
The Jamaican flag should never be allowed to touch the ground or floor. It should not be flown or used only for decorative purposes on anything that is for temporary use and is likely to be discarded, except on state occasions.
When the flag becomes worn and must be replaced, burn it.
The flag shouldn't be draped over vehicles, except on military, police and state occasions.
Do not place any other flag above or to the right of the Jamaican flag, except at foreign embassies, consulates and missions.
Do not raise any foreign flag publicly, unless the Jamaican flag is also flown, except at foreign embassies, consulates and missions.
Did you noticed the attitude and pride in the code of use for the flag?
Yes, scroll back up and at items 1 and 5, for example. So you see, it does mean a lot to us.
...even more informative pages about Jamaica below:
Return to National Symbols of Jamaica from Jamaica Flag OR
Return to My Island Jamaica from Jamaica Flag
Thanks For Reading!
Like What You Just Read?

Please join me in my effort to share the beauty and uniqueness of Jamaica with the world. You can do so by sharing this insightful narrative on the social media of your choice and ask others to do the same (BELOW). 
What's New? Here Are The Very Latest Articles I Added

May 17, 15 10:55 AM

Montego Bay Resorts Jamaica: Here are the top 50, the very best ones!

May 11, 15 06:58 PM

So for so many years we come to Negril, Jamaica! We started over 20 years ago at Foote Prints. Felt loved and cared for! Went on lots of wonderful trip

May 01, 15 01:13 PM

My first trip to Jamaica was a wonderful one! At first I was kind of skeptical when I heard of the crime rate. But I stayed in Mandeville which seemed
Get Exclusive Updates & Tips!
You are also welcome to join my special friends list and receive exclusive updates (like this), tips, trivia and stories from lovers of Jamaica!
I'll Gift You A FREE COPY of my eBook, 101 Intriguing Facts About Jamaica - just for subscribing!

Just enter your email & name below:
Now, It's Your Turn!  :-)
I'd like to hear from you, please click here to share your thoughts and opinions, right now.


Didn't find exactly what you were looking for?
Click Here to do a quick search of the entire site
Top Of Page