James Bond Attractions Jamaica


The Adventures of '007

Sharing Is Caring! Share this awesome content with your friends now.

Watch! See the real Jamaica in VIDEOS!
Click Here and see why over 90,000 fans are raving about my YouTube Channel!
by Sheree-Anita Shearer | Associate Writer
Ian Flemming famously wrote all the James Bond Novels at his vacation home in St. Ann, now the GoldenEye Resort. Since then, there have been movies and die-hard fans who love to follow the adventures of 007 as he outsmarts villains, rendezvous with beautiful women and drinks his signature martini "shaken, not stirred".
---
Being the place where the books and subsequent movies started, there are quite a few James Bond Attractions in Jamaica. Some are more obvious than others (like James Bond Beach). But if you are hunting for James Bond in Jamaica, these are the Attractions to visit.
There is no better place to start than the beginning.
Laughing Waters Beach

Do you remember the first time James Bond met Honey Ryder on the beach of Crab Key while trying to escape Dr. No's accomplices? Well, the fictitious Crab Key beach is actually the Laughing Waters beach in St. Ann. Sometimes it is confused with the James Bond Beach in Oracabessa, St. Mary, not far from Ian Fleming's, Golden Eye winter home.
The beach was hand-picked by Ian Fleming himself, who would often visit the Laughing Waters beach himself. A visit to the beach will see it in the same condition it was shown in the movie as the beach is a protected site by the Urban Development Corporation.
The beach and villa on the property are available for rent and have been used for many weddings over the years. Because of the film, the beach is sometimes called "Crab Key Beach".
Dr. Kananga the Prime Minister of San Monique in Live and Let Die, is living a double life as he is also Mr. Big, king of the underworld and the Green Grotto Cave is his lair. He and Bond have multiple run-ins throughout the movie, but it finally comes to a head when they break into Mr. Big's secret lair in Green Grotto Caves.
Dr Kananga's intention is to feed Bond and Ms Seymour to the sharks surrounding his lair, from which they make a narrow escape in true Bond fashion. Don't worry though, the threat of a shark attack in Jamaica is slim to none.
James Bond was made aware that "Mrs. Bond" was waiting for him in his hotel room when he arrived in Jamaica (San Monique in the film). Mrs. Bond was in fact Rosie Carver the "Bond Girl" villain who was in cahoots with Dr. Kananga.
The room where they first met is actually Cottage #10 at the Half Moon Resort and Private Villas. You can book your stay at Half Moon to have a luxury vacation with a little less drama and more relaxation instead.
While you are there ask for the "Live and Let Die" special at the bar. The cocktail created to commemorate the 40 years anniversary of the film.
Couples San Souci Resort

Room D20 is of great significance to James Bond fans as this was the room Roger Moore stayed in while filming "Live and Let Die". The scene where he bought Tarot Cards was also filmed at the resort's gift shop.
Just before he entered the lair, he had to rescue Ms. Seymour in a graveyard where she was intended to be sacrificed by the obeah man. In truth, it was a make-shift graveyard built on the property of Rose Hall Great House, in St. James. The graveyard was built only for the set and these lands are now a part of the Cinnamon Hill Great House and Gold Course.
Jamaican Swamp Safari

I didn't even realise that so many parts of "Live and Let Die" were actually shot in Jamaica. The famous crocodile jumping scene at "the farm" was filmed in Falmouth, Trelawny at the Jamaica Swamp Safari.
Though the hidden lab was destroyed by Bond, the reception area shown in the film is the same one used today, named Kananga House for obvious reasons. You might even recognise the "Trespassers will be eaten" sign as seen in the movie. Next time you are on the Falmouth food tour or visit the town by cruise ship, maybe you can fit a trip to the swamp safari in as well!
No, you aren't forgetting anything, the Moon Palace resort was not featured in any James Bond film. However, the cast and crew stayed at this resort while filming "Dr. No" as it was close to the filming locations in St. Ann.
Also, although the hotel was not featured in the film, it holds a very important piece of James Bond history. To make travel between filming locations more convenient, a helipad was built on the property of the hotel, with the 007 sign painted to mark the spot. It is still visible today despite its falling apart.
This luxury hotel located in Portland was mentioned in the "Dr. No" book, though not in the film. Ian Flemming met with many influential people in the bar of this resort including Sir Winston Churchhill.
The phrase "shaken, not stirred" is believed to have been coined in this very bar as a martini shaken with ice was a better way to combat the heat of the tropics.
Speaking of Port Antonio, the capital of Portland is heavily featured in the most recent instalment of the James Bond series "No Time To Die". A now retired Bond, played by Daniel Craig, settles in his remote cabin in Coco Walk a private beachside property on San San Beach. While you might not be able to visit the exact location of Coco Walk, your disappointment will be long forgotten on the beach of San San.
Piggy's restaurant only has a cameo in the "Live and Let Die" film, but Daniel Craig and his team often visited the restaurant for meals as the actor truly loved it there.
The CocoSan Villa was Daniel Craig's choice of residence while filming "No Time to Die".
The Boundbrook Wharf and Ken Jones Aerodrome are also featured in the film. The Aerodrome is where James eventually leaves for Cuba on his last mission…for now.
GoldenEye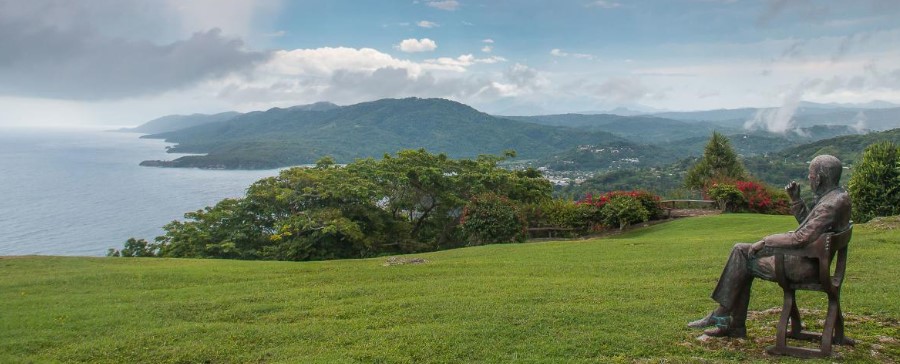 Golden Eye Resort | Ian Flemming Statue Looking Out At The Caribbean Sea (Photo Credit: VisitJamaica.com)
The character first came to life in Ian Fleming's custom built 5-bedroom home in St. Ann. The home, named Golden Eye, the name of one of Fleming's very own missions was where the concept of James Bond came to life and was put on paper, the rest as we would say is history. Now a villa owned by Chris Blackwell, the original villa can be rented out for a pretty penny.
Though the "Government House" in "Dr. No" is not an attraction it is worth mentioning. King's Hosue, the home of our Governor General was borrowed to act as the fictitious government house that bond visits in the first every James Bond film.
Either when visiting or leaving the island, you'll most probably be using one of our two major airports in Jamaica. James Bond has used them both.
Sharing IS Caring! Please help me get the message out by sharing this article with your friends on social media (links below). Thnx ;-)

If you found this page useful, please consider subscribing to my weekly newsletter, to get even more. 
It tells you each week about the new information that I have added, including new developments and great stories from lovers of Jamaica! 
Return to Jamaican Attractions from James Bond Attractions Jamaica
Return to My Island Jamaica Homepage from James Bond Attractions Jamaica
References & Sources For James Bond Attractions Jamaica
The Most Incredible James Bond Locations in Jamaica - Variety, https://variety.com/lists/james-bond-locations-jamaica-no-time-to-die-dr-no/jamaica-inn/
13 Must-See Bond Filming Locations in Jamaica | PlanetWare, https://www.planetware.com/jamaica/must-see-bond-filming-locations-in-jamaica-jam-1-19.htm#:~:text=Half%20Moon&text=Half%20Moon%20luxury%20resort%20in,in%20Live%20and%20Let%20Die.
The Fleming Villa, https://www.theflemingvilla.com/#:~:text=The%20Fleming%20Villa%3A%20Luxury%20Villa,at%20GoldenEye%20Resort%20in%20Jamaica&text=where%20Fleming%20created%20Bond.
13 Must-See Bond Filming Locations in Jamaica | PlanetWare, https://www.planetware.com/jamaica/must-see-bond-filming-locations-in-jamaica-jam-1-19.htm
https://variety.com/lists/james-bond-locations-jamaica-no-time-to-die-dr-no/ian-flemings-goldeneye/
James Bond Attractions Jamaica | Written: August 8th, 2022
Back To The Top Of This Page
See The Best Of Jamaica -
In Videos!
| | |
| --- | --- |
| | My channel reaches over 100,000 subscribers worldwide and has leveraged over 11 million views, sharing, what I call 'The Real Jamaica'. Subscribe today and join our family of viewers. |

---
P.S. Didn't find what you were looking for? 
Still need help?
Click Here to try our dependable and effective Site Search tool. It works!
Or, simply click here and here, to browse my library of over 500 questions and answers! Chances are someone already asked (and got an answer to) your question.
---