Getting Around Jamaica
Here are your options!
A nature lover, adventure seeker or a party animal, there are lots here for you and just getting around Jamaica can be quite fun and adventurous too.
Moreover, these days you have even more options!
By Local Taxis
Our transportation system have come a far way. Today, the administration is tighter and we have much more (perhaps too much) taxis.

We also have many "robot" taxis. These are taxis that does not yet meet all the state requirements but still 'hustle'. [The process of gaining approval by from the government is very cumbersome, I must admit].

Dollar for dollar though, the cost of transportation is cheap relative to, say the United States,for example, but you may run into some taxi drivers who may want to charge a little extra if they suspect you are a tourist.

Getting around Jamaica, taxis give you a great opportunity to 'rap' with our locals and learn even more about our country. However, I would only suggest taxis if you are familiar with the places and/or have a local friend to guide you.

If you are looking for the low-cost option that the approved shuttle/taxi provides but with an added level of security, the true Jamaican friendliness and lots of valuable insight from a local, talk with my personal friend Rocky

I actually first met him through his wife, and one of my best friends, Roxanne. Roxanne and I went to college together.

CLICK HERE to contact Rocky directly. He will be elated to get back to you.
By Vehicle Rentals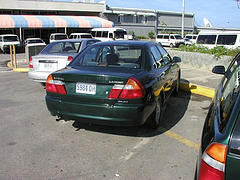 Many of our visitors choose to rent a car. Of course, this option gives you complete flexibility.

Moreover, outside of having a dedicated driver or local guide, it is perhaps the most efficient & economical way of getting around Jamaica; especially if you will be making some good 'rounds' or if you are going to be here for a few days. The car dealers are abundant too, so check around for the best price!

There is one credible company that has been around since 1973 that I would not hesitate to recommend to you though; Island Car Rentals.

Not only do they have the most respected name in vehicle rentals in Jamaica, they have a great staff. Ms Laura Lee in Kingston, comes to my mind. Moreover, they offer affordable prices too! If interested, you can get a quotation from Island Car rentals here. They will be happy to get back to you.

A little advise though, Always remember to drive on the left and watch your speed limit. The local police are merciless to a speeding motorist. Bear in mind also that some of our taxi drivers are perhaps not as disciplined as you are familiar with, so that may take a little getting to.

You may also hear a few horns hunking and see headlights flicker ever now and then, these are some ways our drivers say 'Hi' to each other.

Service stations are abundant and many open 24 hours, so can always replenish your fuel. Additionally, most, if not all, accept international credit cards as well, but I would recommend you keep some local cash for this.

And by the way, many of our popular attractions are right off the main road too, so you can't miss!

Click Here to get a quotation from Island Car Rentals now.
By Airport Taxis
There are what we called authorized airport taxis. These are independent companies that have members forming an organization of taxi drivers that operate from the airports and cruise ports JUTA, Maxi Tours, and JCAL easily comes to mind.
They have been working in the tourism industry for years and have been very reputable. You will notice that many of the drivers are older too and such would know the ins and out of the attractions.
They have visible desks and banners at our major airports so you can't miss them.
By Hotel Shuttle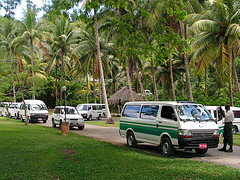 My hotels offer shuttle service to their guests, this may be an good option for you if you will be spending much of your time in the all inclusive hotels and will only venture out every now and then.

It is more 'formal' I suppose as they will have set times to follow. Having said that though, they do take you to some of the very best places & attractions as well as for shopping.
By Smaller Aircrafts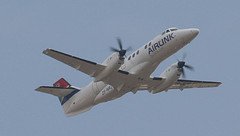 Although a small country and some better roads now, getting around Jamaica can still take a good chunk of your time. Vacationers can however utilize Jamaica's infrastructure of airports to get across the island.

Air Jamaica Express was the main air carrier responsible for shuttling vacationers -whose concern was getting around Jamaica really fast- to their final destination but it ceased its operations in 2005.

However, travelers can still take Air Jamaica flights between Kingston and Montego Bay, and then enlist a charter air service to reach the nearest point to their resort. TimAir Limited and International Air Link provides service to our airports.
By Boat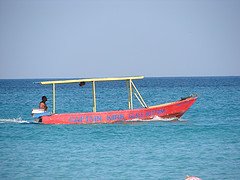 Perhaps the ultimate adventure, is to explore Jamaica by boat. By now, you should know that in the Caribbean we have some of the best waters and conditions for water sports, and Jamaica is no different.

Getting around Jamaica by boat is easy as there are also numerous charter brokers and charter companies at your disposal. In terms of activities, you have several options from glass bottom boating to deep sea fishing.

And please don't think I am speaking only of sea activities either, we have some unique river activities as well. More about Rivers in Jamaica here.

Whatever you choice of getting around Jamaica though, do have a grand time, and please don't leave your cameras, there will be lots to see.

I have compiled a beautiful list of unique and exciting things to do, while in Jamaica. Take a look.
---
...and even more informative pages about Jamaica below:
---
If my page about getting around Jamaica was insightful, please subscribe to the My Island Jamaica Mini-Blog. This RSS feed is a small blog about Jamaica (kind of a journal), which will also let you know whenever any new or changed Web pages appear on My-Island-Jamaica.com. It keeps you up-to-date with other special postings that you might otherwise miss.
Look for the XML|RSS graphic on the links bar to the left of this page and subscribe there.


---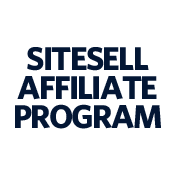 Return to My Island Jamaica Homepge from Getting Around Jamaica